Today's post for classic mashed potatoes enhanced with real Parmesan cheese is sponsored by Parmigiano Reggiano. I am proud to be a 2017 Parmigiano Reggiano Brand Ambassador. Real Parmigiano Reggiano, imported from Italy, is the only parmesan for me!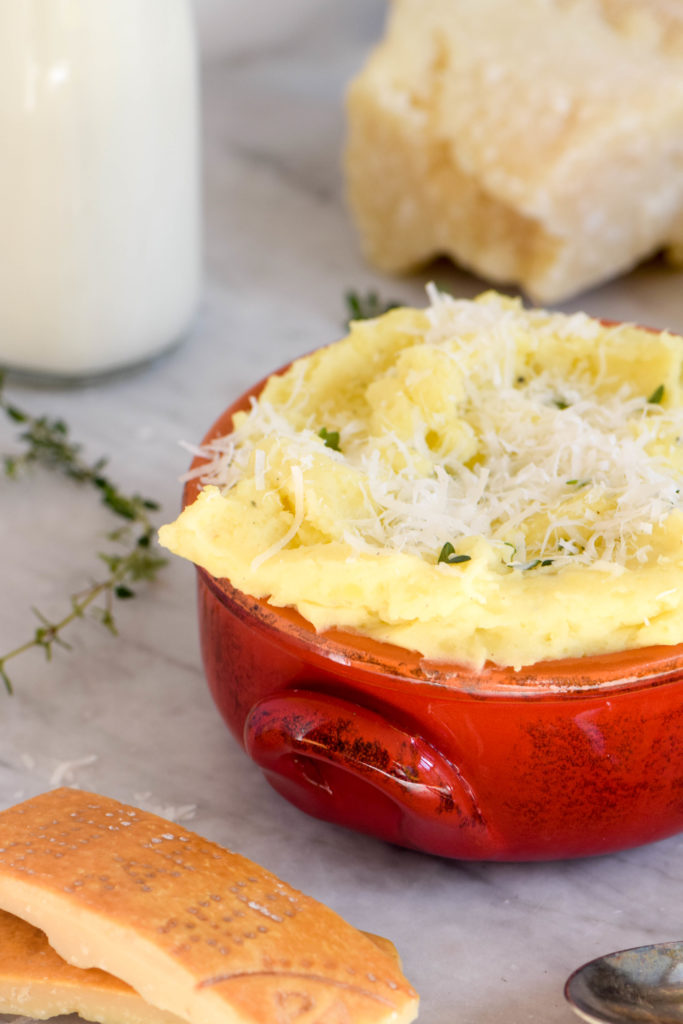 Thanksgiving is not Thanksgiving without mashed potatoes. That's a given. But what kind of mashed potatoes? Because plain mashed potatoes are just, well, too plain.
Last year, I shared a recipe for Parsnip Mashed Potatoes, and I still really like that combination. But some readers have asked me for a mashed potato recipe that does not incorporate another vegetable, you know, for the traditionalists at their Thanksgiving table. Or for those that hate vegetables.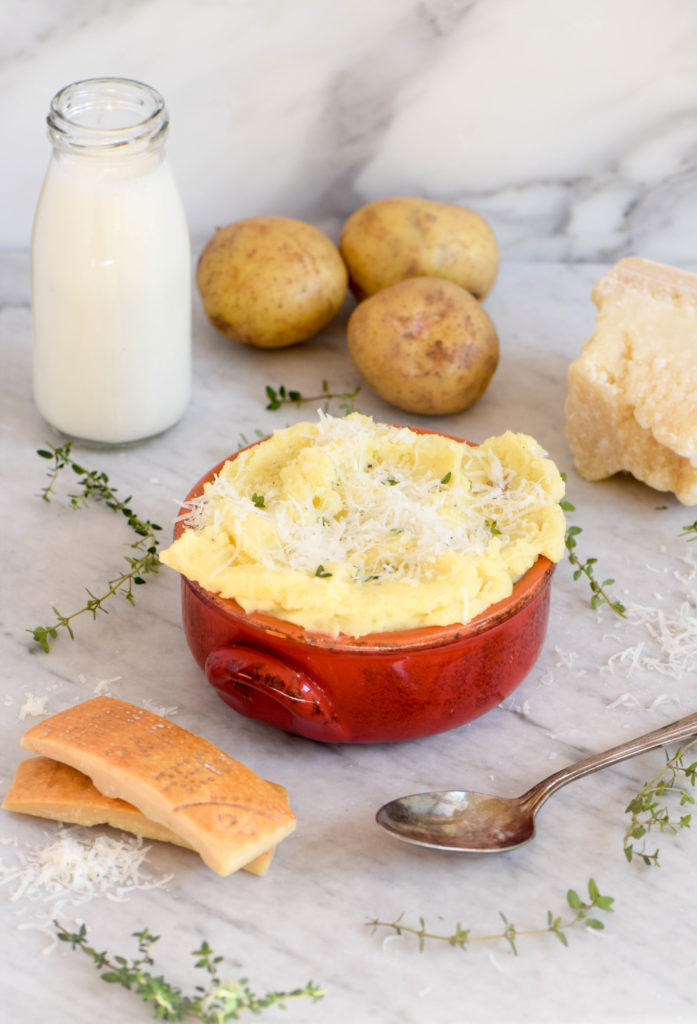 That's fine. Some people want their mashed potatoes to be 100% potato-based. If you fall into that category, I got you. This recipe is straight-up mashed potatoes with one little twist: a generous helping of real Parmigiano Reggiano cheese.
You know how you always have to add so much salt to mashed potatoes to get them to be flavorful? Instead of all that salt, try adding freshly grated Parmigiano Reggiano instead. The rich, nutty taste of parmesan cheese adds an incredible savoriness to mashed potatoes. But, it is important to use real parmesan cheese — the kind imported from Italy. Domestic parmesan tends to be a one-dimensional salt bomb, lacking the complexity and depth of the real thing.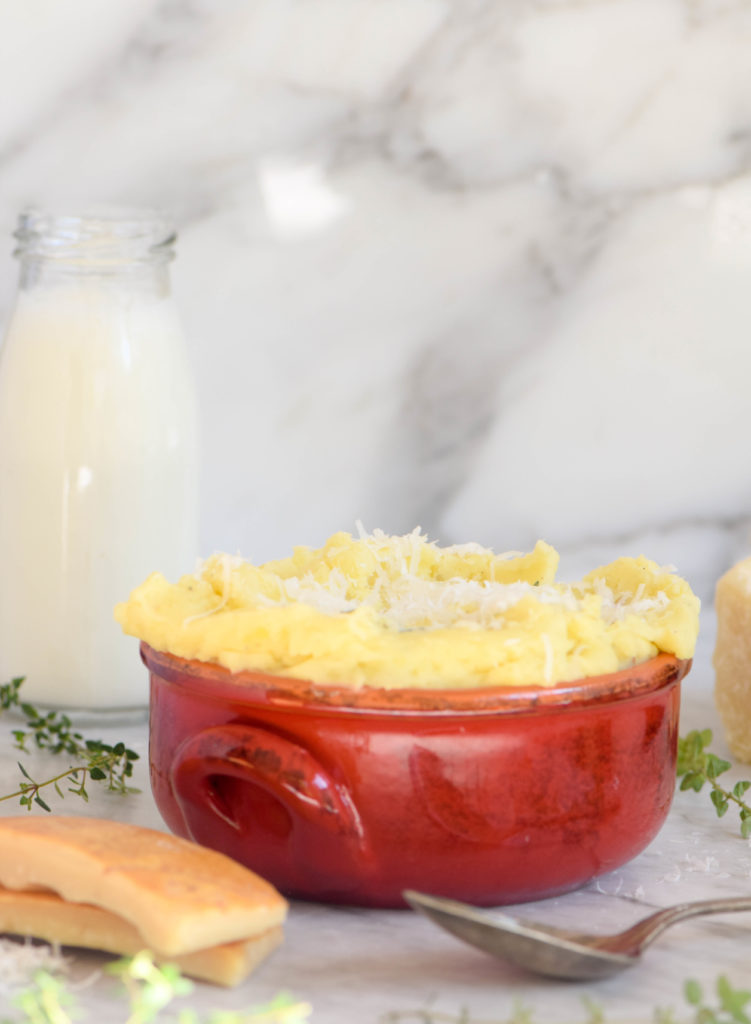 In Europe, Parmigiano Reggiano is the only cheese allowed to call itself "parmesan" because "parmesan" literally means "from Parma." Here in America, however, other cheeses, including ones that are not even from Italy, can use the parmesan name. This leads to a lot of confusion and, sadly, consumers buying an inferior product. But you can make sure you are getting the true Parmigiano Reggiano by looking for the telltale name and pin dots on the rind. I tend to buy mine at Whole Foods, but other good grocery stores carry it as well.
There are a few recipes out there for Parmesan Mashed Potatoes, but my recipe has a special twist that doubles down on the parmesan flavor. Because, in addition to adding freshly grated parmesan to the potatoes while I am mashing them, I also steep a parmesan rind in the butter and milk mixture that I used to moisten the potatoes. Boom.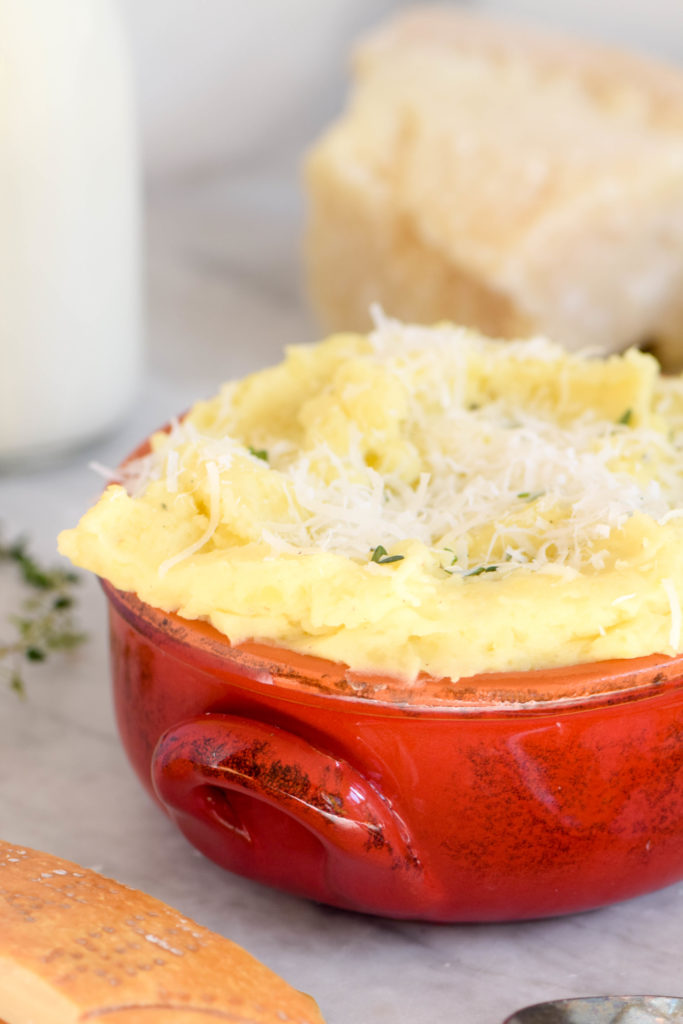 Wait, what? A parmesan rind? What's that? I am so glad you asked. You should always, always save the rinds, or ends, of your Parmigiano Reggiano after you have used all of the cheese. Simply wrap in plastic and freeze. Every time I make minestrone, pasta e fagioli, or risotto, I take one of the Parmesan rinds out of the freezer and toss it in my pot. It adds another layer of flavor to your dish. Just be careful not to serve the rind to anyone.
In this case, I add one of my saved parmesan rinds to the butter and milk that I use to flavor the potatoes. I heat the mixture gently, to melt the butter, and then let the rind infuse the liquid with flavor for 20 or 30 minutes while the potatoes are boiling. Try a small sip of the mixture before you add it to the potatoes. Trust me, you will taste the rich, nutty flavor of the parmesan in there.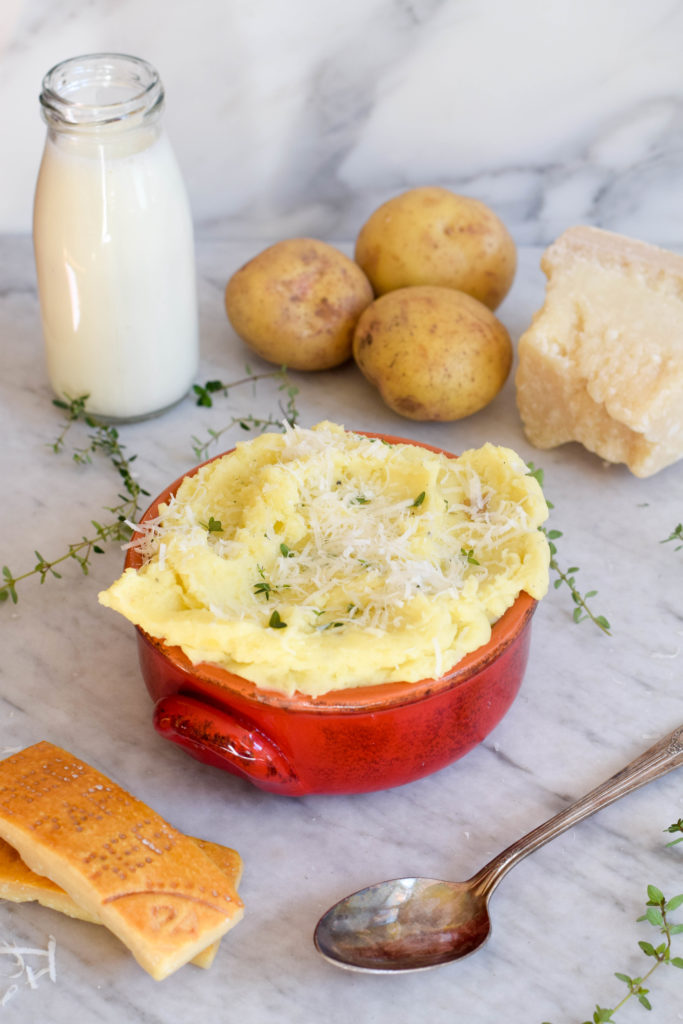 (If you don't already have one on hand, cut off part of the rind on the hunk of Parmigiano Reggiano that you are using for this dish and use that to infuse the butter and milk. And then, when you finish that hunk of cheese, save the rest of the rind for another use. You'll never throw away parmesan rinds again.)
So, when shopping for your Thanksgiving feast, be sure to look for real Parmigiano Reggiano with the name and pin dots on the rind. And put some of that rich, complex imported parmesan in your mashed potatoes. You'll be thankful that you did!
Parmigiano Reggiano Mashed Potatoes
Ingredients
5 lbs Yukon Gold potatoes, peeled
1 cup whole milk
4 oz (1 stick) butter
Parmesan rind
1 cup grated Parmigiano Reggiano
Sprigs of thyme
Salt and pepper to taste
Instructions
If the potatoes are different sizes, cut the larger ones in half or quarters so that the pieces of potato are all approximately the same size.
Place the potatoes in a large, deep Dutch oven and cover with cold water. Season the water well with salt.
Bring water to boil over high high. Turn down heat, crack the lid and simmer until tender, 20-30 minutes depending on the size of the potatoes.
While the potatoes are cooking, combine the milk, butter, parmesan rind and thyme in a small saucepan. Heat over low heat until the butter is melted. Cover and keep warm while the parmesan rind steeps in the liquid.
Drain the potatoes once they are cooked through and easily pierced with a knife.
Return the potatoes to the saucepan and cook over high heat one minute to dry out.
Pass the potatoes through a potato ricer or food mill and return to the saucepan. Alternatively, mash the potatoes by hand directly in the saucepan.
Gradually add the liquid in the sauce pan to the potatoes and stir or mash to combine over low heat. Add the grated parmesan. Taste and season with salt and pepper as needed.
Serve warm.
To reheat, place potatoes in bowl set over a pan of simmering water and stir until heated through.
http://www.westoftheloop.com/2017/11/08/parmesan-mashed-potatoes/
Full disclosure time: I am a 2017 Brand Ambassador for Parmigiano Reggiano and in the capacity have received compensation for my work. As always, all opinions expressed herein are entirely my own.
SaveSave
SaveSave