Gorgeous Stokes Purple sweet potatoes bring an earthy warmth to this just-sweet-enough soufflé. A perfect way to end a holiday meal or impress guests at brunch.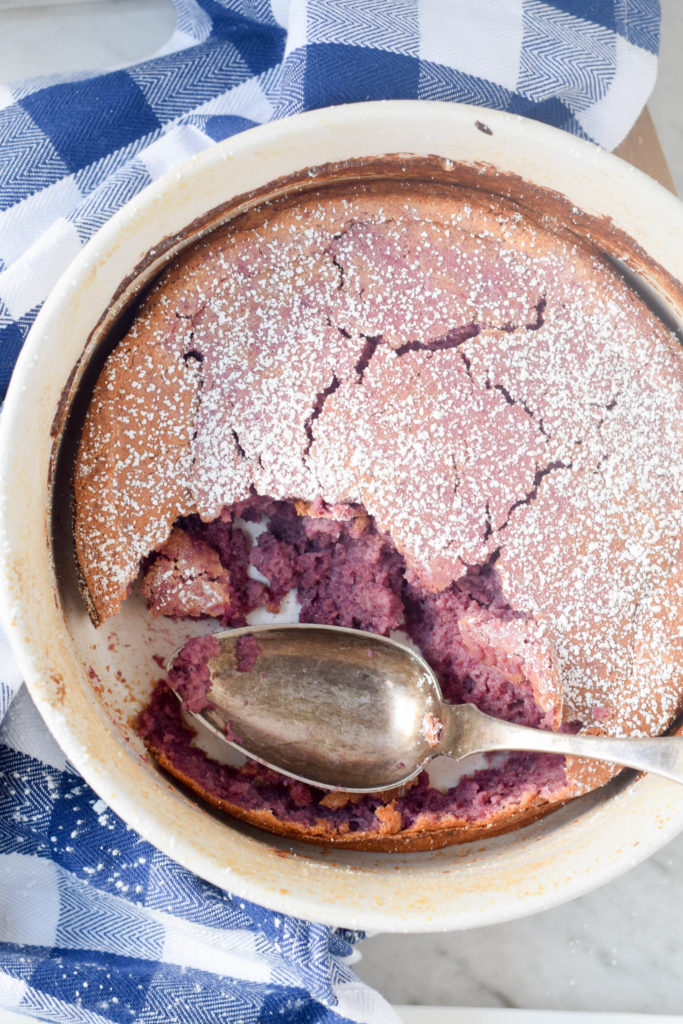 I don't think there are enough purple foods. Purple is not only beautiful and vibrant — my favorite color, in fact — but when you see it in a food, it is a sign of heathfulness. A purple food is a nutritious food.
My affection for purple foods is why I look forward all year to the season for Stokes Purple sweet potatoes. Stokes Purple are a special sweet potato variety with purple skin and bold purple flesh that intensifies when cooked. That deep color derives from multiple anthocyanins, the same pigments responsible for bright red foods like cherries and strawberries.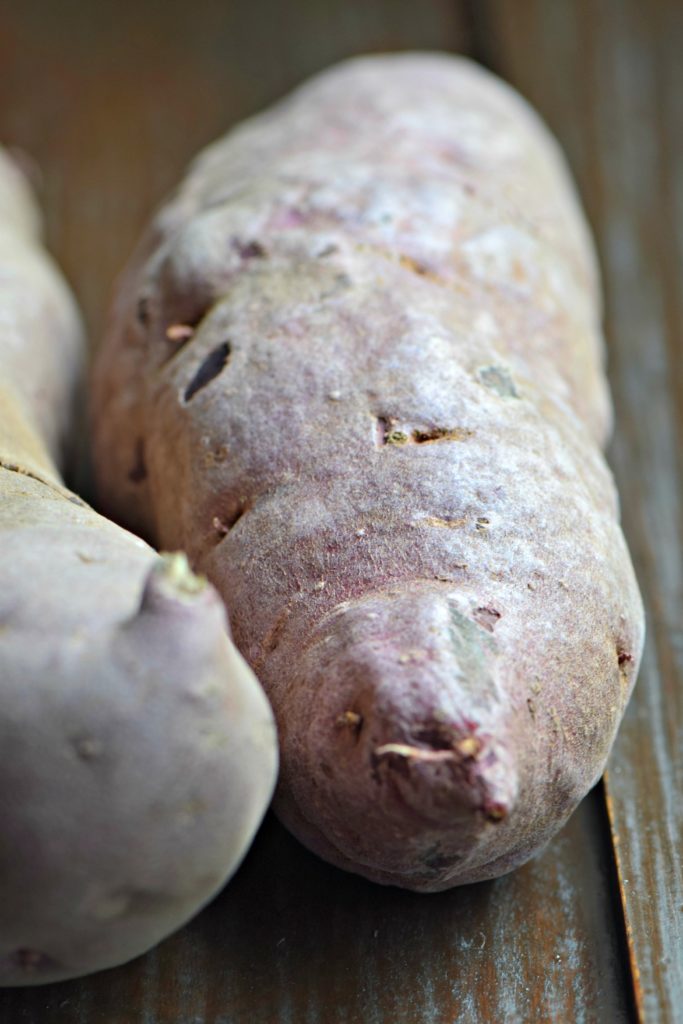 Scientists believe that anthocyanins and related phenolic compounds have health benefits, such as minimizing free radicals that can cause cancer, protecting the liver and lowering blood pressure. Like all sweet potatoes, Stokes Purple are also a low-glycemic index food, which helps you feel full, longer.
Stokes Purple sweet potatoes have so much natural sweetness that you can easily incorporate them into dessert recipes without adding a lot of additional sugar. In this recipe, for instance, for a sweet potato soufflé, you need only to add 1/3 cup of maple syrup for the entire dish. The result is a dish that is sweet, but not overly so, with a warm, earthy flavor from the sweet potatoes and a dash of nutmeg.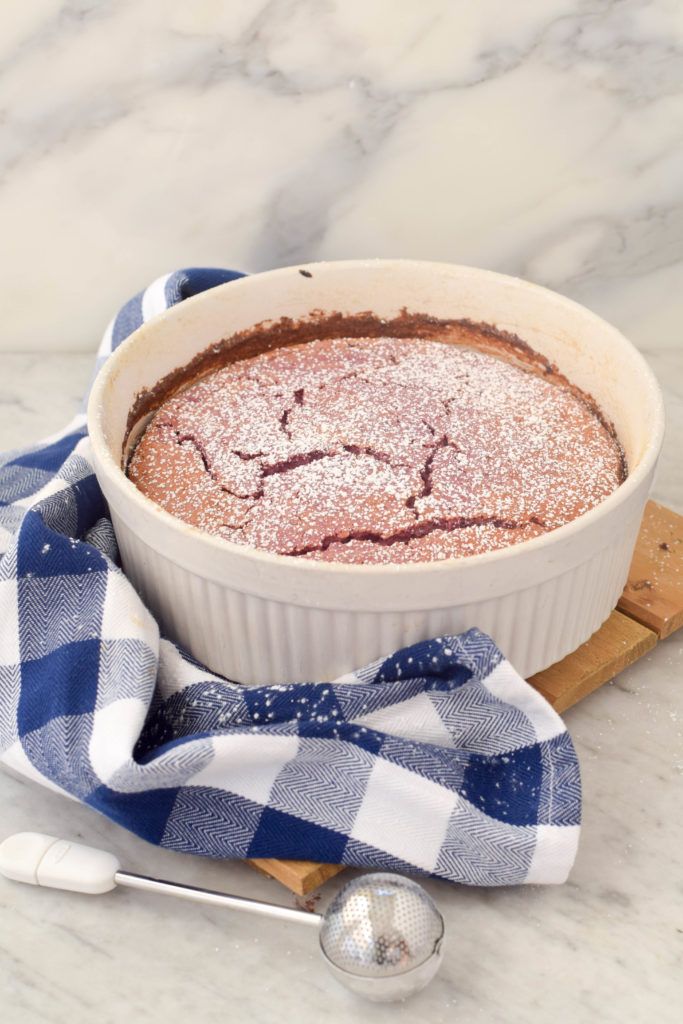 Because this dish is sweet but just barely so, it would be the perfect dessert to serve guests who prefer savory foods. It would also be very suitable for brunch when people like to eat something a little sweet but don't necessarily want dessert, you know?  Many people associate sweet potatoes with Thanksgiving and I am here to say that a purple sweet potato soufflé would be a pretty amazing finale for your holiday feast – especially if pie is not your thing.
Now, I know what you are thinking: soufflés are fancy. They're hard. You have to be a chef to make one. Well, no. I am not a chef and I made this soufflé. If I can do it, you can too. Moreover, soufflés are not fancy. They're actually quite humble because, at their core, they use only the most basic, and inexpensive, of ingredients.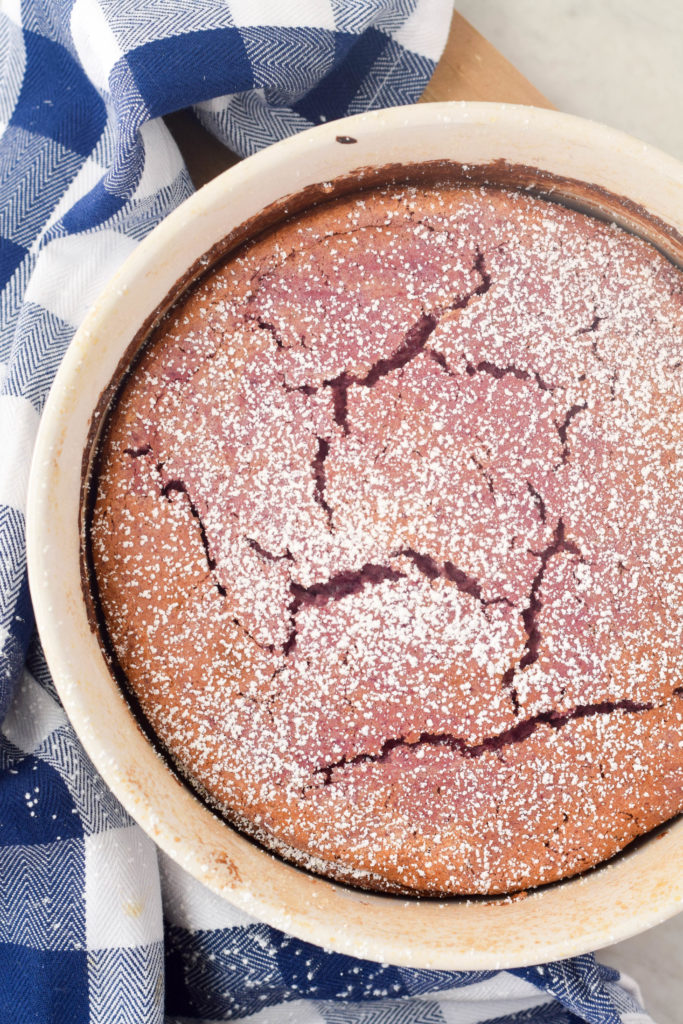 When my parents were first married and had no money to speak of, my mother often made a cheese soufflé for dinner. All she needed were cheap staples like eggs, flour, milk and cheese. True grad student fare. (By the way, I have only heard about these soufflé-making times. I never actually saw my mother make a cheese soufflé. By the time, I was old enough to remember such things, my parents were very conscious of their weight and my dad would have protested that a cheese soufflé was too fattening.)
So soufflés are not fancy, but I will admit that they can be tricky. This recipe is adapted from Martha Stewart and I confess, in the interest of being candid, that the first time I made this soufflé, it did not rise as much as I would have wanted. I did some research on soufflé technique before attempting the recipe again and I picked up some tips that greatly improved my results.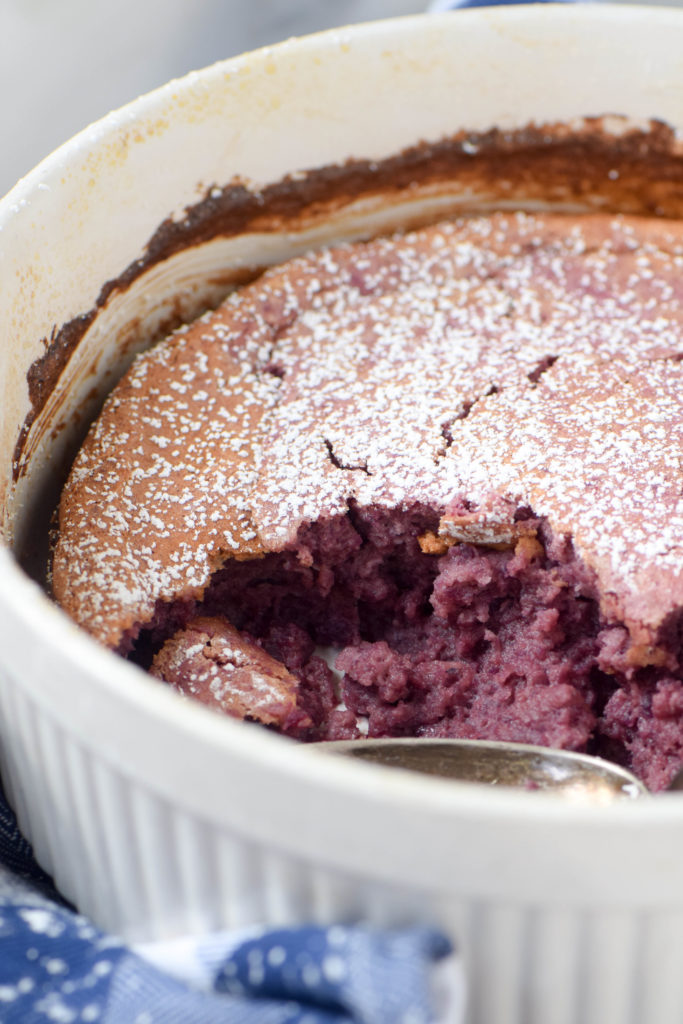 First, prepare the soufflé dish well. You should butter it and coat it with a sprinkling of granulated sugar. The butter prevents the soufflé from sticking and the sugar gives it something to adhere to as it rises.
Second, did you know you can beat your eggs too much? It's true. You might think, as I once did, that you should just beat your eggs for ages until they are very stiff and that will help your soufflé to rise, but it is exactly the opposite. If beaten too long, eggs become dry and grainy and won't rise as high. You want to beat them just until stiff peaks form, but they are still soft and fluffy. And start with room temperature eggs – it really matters.
Lastly, how you fold the egg whites into the soufflé batter is critical. You want to incorporate the egg whites without deflating them. To accomplish this, cut down the middle of the batter with a spatula and fold the bottom of the batter over the top. Turn the bowl and do it again. Keep going this way until the whites are fully incorporated. It takes longer than stirring but is critical to achieving the right texture. The Kitchn has an excellent tutorial complete with video on how to fold egg whites which I recommend.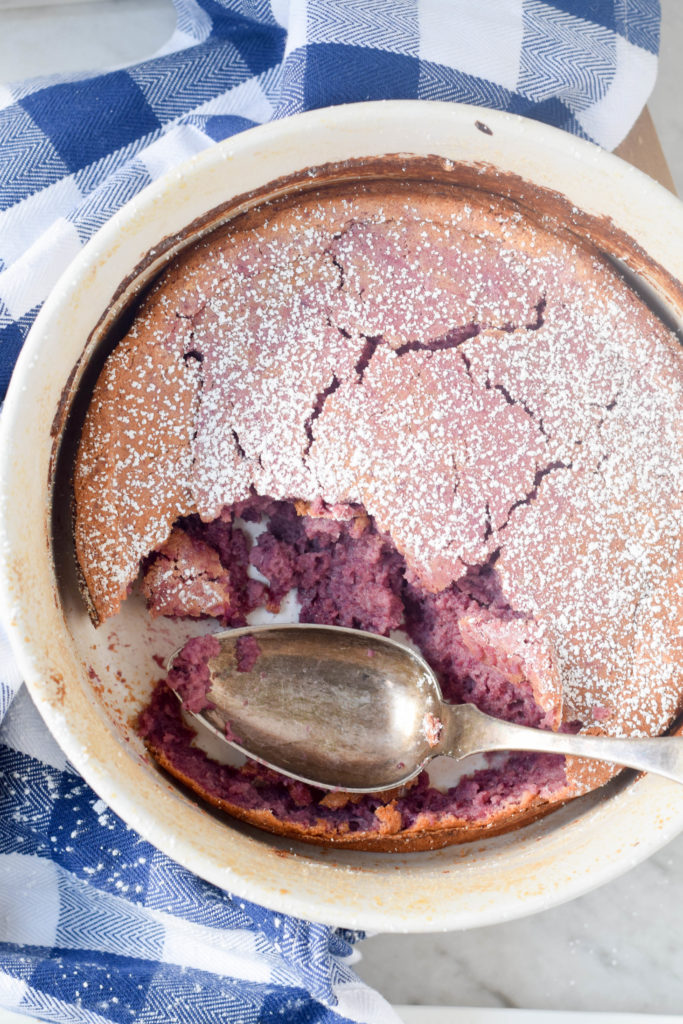 You can find Stokes Purple sweet potatoes that are both organic and conventionally grown at your favorite grocery stores like Trader Joe's, Whole Foods and more. The season for Stokes Purple Sweet Potatoes is now through spring, so you have plenty of time to experiment with these vibrant and nutritious tubers, including making this fun soufflé!
Purple Sweet Potato Souffle
Ingredients
1 TB butter plus more for the souffle dish
Sugar for the souffle dish
2 TB flour
3 eggs, separated, at room temperature
1/2 cup whole milk
1/3 maple syrup
1 cup mashed Stokes purple sweet potato*
1/2 tsp nutmeg
Pinch cream of tartar
Instructions
To make the cup of mashed Stokes Purple sweet potato, preheat oven to 350. Scrub skin of one large or two medium sweet potatoes and wrap in foil. Place wrapped potato or potatoes on a baking tray and bake at 350 degrees for 1 1/2 to 2 hours until soft.
When cool enough to handle, scoop flesh out of sweet potato and mash or puree in a food processor.
Turn oven temperature up to 375.
Butter a 1 1/2 quart soufflé dish and dust with sugar.
In a medium saucepan, heat butter over medium heat until melted. Add flour, and cook, stirring, until golden, about 2 minutes.
Gradually whisk in milk and simmer, whisking constantly.
Remove saucepan from heat; mix in mashed sweet potato and egg yolks. Stir in maple syrup and nutmeg, and set aside.
Using a stand mixer with the whisk attachment or a handheld mixer, beat egg whites with a pinch of cream of tartar just until stiff peaks form.
Whisk 1/4 of whites into sweet potato mixture. Using a rubber spatula, gently fold in remaining whites. Pour mixture into prepared soufflé dish and smooth top.
Bake until puffed and golden on the top, 35 to 45 minutes.
http://www.westoftheloop.com/2017/11/11/stokes-purple-sweet-potato-souffle/
Full disclosure time: I received a box of Stokes Purple sweet potatoes from Frieda's Produce for review purposes. I was not asked to write about the product nor have I received any compensation.
SaveSaveSaveSave
SaveSave