A perfect Thanksgiving side dish: roasted Brussel sprouts drizzled with a touch of honey and tossed with pickled cranberries and toasted pecans.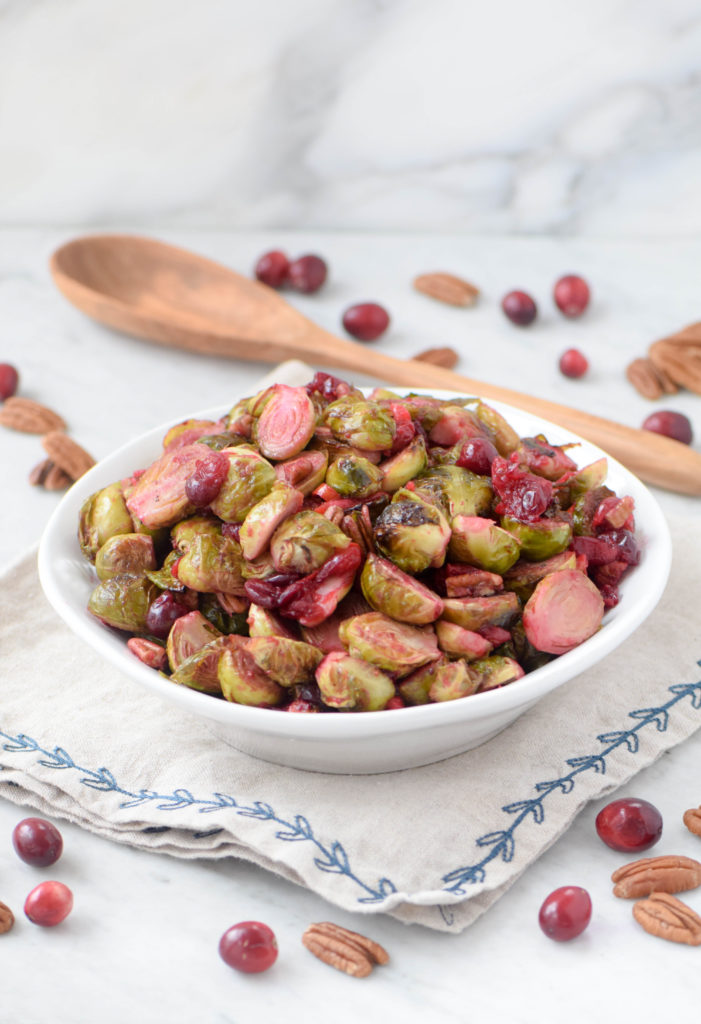 After I posted the recipe for pickled cranberries last week, I received a few comments along the lines of: "That's nice, but what am I supposed to do with pickled cranberries?" I mean, I did give you a few suggestions right in the post: add them to a cheese plate; garnish a beverage; serve with a sandwich etc. But what I failed to tell you is that you can actually use pickled cranberries in other dishes. Like this Thanksgiving side of roasted Brussel sprouts with pickled cranberries and toasted pecans.
Confession time: I did not exactly come up with this idea on my own. Last week, I participated in the National Press Club's annual Book Fair and Author's Night in Washington DC. I flew in just for the night to sell and sign copies of The Joys of Jewish Preserving at this prestigious DC literary event. It was a honor to be asked to participate.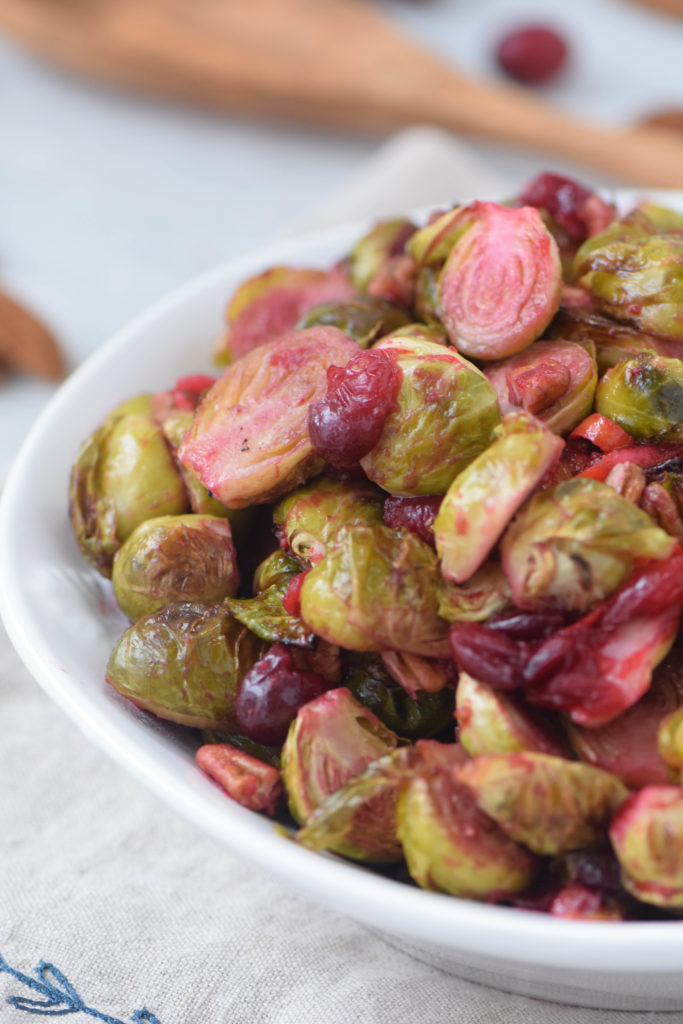 I really wanted to offer samples of some of the recipe from the book at my table, but the organizers of the event insisted that any samples be made in a commercial kitchen, not, for example, at my house. They kindly offered to let me come to the National Press Club's kitchen prior to the event to make my samples.
So it was that I found myself on Friday afternoon in a small corner of the bustling kitchen of the National Press Club, which has two restaurants — one of which is open to the public — and hosts numerous private events, making a double batch of Apple, Honey and Rose Water Jam to serve at the Author's Night. Honestly, this was one of those moments when I thought to myself: "How did I get here?" But the executive chef, Susan Delbert, could not have been more gracious or welcoming and everyone on the kitchen staff was exceedingly kind as well even though I am 100% sure I was in their way.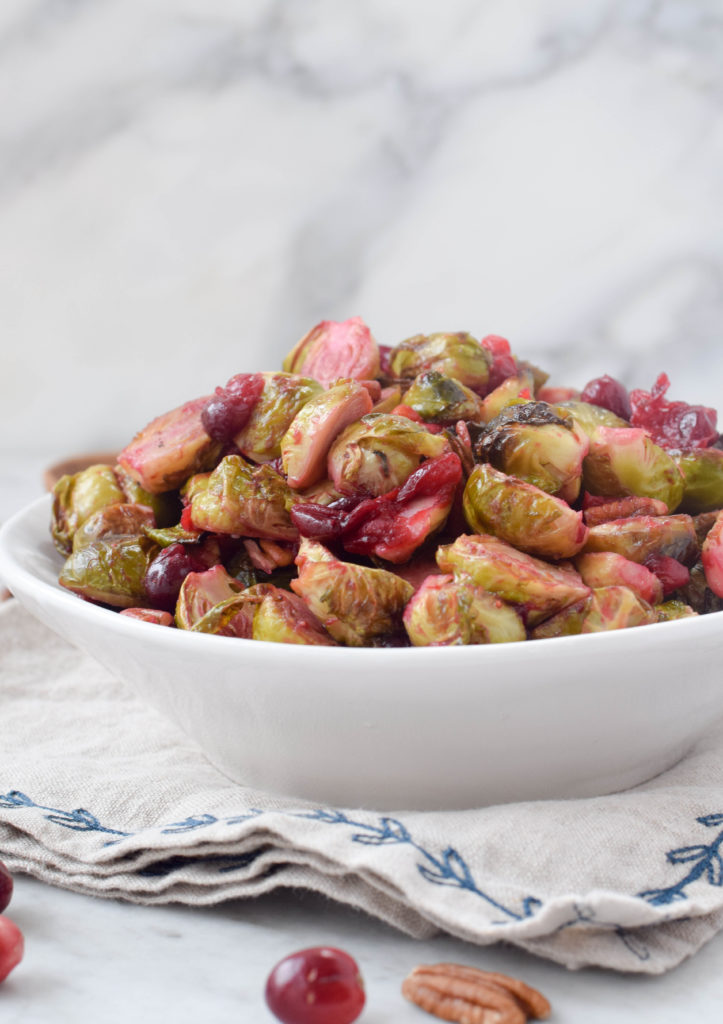 Chef Susan and I soon started bonding over food, as food people will do: sharing recipes and tastes of what we were preparing. I think she liked my jam. What I liked was the roasted Brussel sprouts with pickled cranberries and bacon that she was serving that night with roast beef. "I just posted a recipe for pickled cranberries," I exclaimed. Seeing how Chef Susan incorporated the tart and tangy pickled cranberries into a dish inspired me and I decided to try it myself — without the bacon, of course.
The combination of roasted Brussel sprouts with pickled cranberries and toasted pecans is a true seasonal delight.  The bitterness of the Brussel sprouts is tamed with a light drizzle of honey. The cranberries add a tart, puckery element as well as some eye-catching color, and the pecans are toasty and crunchy. This is a very worthy use of pickled cranberries AND a really, really good idea for a Thanksgiving side. I especially love using indigenous American ingredients like pecans and cranberries at my Thanksgiving table.
Have you ever included Brussel sprouts at your Thanksgiving meal? Why or why not?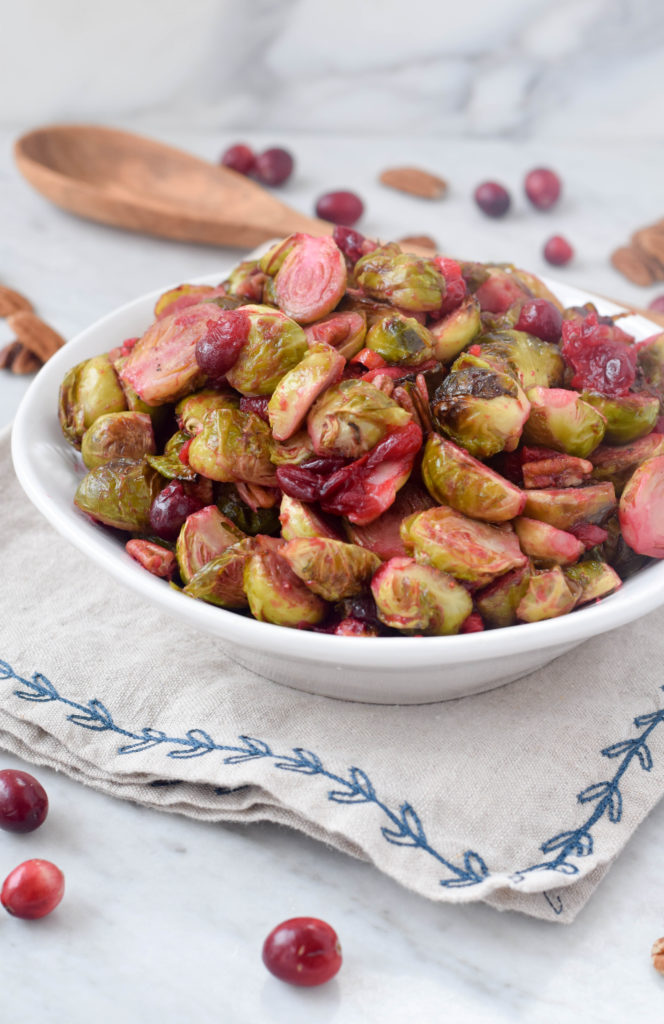 Brussel Sprouts with Pickled Cranberries and Pecans
Ingredients
3 lbs Brussel sprouts, trimmed and halved
2 TB extra virgin olive oil
Salt and pepper
1 TB honey
1 cup pickled cranberries
1 cup toasted, chopped pecans
Instructions
Preheat oven to 400.
In a large bowl, toss Brussel sprouts with olive oil, salt and pepper.
Spread Brussel sprouts in a single layer on a baking sheet lined with foil.
Roast Brussel sprouts until tender and browned, 35-40 minutes.
While Brussel sprouts are still warm, drizzle with honey and toss to coat.
Combine Brussel sprouts with pickled cranberries and pecans and toss to combine.
Serve warm.
http://www.westoftheloop.com/2017/11/14/brussel-sprouts-pickled-cranberries-pecans/
SaveSave
SaveSave