Calling all white meat lovers! The perfect roast turkey breast with gravy made from pan drippings. Just in time for Thanksgiving.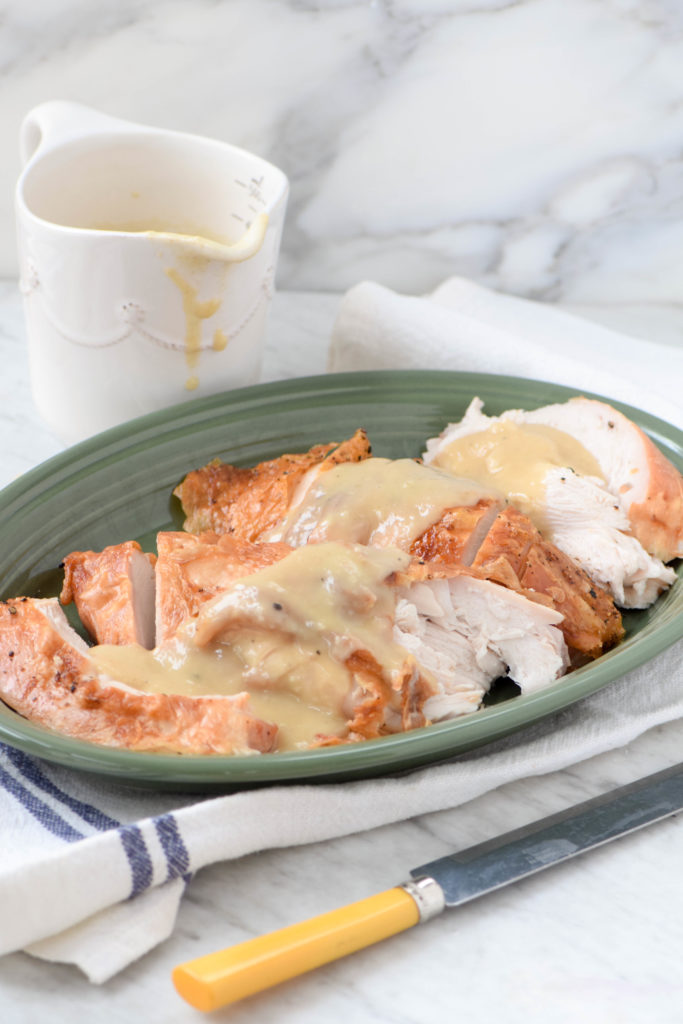 There are many reasons to roast a turkey breast. Perhaps you are hosting a small group for Thanksgiving. Perhaps you are hosting a large group but with a disproportionate number of guests who prefer white meat. Perhaps you are celebrating Thanksgiving at someone else's house and you are sad that you won't have any leftover turkey for sandwiches.
Whatever your reason, roasting just a turkey breast is easy and so much less of a production than roasting the whole bird. In fact, there is no reason to wait until Thanksgiving to roast a turkey breast. Love turkey sandwiches? Make roasting a turkey breast part of your regular routine and enjoy crave-worthy turkey sandwiches all year long.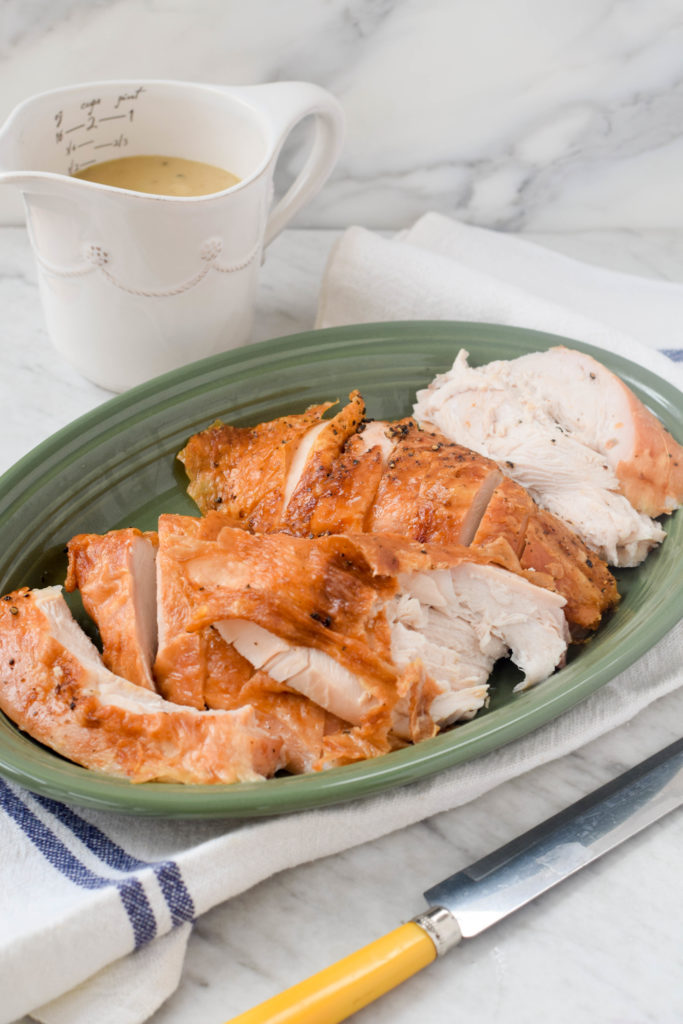 Today I am going to give you recipes for a dry-brined roasted turkey breast and a rich, smooth gravy made from the pan drippings. You will be amazed at both how easy this method is and at the juicy, flavorful results.
First, buy a bone-in, whole turkey breast. They can range from 5 to 8 pounds. Pick the size that works best for your group. The night before you plan to roast and serve the bird, dry-brine it by rubbing the exterior with kosher salt mixed with baking powder. (According to Serious Eats, the baking powder makes for crispy turkey skin. If you aren't convinced, feel free to skip it.) You then leave the bird uncovered — I know that seems weird — in the refrigerator overnight.
The next day, bring the bird back up to room temperature while the oven preheats. Rub butter or oil on the outside — and maybe under the skin as well. Now you are ready to roast!
To roast the turkey and create pan drippings to use for gravy, you need to place the bird on rack to allow the juices and fat to drain off. I am enamored of this Silicone Roasting Rack from OXO. The open design allows air to circulate around the turkey for faster, more even roasting and the vents on the bottom allow drainage of grease and fat into the pan so the bird isn't swimming in its own juices. The best part? When you are done, it goes in the dishwasher for easy clean-up.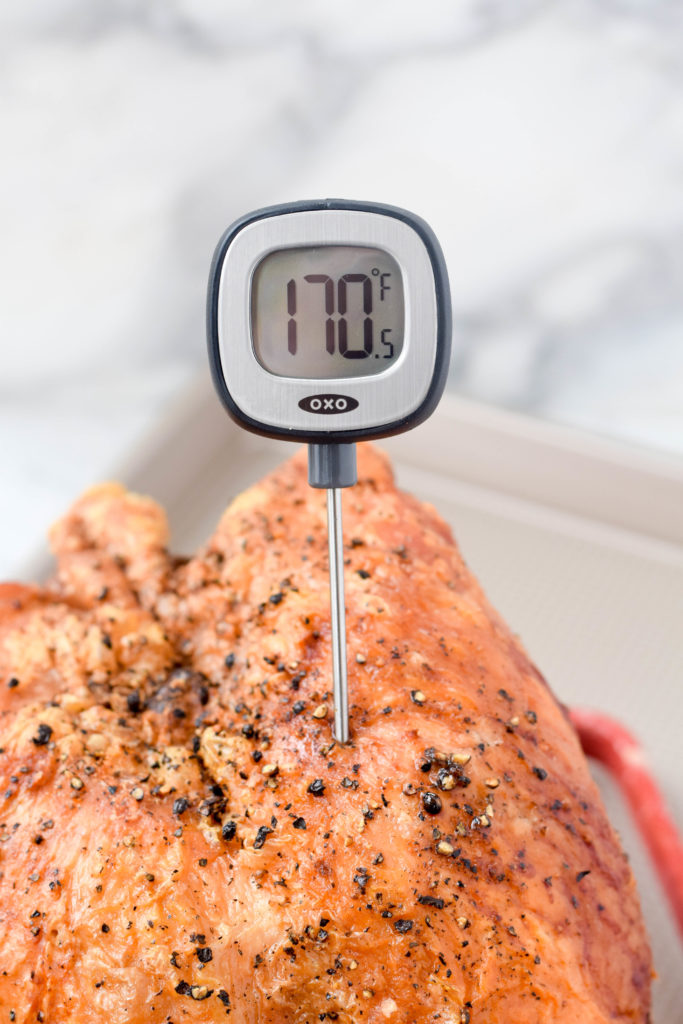 Roast the turkey until the internal temperature reaches at least 165 degrees. Truly, there is no better way to know when your turkey is done than by using a reliable meat thermometer such as the OXO Chef's Precision Digital Instant Read Thermometer. My 5 1/2 lb. turkey breast took and hour and forty-five minutes to reach this temperature, but depending on the size of your bird and the vagaries of your oven, your timing could be very different. Thus, I highly recommend investing in a good thermometer for all your roasting and grilling needs.
Now comes the gravy. There's an easy way and a slightly harder way to go about this. The easy way involves buying chicken or turkey broth. The slightly harder way involves making your own broth. When you buy a whole turkey, it comes with giblets that you can use to make stock, but when you buy the breast only, you will need some additional parts with which to make a broth. I suggest turkey necks as an inexpensive and readily available option.
To make your own broth, buy about 3 lb. of turkey necks. Combine the necks with a carrot, an onion, two stalks of celery, a parsnip (my secret ingredient), some sprigs of parsley, salt and pepper in a large saucepan. Cover with 2 quarts of cold water and bring to a boil. Turn down heat and simmer for at least 90 minutes. Strain out solids and, if making ahead, refrigerate stock until needed. Skim off any congealed fat prior to using. (I also have a post on how to make turkey stock using the carcass after Thanksgiving is over if you are so inclined.)
Whether you are using homemade or store-bought broth, you will need about two cups for the gravy. You may decide that for such a small amount of broth, it is not worth it to make your own, and that is fine. The pan drippings will give the gravy plenty of flavor.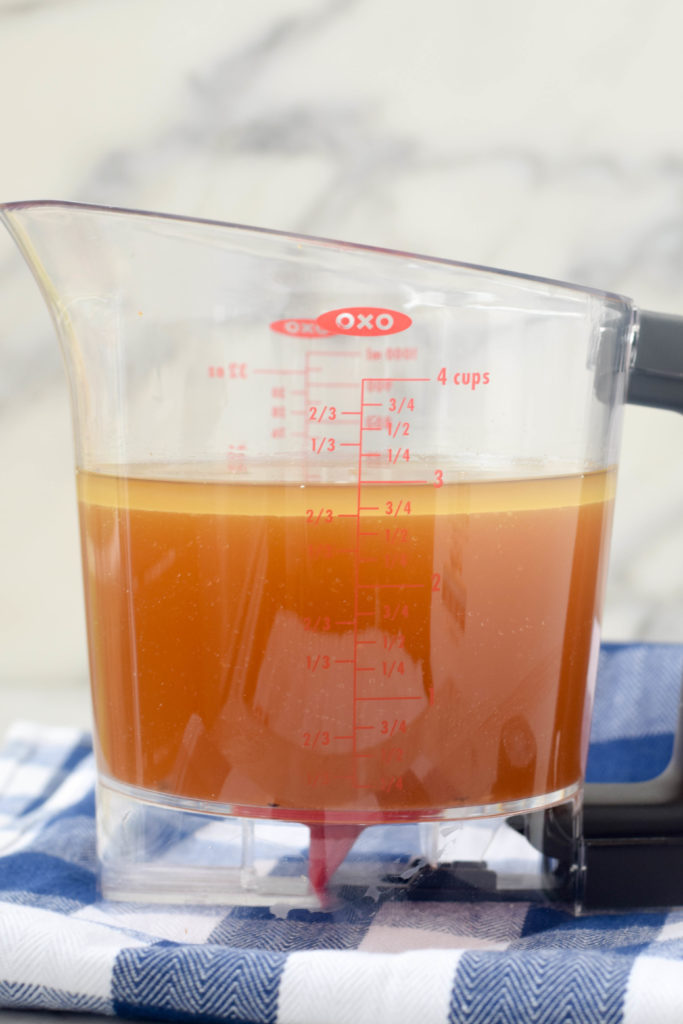 The first step to making gravy is to deglaze the roasting pan. Once you remove the turkey from the oven, place the bird on a cutting board and let it rest. Place the roasting pan with all the accumulated fat and juices from the turkey breast on top of the stove over medium heat. Add a cup of broth and start scraping up all the crusty brown bits.
Pour the deglazed pan drippings into a measuring cup. The fat will naturally rise to the top. You want to separate the fat from the juices and that can be challenging. If you have time, you could refrigerate the pan drippings and the fat would congeal. But I usually want to make gravy right before I serve the bird. That's why I am in love with OXO Good Gravy Fat Separator measuring cup. You squeeze the trigger to release juice from the bottom of the cup — rather than pouring from the top — leaving the fat behind! If you don't have this great tool, you can certainly skim the fat off with a spoon.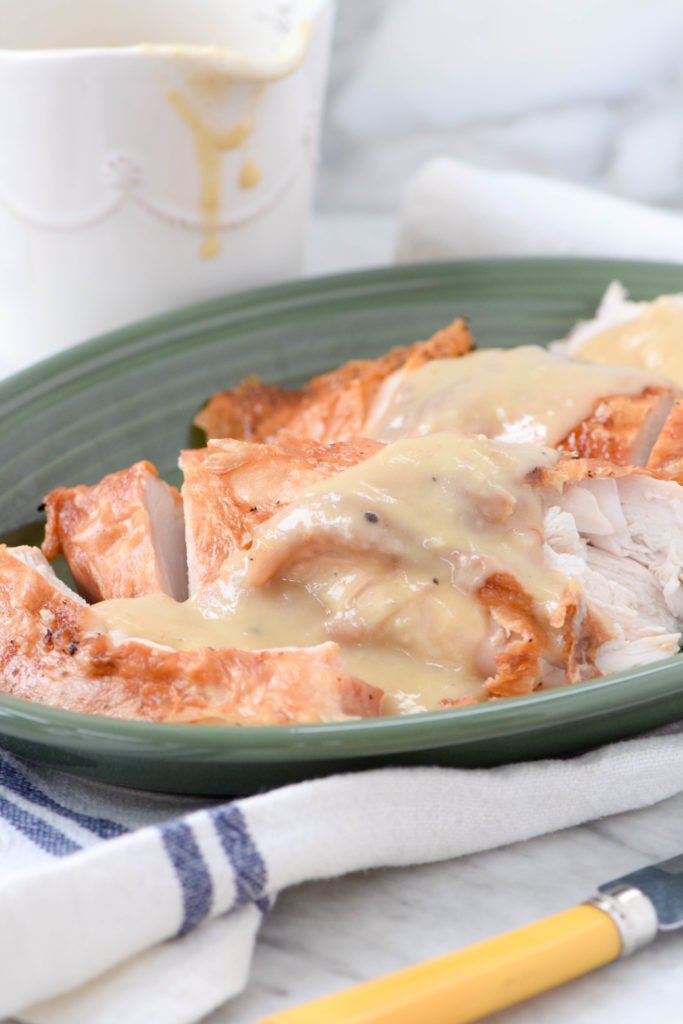 You should have around 1/4 cup of fat. In a small saucepan, combine the fat with an equal amount of flour and whisk over medium heat for a few minutes to get rid of the raw flour taste. Then, slowly whisk in the reserved pan drippings. Gradually add the remaining broth, a little bit at a time until you achieve the consistency you are looking for. Voila! Gravy! And you made it while the bird was resting.
The only thing left to do is carve the turkey breast and serve with the delicious, rich gravy. White meat lovers of the world, rejoice!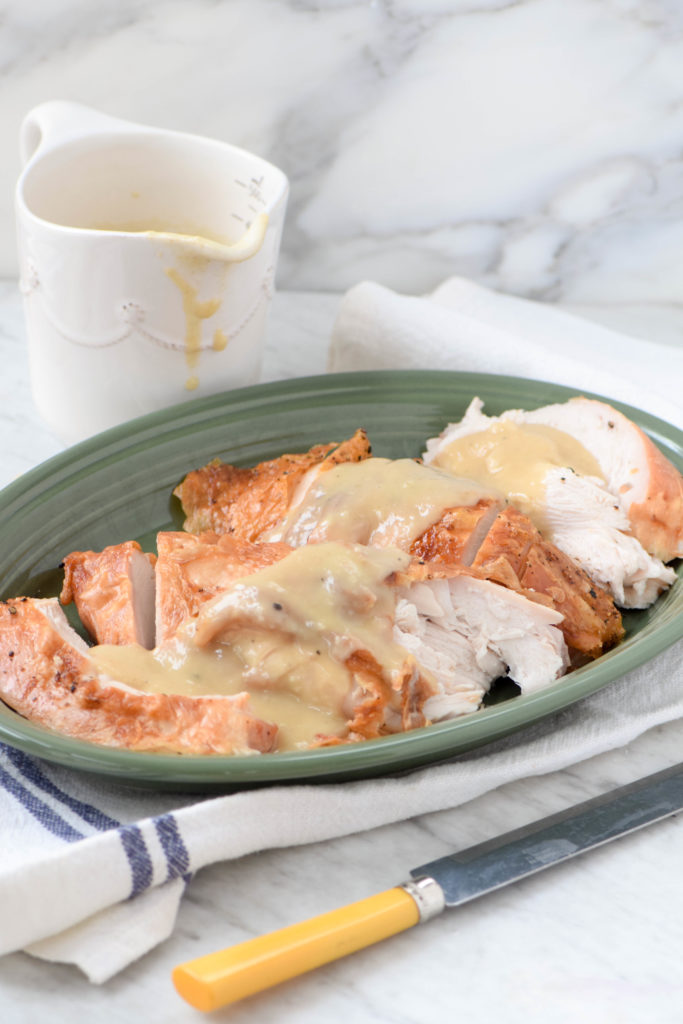 Roasted Turkey Breast with Gravy
Ingredients
Turkey

1 whole turkey breast, 6-8 lb
3 TB kosher salt
1 TB baking powder
2 TB butter, softened, or olive oil
Black pepper

Gravy

Pan drippings from roasted turkey breast
2 cups chicken or turkey broth
1/4 cup flour
Instructions
Place the turkey on a roasting rack inside a deep roasting pan.
Whisk together the kosher salt and baking powder and sprinkle it over the turkey.
Place turkey uncovered in refrigerator for 12 hours or overnight. (This is dry-brining the turkey breast. You may skip this step if you prefer.)
Preheat the oven to 450 and allow the turkey breast to come to room temperature.
Pat the turkey dry and rub with softened butter or olive oil. Season with black pepper.
Place turkey in the oven and immediately reduce heat to 350. Roast turkey until the internal temperature reaches 165 on a meat thermometer, 90 minutes to 2 hours.
Remove turkey from pan and place on a cutting board to rest.
To prepare the gravy, place the roasting pan on the stove over medium heat. Add one cup of broth to the pan and deglaze by scraping any browned bits on the bottom of the pan.
Pour the pan juices into a measuring cup, separating the fat from the juice.
Add the fat to a medium saucepan. (If you don't have enough fat from the bird, about 1/4 cup, you can use oil.) Add the flour and cook, whisking constantly, over medium heat, until thickened and slightly darkened in color, 2-3 minutes. (This is a roux.)
Add the juices from the pan to the roux and whisk together. Gradually add the remaining cup of broth, whisking constantly. Taste and adjust seasoning, adding more salt and pepper if necessary.
Carve the turkey by removing the breast meat from each side of the bone and then slicing. Serve with gravy.
http://www.westoftheloop.com/2017/11/17/roasted-turkey-breast-gravy/
Full disclosure time: I received a set of roasting tools from OXO free of charge to create a post. I was not compensated for my work and all opinions expressed herein are entirely my own.
SaveSave
SaveSave
SaveSave
SaveSave