Not feeling pie for Thanksgiving dinner? This Pear Tart with Pecan Streusel is elegant, easy-to-make and a fresh twist on dessert for the biggest meal of the year.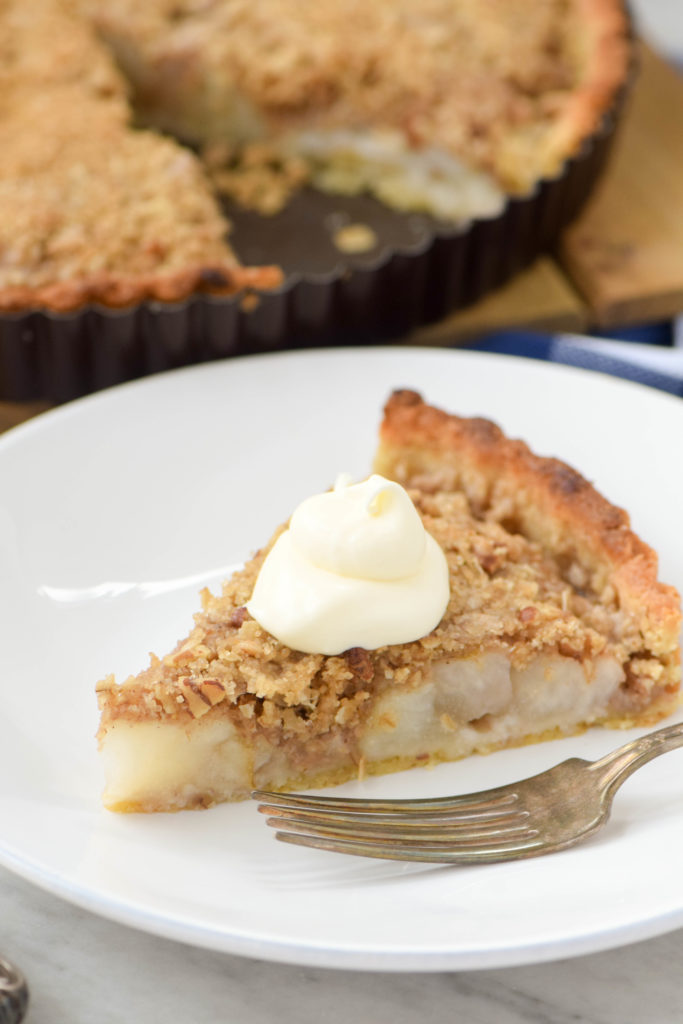 I think pears are overlooked as a fruit for Thanksgiving. Everyone, including me, automatically thinks about apples and pumpkins and perhaps sweet potatoes. But pears are just as seasonal as those other fruits and vegetables. Indeed pears are in season now through the winter, depending on the variety.
And pears are very American. The Pacific Northwest happens to have just the right conditions — volcanic soil, mountain water and warm spring and summer days, with cool nights — for growing pears. And indeed over 80% of the nation's pear crop grows there. There are ten different varieties grown in this area so make sure you pick the right pear for your needs. The best pears for baking are ones that are firmer and keep their shape, such as Bosc, Anjou, or Concorde.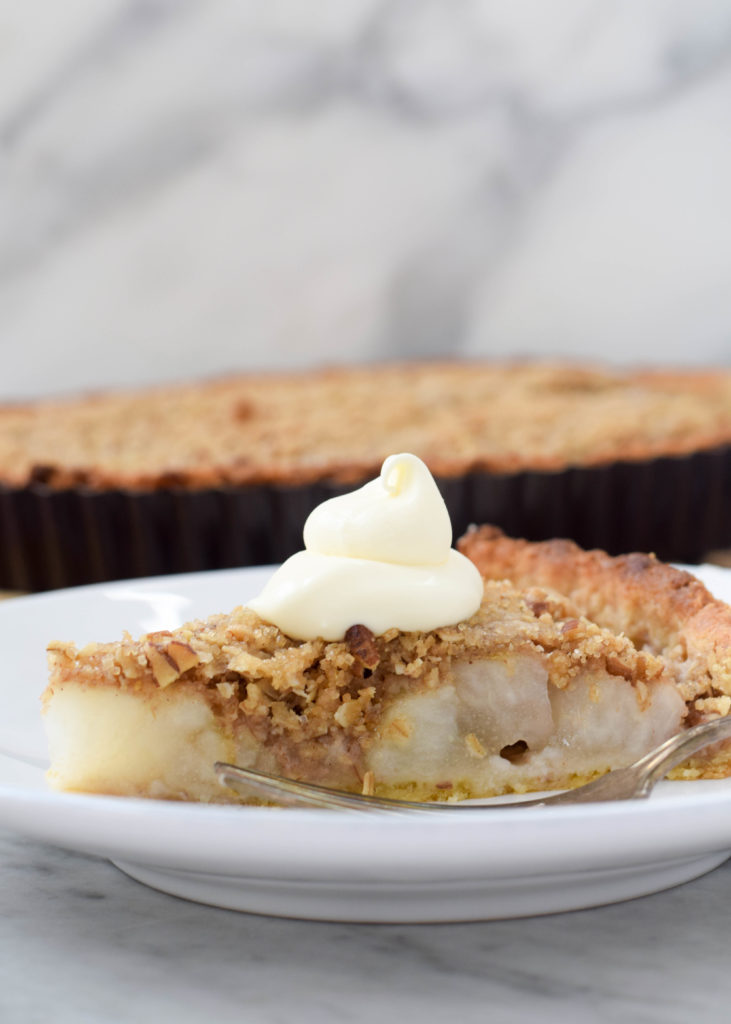 I think some people are confused by pears. Unlike many fruits, pears ripen off the tree, so typically the pears you find in the grocery stores are not fully ripe. It's sort of like buying avocado. You should buy pears expecting to let them ripen in a bowl on the counter for a few days before eating. And pears seem delicate. They bruise easily and brown quickly.
Sure, pears may not be as hardy as apples, but they are just as versatile. Pears are delicious in salads, in baked goods, poached, or preserved in jams and as pear sauce. Of course, you can always eat them out of hand, I personally enjoy the delicate, almost honeyed, floral taste of a ripe pear.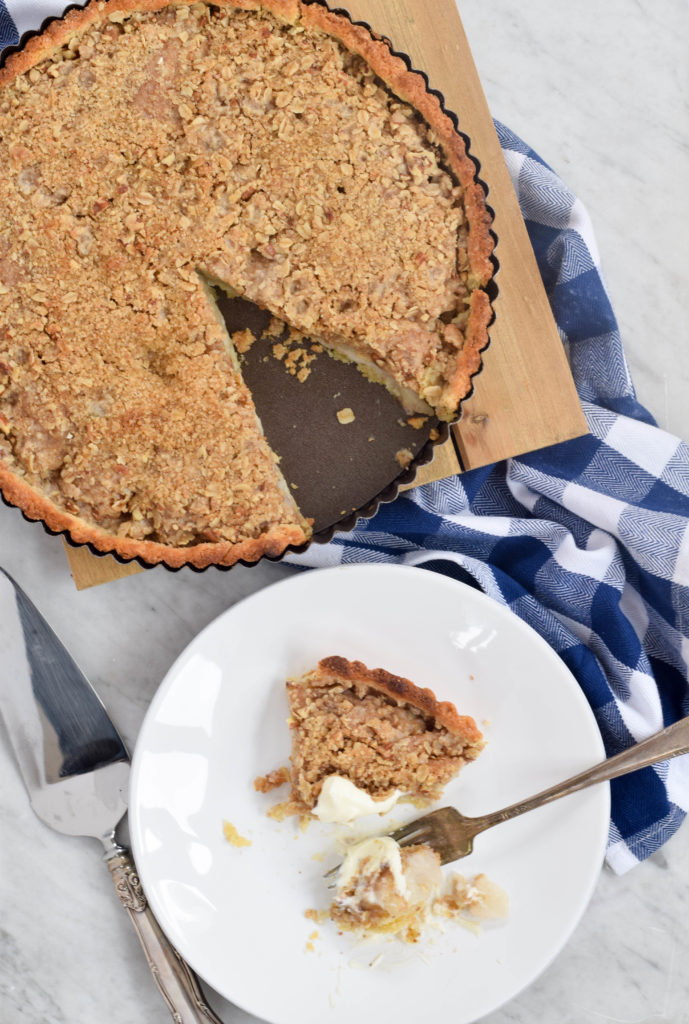 This elegant tart really allow that delicate taste to shine. The delicate pear flavor plus a rich buttery crust and crispy pecan streusel is truly a winning combination. Add just a dollop of tangy whipped cream and you have a dessert very worthy of your Thanksgiving table, or, indeed, any fall or winter holiday.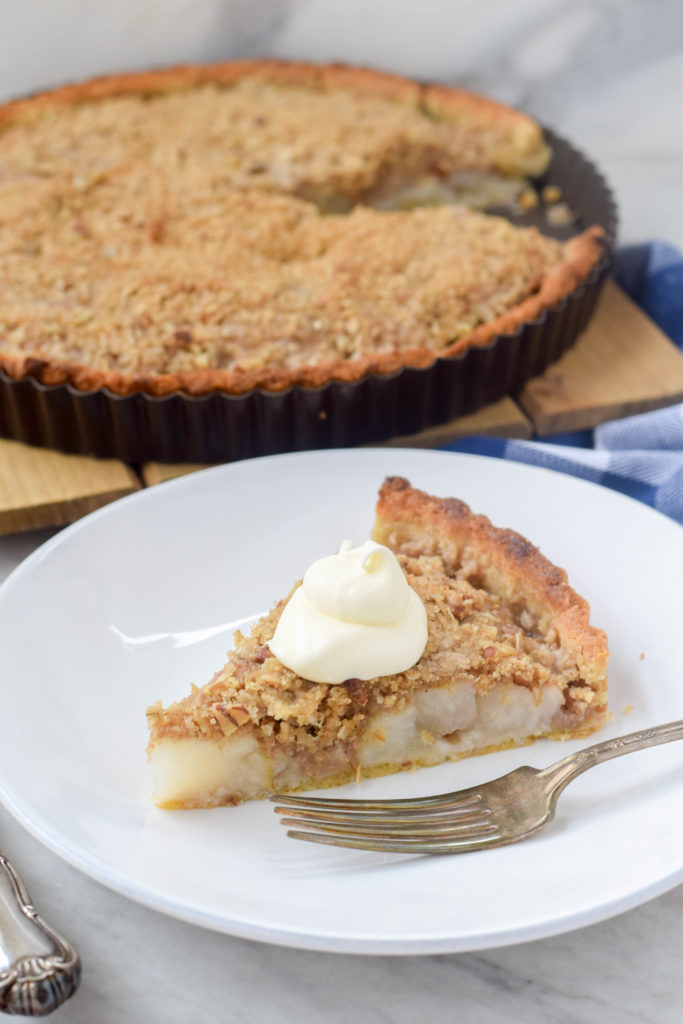 Pear Tart with Pecan Streusel
Ingredients
Crust

1 1/4 cups flour
1/3 cup sugar
2 TB ground pecans
Pinch salt
4 oz cold butter, cut into pieces
1 egg, beaten, straight from fridge
1 tsp vanilla extract

Streusel

1/2 cup flour
1/2 cup rolled oats
1/3 cup brown sugar, lightly packed
3/4 cup pecans, roughly chopped
1 tsp ground ginger
Pinch salt
6 TB butter, cut into pieces
5 pears, peeled and cut into slices
Creme fraiche for serving
Instructions
Combine the flour, sugar, pecans, and salt in a food processor and pulse to combine.
Add the butter and pulse until mixture resembles coarse crumbs.
Drizzle the beaten egg and vanilla over the mixture and pulse just until it begins to hold together.
Transfer the mixture to a bowl and gather together in a ball. Flatten into a disc and wrap in plastic.
Refrigerate for at least two hours or overnight.
To make the streusel, combine the flour, oats, brown sugar, pecans, ginger and salt in a bowl. Add the blend and blend with a pastry blender or two knives until the mixture resembles coarse crumbs.
Freeze until needed.
Remove the chilled tart dough from the refrigerator and allow to warm up for 5 to 10 minutes. Preheat oven to 400.
Roll out the dough on a lightly floured surface until it is between 1/4 and 1/8 inch thick and is approximately 14 inches in diameter.
Transfer to a fluted tart pan with a removable bottom. Line with foil and fill with pie weights and blind-bake for fifteen minutes.
Remove tart from oven and turn heat down to 350. When cool enough to handle, remove weights and foil.
Arrange pear slices in crust. Top with streusel.
Bake tart for thirty to thirty-five minutes until pears are tender and the streusel is golden brown and crispy.
Cool on a wire rack. Serve warm with creme fraiche.
http://www.westoftheloop.com/2017/11/19/pear-tart-pecan-streusel/
SaveSave
SaveSave