The perfect holiday stuffing made with rich challah, crunchy apples and sweet honey. A Jewish take on stuffing!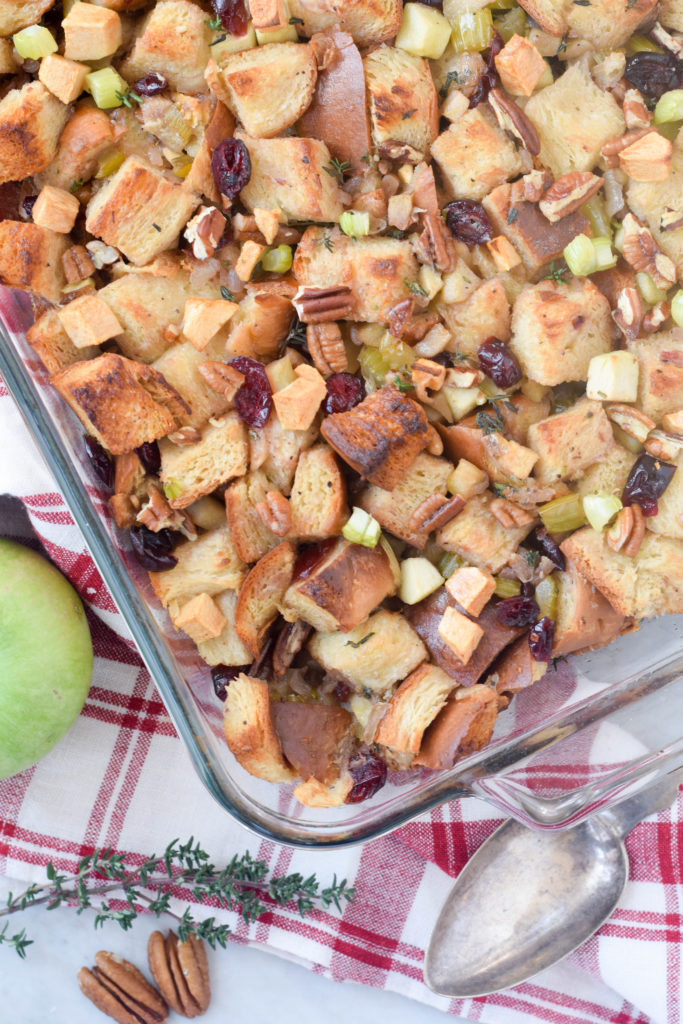 Thanksgiving is just around the corner, but I have time to give you one more recipe before you have to start cooking. So far, this month, we have talked turkey, mashed potatoes, cranberry relish, vegetables and, naturally, dessert, be it pumpkin pie or something a little more elegant. What's missing from the conversation? Why stuffing, of course!
In the past, I have typically made stuffing with cornbread, or a mix of cornbread and white bread. But this year, having spent so much time immersed in Jewish cuisine because of my new book, I decided to try adding a Jewish element to my Thanksgiving stuffing. And that means using challah, the rich, eggy bread that is a fixture on Jewish holiday and Shabbat tables.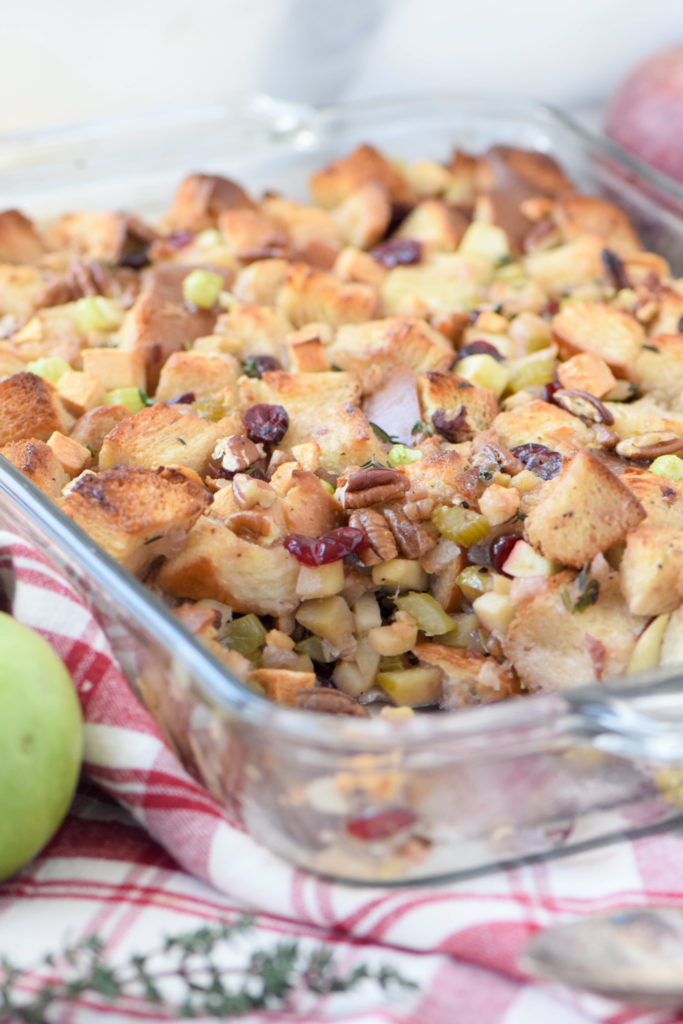 With a tender crumb and a hint of honey, challah is the perfect base for a flavorful, slightly sweet version of stuffing. To accentuate the natural sweetness of the challah, I incorporate apples — a seasonal fruit — and a drizzle of honey into my stuffing recipe. Dried cranberries add tartness, fresh herbs pump up the flavor and there is plenty of crunch from celery and toasted pecans.
Now, I am typically a proponent of cooking from scratch, but let me assure you that you do not need to make the challah that you use in this stuffing from scratch. Store-bought is perfectly acceptable for these purposes and a very worthwhile shortcut. (Even I buy the challah for this recipe.)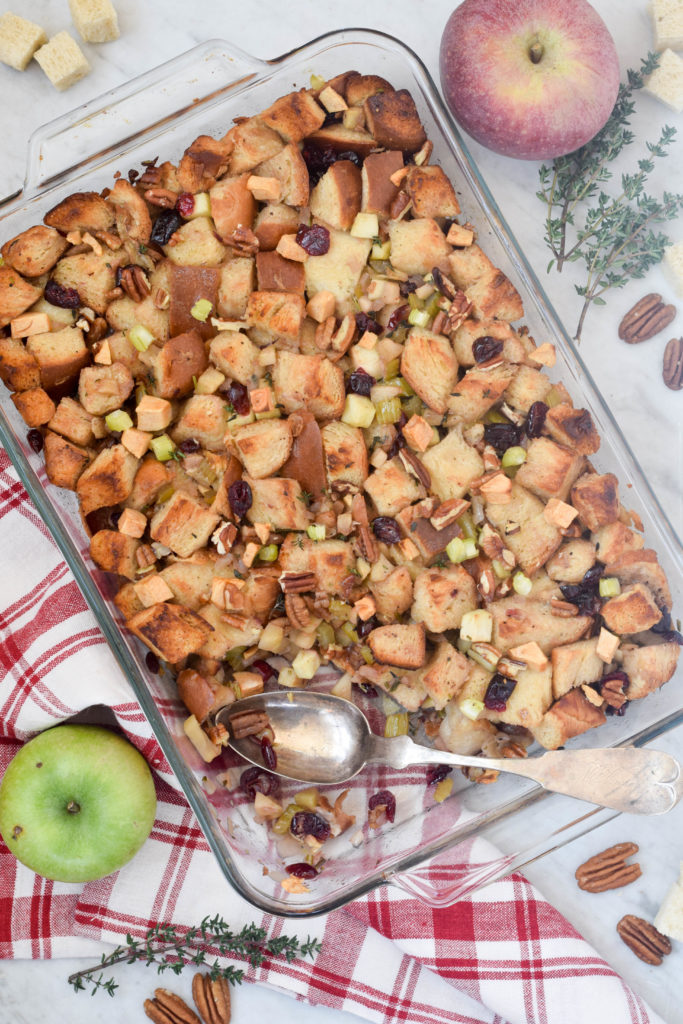 If you have time, I recommend cutting the challah into cubes the night before you plan to make the stuffing and leaving it out overnight to become stale. If you do not have time, or did not plan ahead, you can toast the bread in the oven for the same effect.
This version of stuffing does not include eggs, but uses only chicken broth to moisten the bread. This is a nice option to consider for anyone with an egg allergy. You can also make this recipe dairy-free — for anyone who is keeping kosher, for example — by using margarine or oil instead of butter.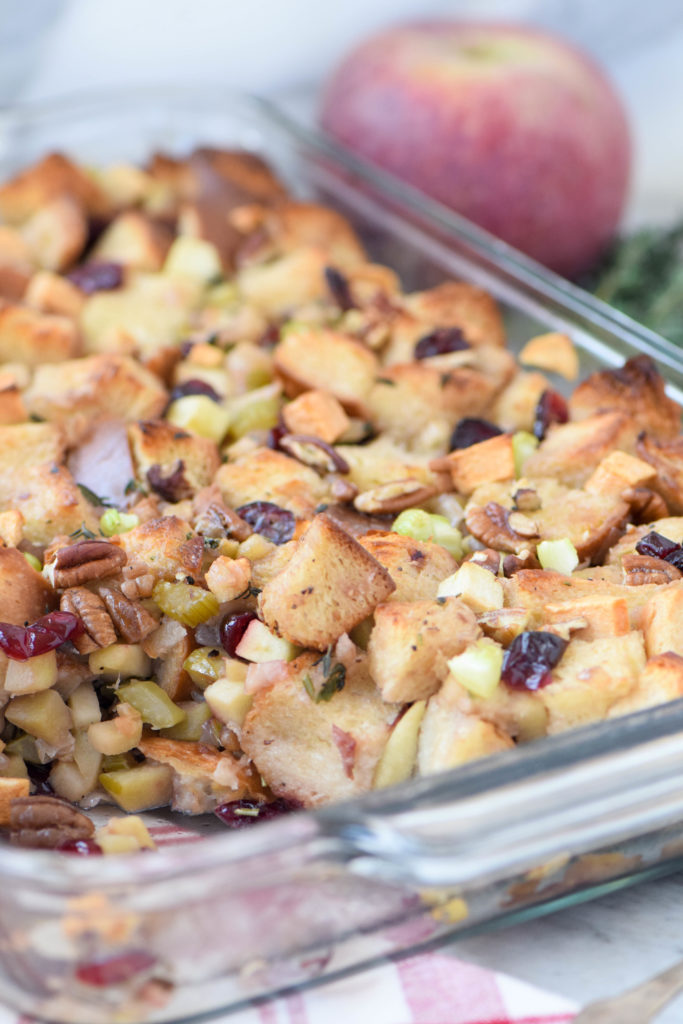 Thanksgiving may not be a Jewish holiday, but I find it meaningful to incorporate aspects of my family's cultural heritage into this most American of celebrations. Challah stuffing may become our new family tradition.
Happy Thanksgiving everyone! Is it too soon to talk about what to do with the leftovers?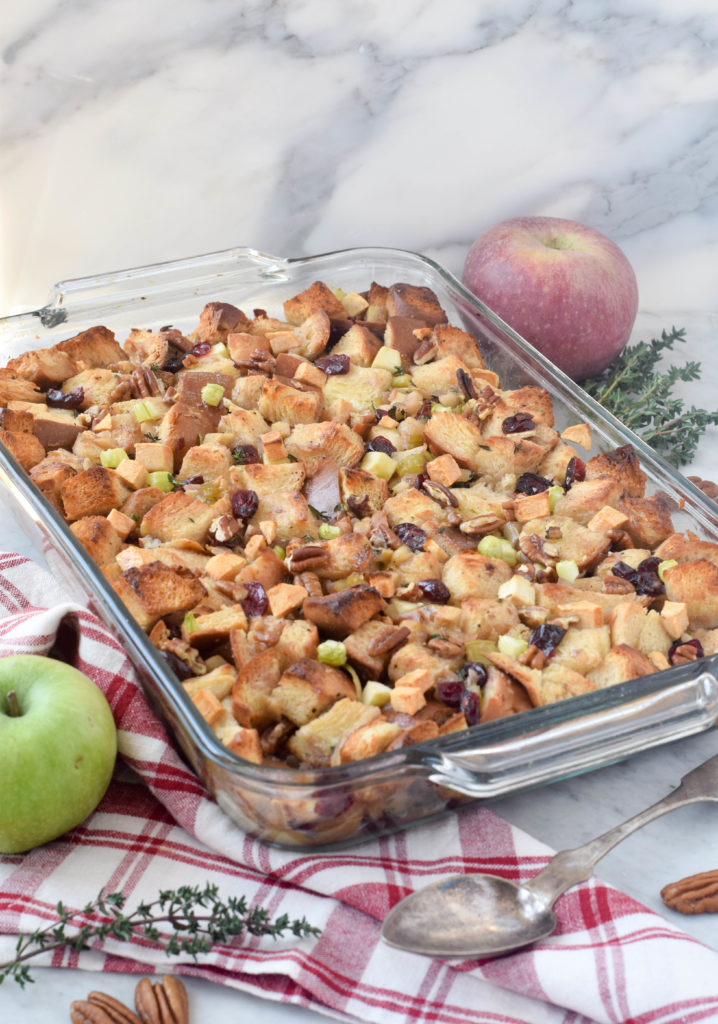 Apple Honey Challah Stuffing
Ingredients
1 loaf challah (between 14 oz and 1 lb)
4 TB butter
1 onion, diced
4 stalks celery, diced
3 tart apples, peeled, cored and diced
2 TB honey
1 cup chopped pecans
3/4 cup dried cranberries
1 TB fresh thyme leaves
6 sage leaves, sliced
1 stalk fresh rosemary, leaves removed and chopped
3 cups chicken broth
Salt and pepper to taste
Instructions
Cut challah into 1-inch cubes and leave out overnight to become stale. (Alternatively, toast challah in a 300 degree oven for 25 minutes until firm.) You should have about 10 cups of challah cubes. If you have more, reserve them for another use.
Preheat oven to 350.
In a large saute pan, melt butter over medium heat.
Add onions and celery and sauté until the vegetable are soft, about five minutes.
Add the apples and honey and toss to combine. Sauté until apples soften, about five more minutes.
Add the pecans and cranberries and sauté a few additional minutes. Season well with salt and pepper and add fresh herbs. Set aside.
Place the challah pieces in a large bowl. Add the sautéed vegetables and toss gently to combine.
Spread the mixture into a buttered 9x13 baking dish and add the chicken broth.
Dot with butter and cover with foil. (May be done ahead and refrigerated until time to bake.)
Bake until heated through, 25 minutes.
Remove foil and bake until top is browned and crisp, another 15-20 minutes.
http://www.westoftheloop.com/2017/11/20/apple-honey-challah-stuffing/