This post is sponsored by Everywhere Agency on behalf of Macy's; as always, all thoughts and opinions expressed herein are entirely my own.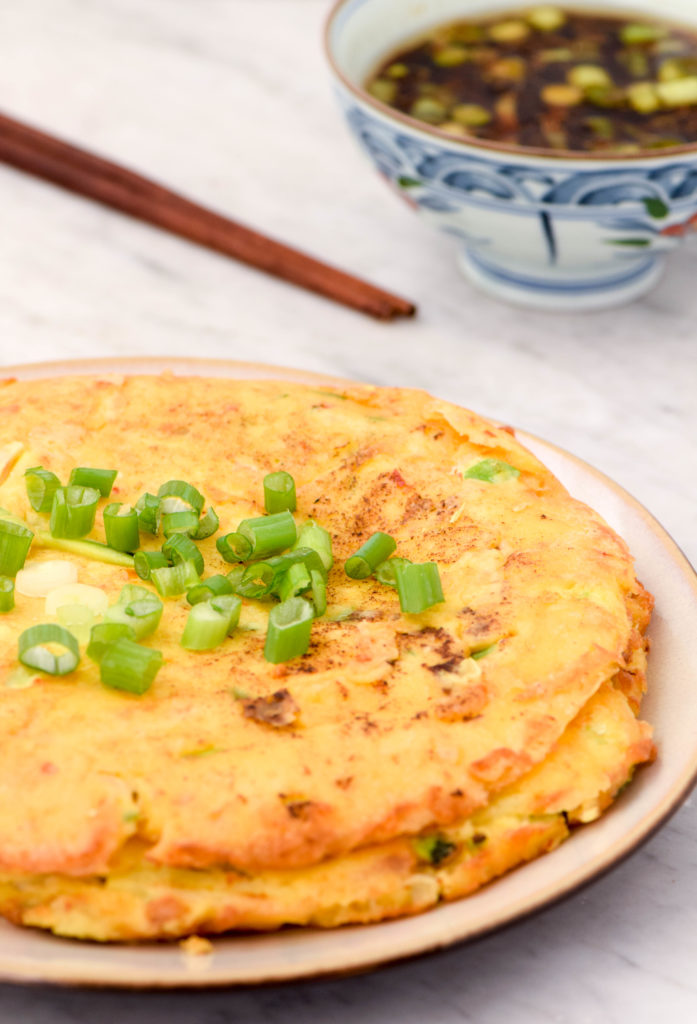 Calling all Chicago readers! Join me for a delicious afternoon at the Macy's on State Street with Macy's Culinary Council and Chef Bill Kim (of urbanbelly and bellyQ fame) on December 8 at 12pm. Learn from this master chef as he shares stories, culinary secrets and techniques on how to prepare some of his award-winning dishes. The best part? There will be plenty of food and drink to enjoy!
Chef Bill Kim is one of Chicago's most acclaimed chefs. His West Loop Asian barbeque restaurant, bellyQ, is one of my favorites and I am already looking forward to his cookbook, Korean BBQ: Master Your Grill in Seven Sauces, coming out next spring. (P.S. I am totally buying that book for my husband for Father's Day next year. That's how on top of things I am.)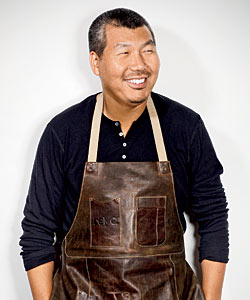 So when I learned that Chef Kim would be demonstrating some of his favorite recipes at the Macy's on State Street, I knew I had to be there. Of course, I also have holiday shopping to do. So, after Chef Kim's demo, I plan to head down to the Lower Level of Macy's to explore the latest cookware and gadgets for everyone on my list. Everyone who makes a purchase of $30 or more in the Home department on the day of the demo will receive a $10 Macy's gift card, a Bill Kim Belly sauce and a chance to meet the Chef. I definitely plan to take advantage of that deal!
So won't you join me at Macy's on December 8 at 12 pm to see Chef Bill Kim? You can find out all the details and learn how to RSVP here.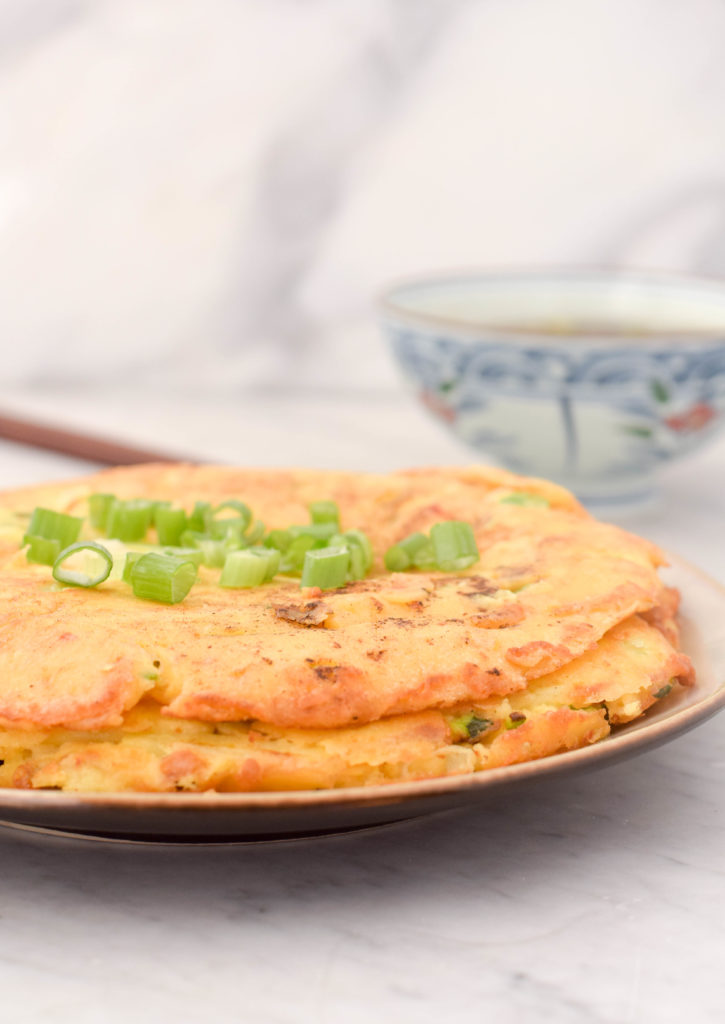 In honor of Chef Kim's appearance, I tried my hand at recreating one of his recipes at home. Scallion pancakes, called pa jeon, are a classic appetizer or snack in Korean cuisine. To make pa jeon, you mix scallions, and sometimes other vegetables, with a thin, egg-and-flour batter and pan-fry the pancake with a bit of oil. Here, I serve a soy dipping sauce alongside the pancake.
Chef Kim's recipe for Korean pancakes calls for some hard-to-find ingredients, like yuzu juice, so I have simplified it somewhat. By all means, if you can get to a Japanese or Korean supermarket and source these ingredients, try them in your pancake. (I am just about due for a trip to Mitsuwa, the Japanese supermarket, now that I think about it.) One ingredient that you should be able to find at your local grocery store is rice flour. But if you cannot, try cake flour as a substitute.
Hope to see you at the State Street Macy's on December 8 to see Chef Bill Kim and sample his delicious food! Don't forget to RSVP.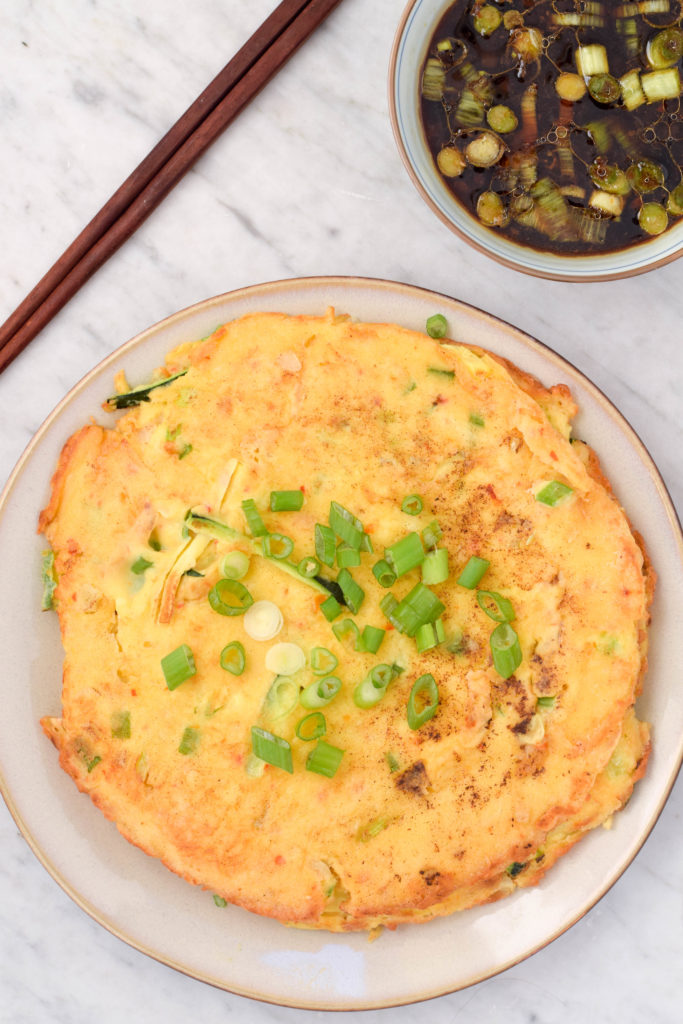 Ingredients
Pancake

3 large eggs
3/4 cup ice water
3/4 cup white rice flour
1 small zucchini or half a large zucchini, sliced into thin matchsticks
4 scallions, thinly sliced
1/4 cup minced yellow onion
2 1/2 tsp fish sauce
2 1/2 tsp freshly squeezed lime juice
2 1/2 tsp Sambal Oelek (or other chili paste)
3 TB neutral oil with high smoke point, such as canola or grapeseed

Sauce

1/4 cup soy sauce
1/4 cup rice wine vinegar
1 TB lime juice
1 TB sesame oil (or neutral oil such as grapeseed)
1 scallion, sliced
1 clove garlic, minced
Instructions
In a medium bowl, whisk together the eggs until foamy.
Add the water to the eggs.
Whisk in the rice flour, zucchini, scallions and onion and then whisk in the fish sauce, lime juice and chili paste.
Heat a nonstick sauté pan over medium heat and coat it with a thin layer of oil.
Pour batter to fill the pan in a thin layer. (Use 1/2 to 1/3 of the batter depending on the size of your pan.)
Cook for 3 to 4 minutes until set and golden brown on the bottom.
Turn over the pancake with the help of a spatula or plate and finish by cooking second side for 2-3 more minutes, adding more oil if necessary.
Repeat with remaining batter.
To make the dipping sauce, whisk together all of the ingredients.
Cut the pancake into wedges and serve with dipping sauce.
http://www.westoftheloop.com/2017/11/29/cooking-demo-chef-bill-kim-macys-recipe-korean-scallion-pancake/
SaveSave
SaveSave