Today's post with a tutorial on how to make edible Parmesan bowls is sponsored by Parmigiano Reggiano. I am proud to be a 2017 Parmigiano Reggiano Brand Ambassador. Real Parmigiano Reggiano, imported from Italy, is the only parmesan for me!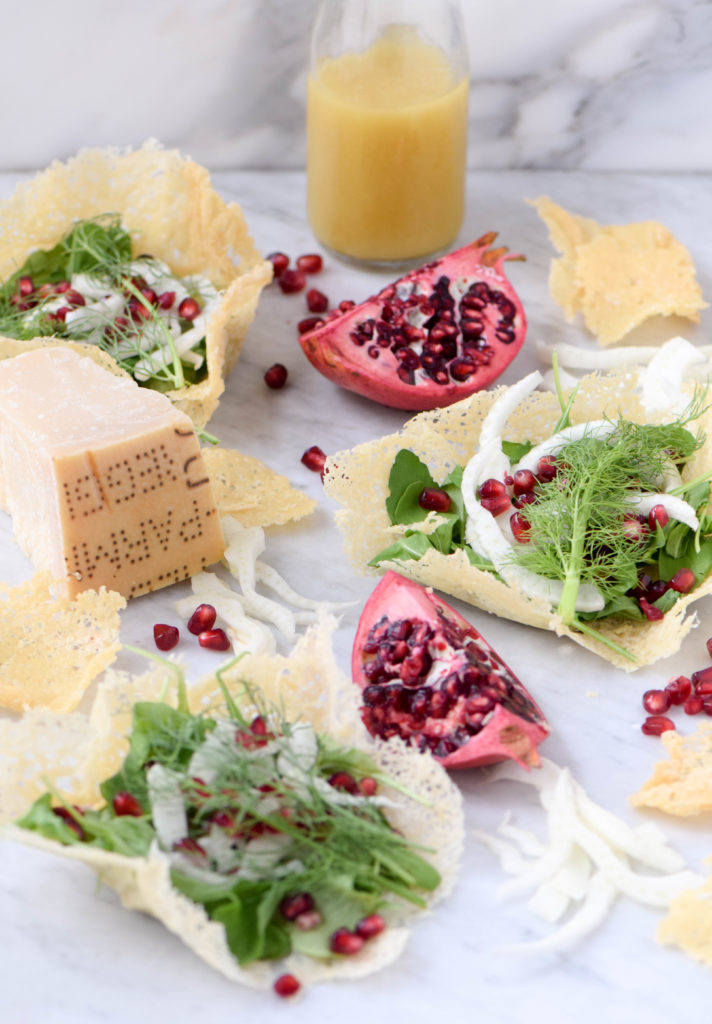 If you are looking for a special first course this holiday season, look no further than this arugula and fennel salad served in an edible bowl made from grated Parmigiano Reggiano. The salad itself is simple, light and refreshing — just the kind of thing you want to serve before a grand, festive meal. But the presentation is elegant, refined and guaranteed to impress your friends and family.
Who wouldn't want to eat their salad out of a crispy edible bowl made from real, imported parmesan cheese? It's so much more fun than simply adding parmesan to a salad.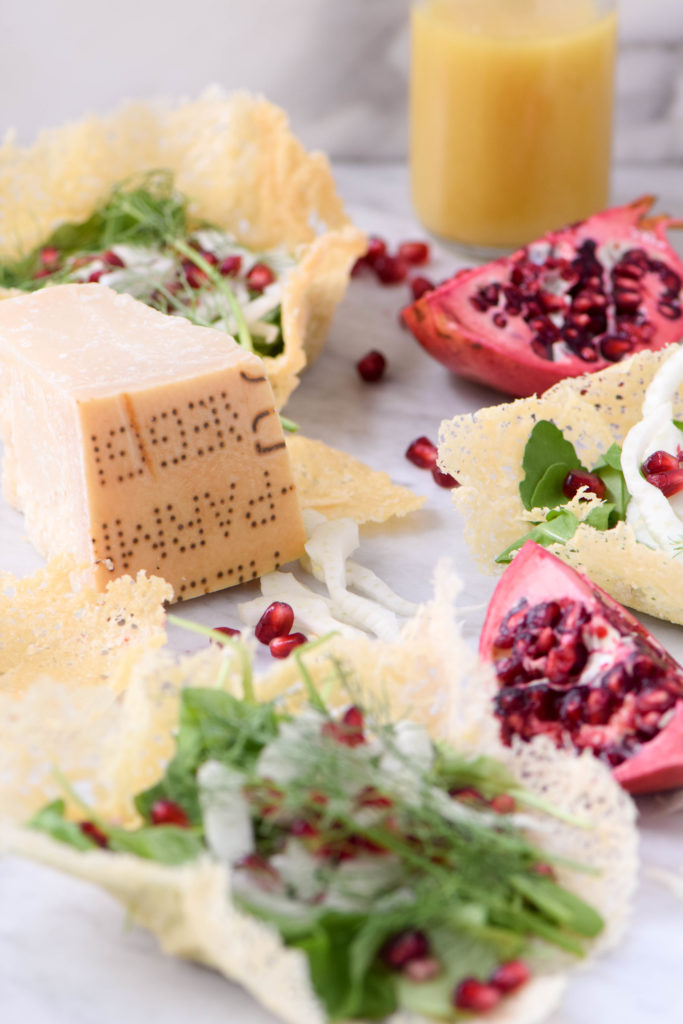 Making parmesan bowls is actually quite easy and they will keep for several hours, so plan to make them ahead of time. To make the bowls, simply sprinkle grated parmesan cheese on the bottom of a nonstick skillet and cook it just for a minute or two until the cheese melts and the edges begin to brown.
You then lift the sheet of melted parmesan from the skillet — this is honestly the trickiest part — and drape it over a glass to create the bowl shape. (If your first bowl or two breaks, do not despair. You can use the broken bowls as parmesan "crisps," a lovely snack or salad garnish.) Allow to cool and, once set, carefully remove from the glass. Voilà! Edible parmesan bowls ready to be filled with your favorite salad.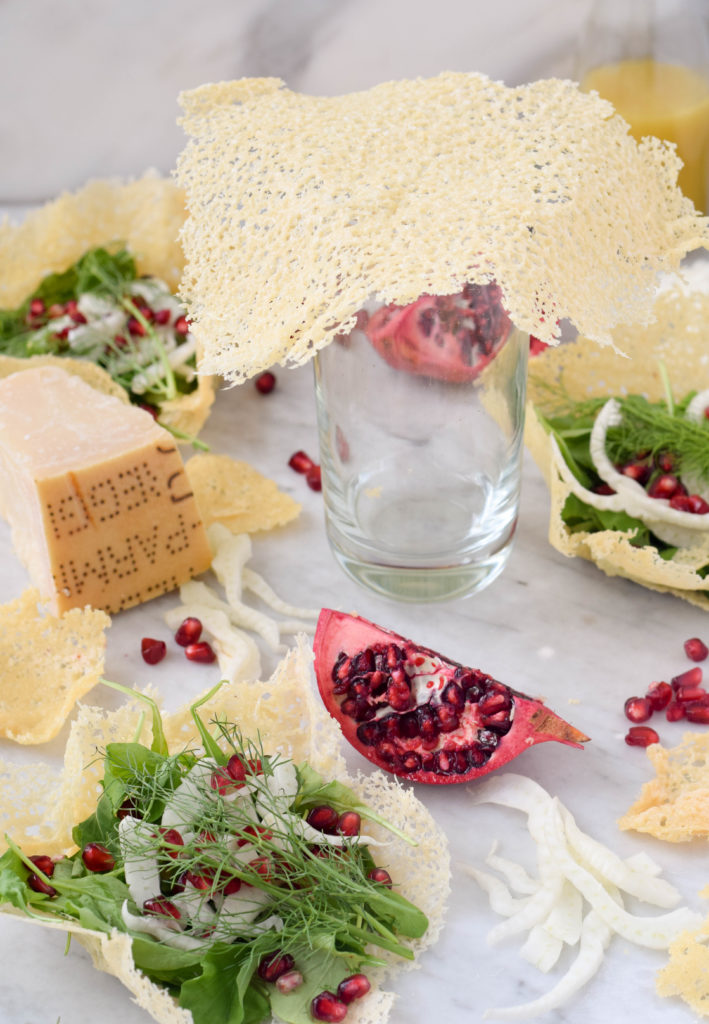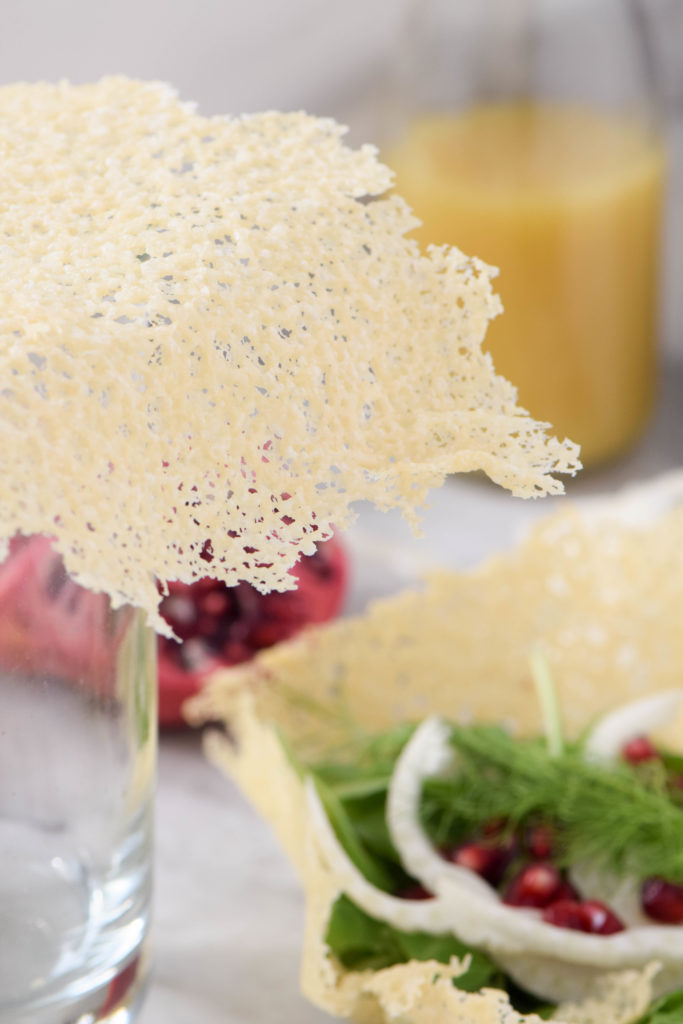 As always, before making this recipe at home, seek out true Parmigiano Reggiano cheese imported from Italy. Domestic parmesan tends to be a one-dimensional salt bomb, lacking the complexity and depth of the real thing.
In Europe, Parmigiano Reggiano is actually the only cheese allowed to call itself "parmesan" because "parmesan" literally means "from Parma." Here in America, however, other cheeses, including ones that are not even from Italy, use the parmesan name. This leads to a lot of confusion and, sadly, consumers buying an inferior product. But you can make sure you are getting the true Parmigiano Reggiano by looking for the telltale name and pin dots on the rind. I usually buy mine at Whole Foods, but other good grocery stores carry it as well.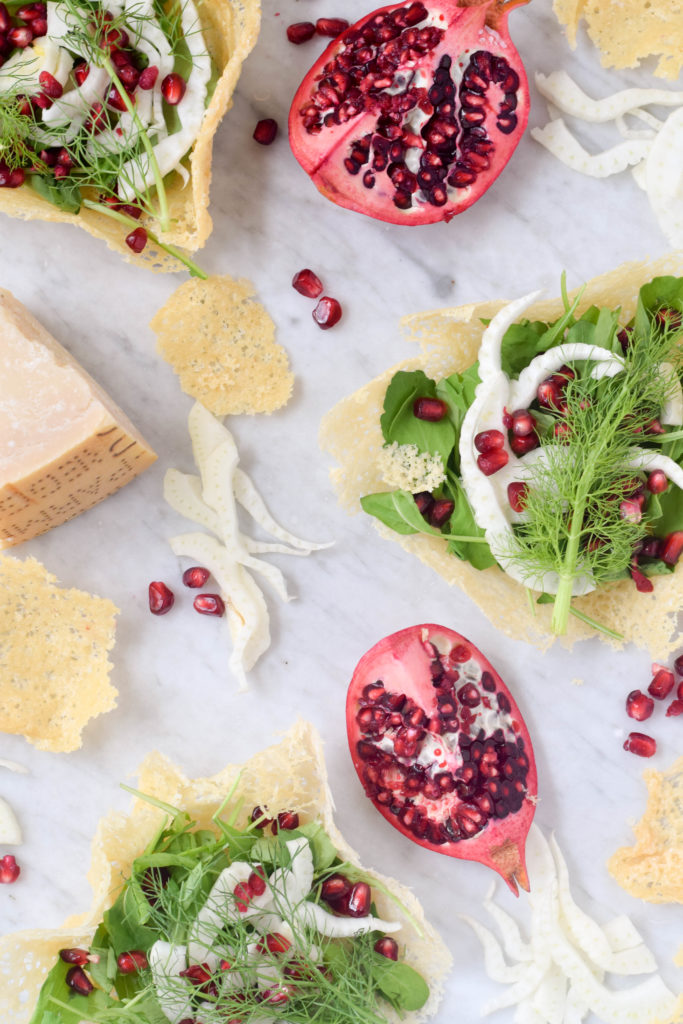 After taking the trouble to make these super-impressive edible parmesan bowls, all you need is a simple salad to fill them. This salad is just baby arugula, shaved fennel and, for a jolt of sweetness and color, pomegranate seeds. The dressing is a light honey-mustard vinaigrette made with fresh lemon juice and extra virgin olive oil.
Winter is the perfect time of year to enjoy fennel. This mild, licorice-flavored bulb is now in season and it is a natural match with Parmigiano Reggiano. When working with fennel, remember to trim off the long stalks and remove the woody core. Pomegranates too are a seasonal treat, making this salad perfect for winter occasions.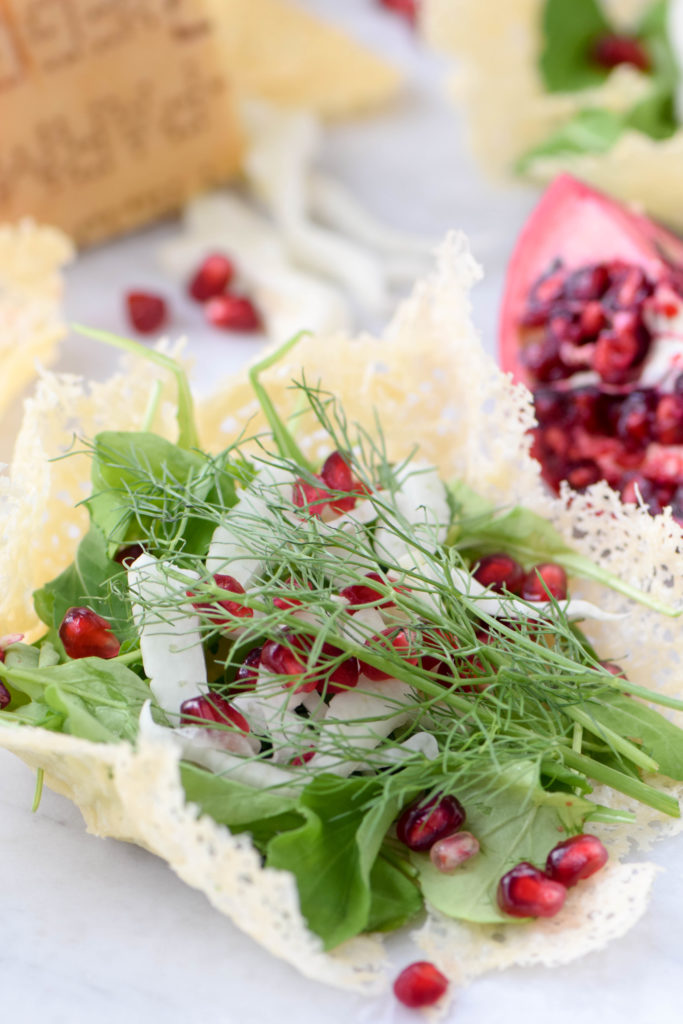 Once you've mastered making edible parmesan bowls, you can use them for all kinds of salads. Or make smaller bowls by reducing the amount of cheese and draping them over a small cup, such as a shot glass, and use them to hold hors d'oeuvres. However you fill your parmesan cheese bowls, just make sure you always buy real Parmigiano Reggiano cheese!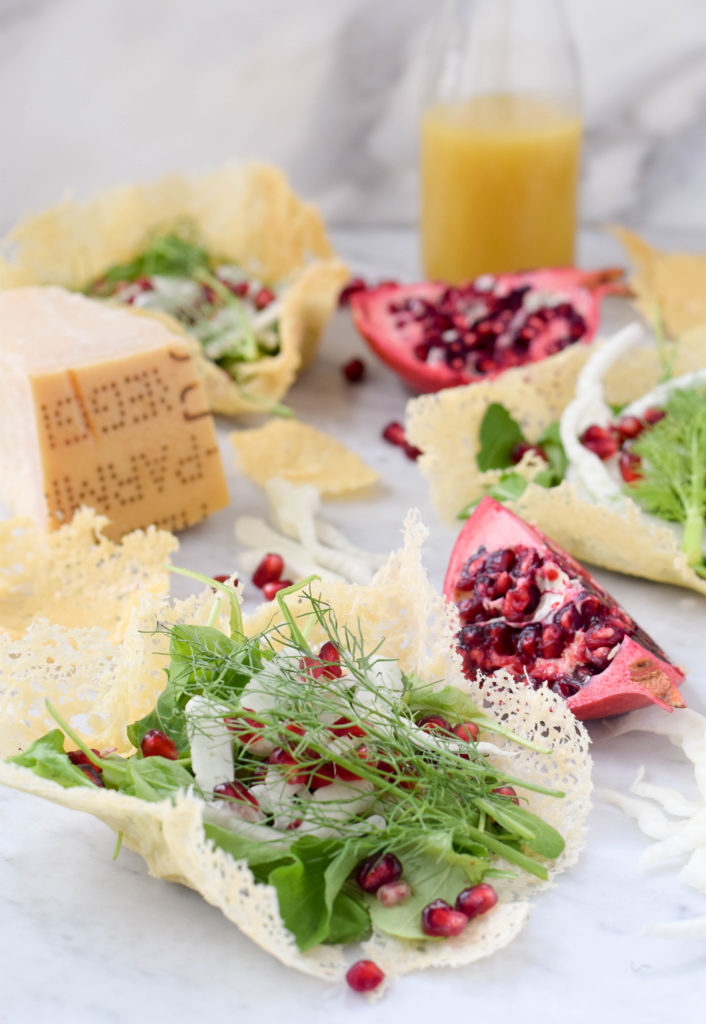 Arugula and Fennel Salad in Edible Parmesan Bowls
Ingredients
Salad

4 cups grated Parmigiano Reggiano
4 oz arugula
1 bulb fennel, ends trimmed, halved and woody core removed
Seeds from one pomegranate

Dressing

1/4 cup freshly squeezed lemon juice
2 TB honey
2 tsp mustard
1/2 cup extra virgin olive oil
Salt and pepper to taste
Instructions
To make the parmesan bowls, coat a 10-inch nonstick skillet with cooking spray and heat over medium-high heat. Place a tall, empty glass near the stove.
Sprinkle one cup of the grated parmesan all over the skillet, placing more cheese in the middle and less cheese around the perimeter to create lacy edges.
Cook for 1-2 minutes until the cheese is melted and the edges begin to brown.
Remove skillet from heat and allow to cool for 30 seconds to one minute.
Use a thin rubber spatula to loosen the edges of the sheet of melted parmesan and carefully peel off the bottom of the skillet.
Drape the sheet over the glass allowing the edges to fall. Allow to set and cool for five minutes.
Carefully remove the parmesan bowl from the glass. (Do not attempt to lift it from the edges, which will snap off. Pick it up from the base.) Set aside.
Repeat three times to make a total of four bowls. (May be done ahead up to this point.)
To make the dressing, place the lemon juice, honey and mustard in a small bowl. Whisk together to dissolve the honey and mustard.
While whisking, slowly pour the olive oil into the bowl in a steady stream until combined.
Place the arugula in a medium bowl. Slice the fennel halves thinly and add them to the arugula.
Add dressing and toss to combine. Season with salt and pepper.
Divide the arugula and fennel mixture evenly between the parmesan bowls. Garnish with pomegranate seeds.
Serve immediately
http://www.westoftheloop.com/2017/12/08/arugula-fennel-salad-edible-parmesan-bowls/
Full disclosure time: I am a 2017 Brand Ambassador for Parmigiano Reggiano and in the capacity have received compensation for my work. As always, all opinions expressed herein are entirely my own.
SaveSave