Beautiful jam-swirled homemade marshmallows are the perfect edible gift for the hot chocolate lovers in your life!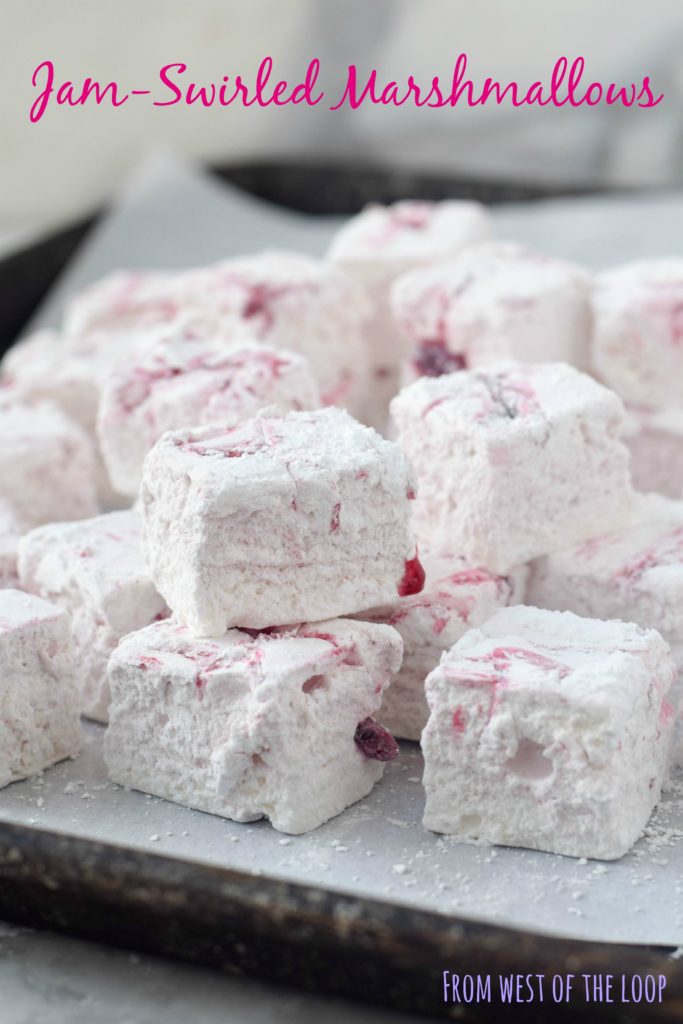 Homemade marshmallows are satisfying to bite into, melt in your mouth and burst with flavor. They are are so superior to store-bought versions as to be almost a different food. I love one and cannot abide the other. Indeed, once you've had a homemade marshmallow, you may be ruined for the jet-puffed kind forever.
What's more, by making marshmallows at home, you can customize them. Substitute mint extract for vanilla. Or swirl in some salted caramel sauce. Let your imagination be your guide.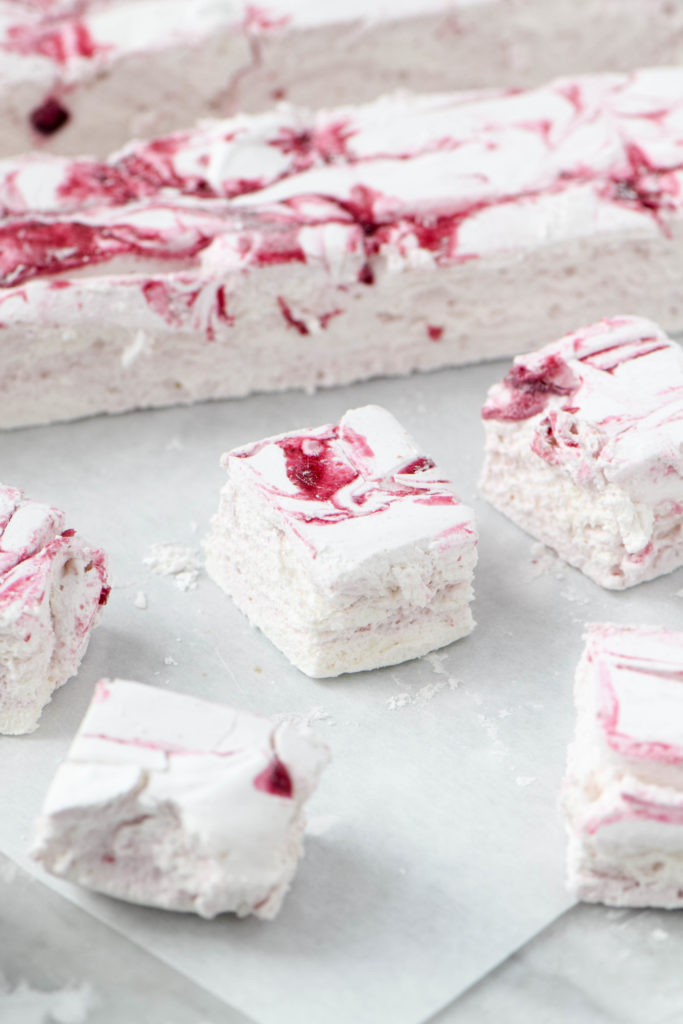 These marshmallows are swirled with homemade plum jam. The tart fruit flavor perfectly offsets the aching vanilla sweetness of the marshmallow. I got the idea for adding jam to marshmallows from a recipe in my friend Maggie's charming book Food Gift Love.
As someone who makes a lot of jam, I am always looking for creative ways to use it in other recipes. And every since I made a somewhat runny batch of Damson plum jam this summer, I have been thinking about swirling it into marshmallows.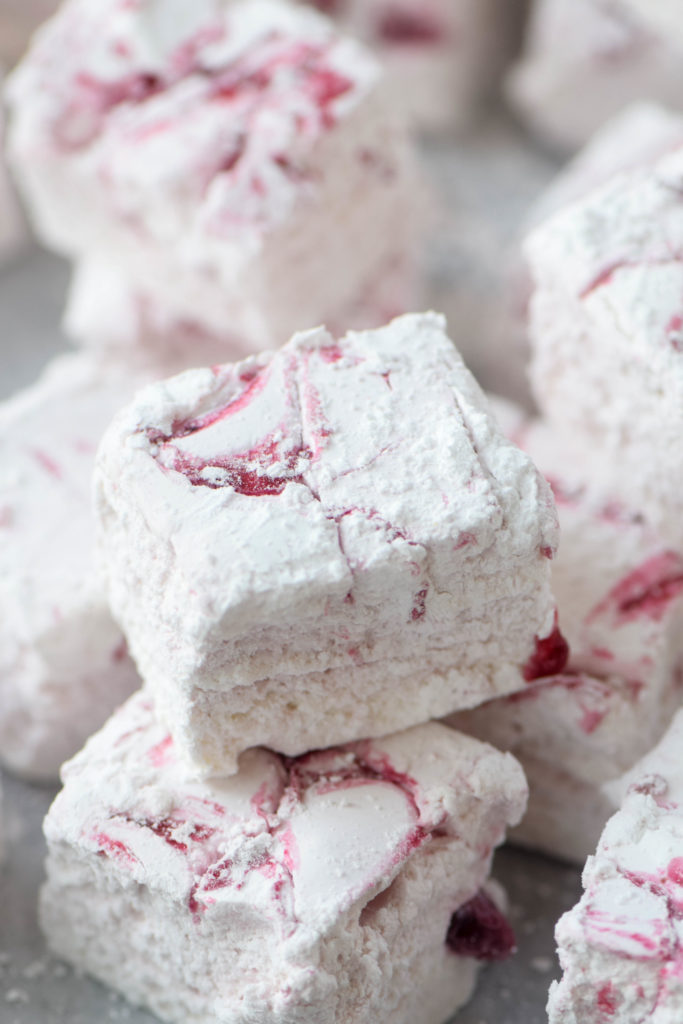 But if you don't happen to have a stash of homemade plum jam in your pantry, any tart, fruit-flavored jam — homemade or otherwise — will do nicely. This recipe is a perfect opportunity to use up that half-empty jar of jam lurking in the back of your fridge.
If the jam you select contains chunks of fruit or is quite thick, I suggest pureeing it in the food processor or thinning it out with some water before swirling it into the marshmallows.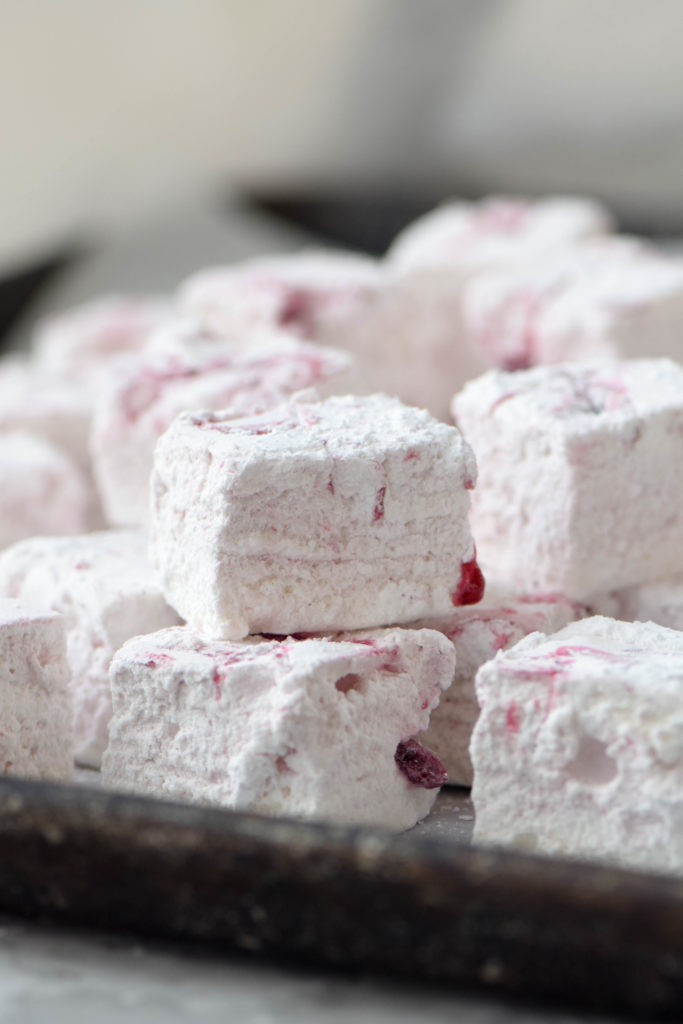 Do not be put off by the use of corn syrup in this recipe: it's often important in candy-making to add an inverted sugar, like corn syrup, to prevent the sugar from crystallizing. (Science!) But these marshmallows are otherwise free of highly processed ingredients. Can store-bought marshmallows say that? No, I didn't think so.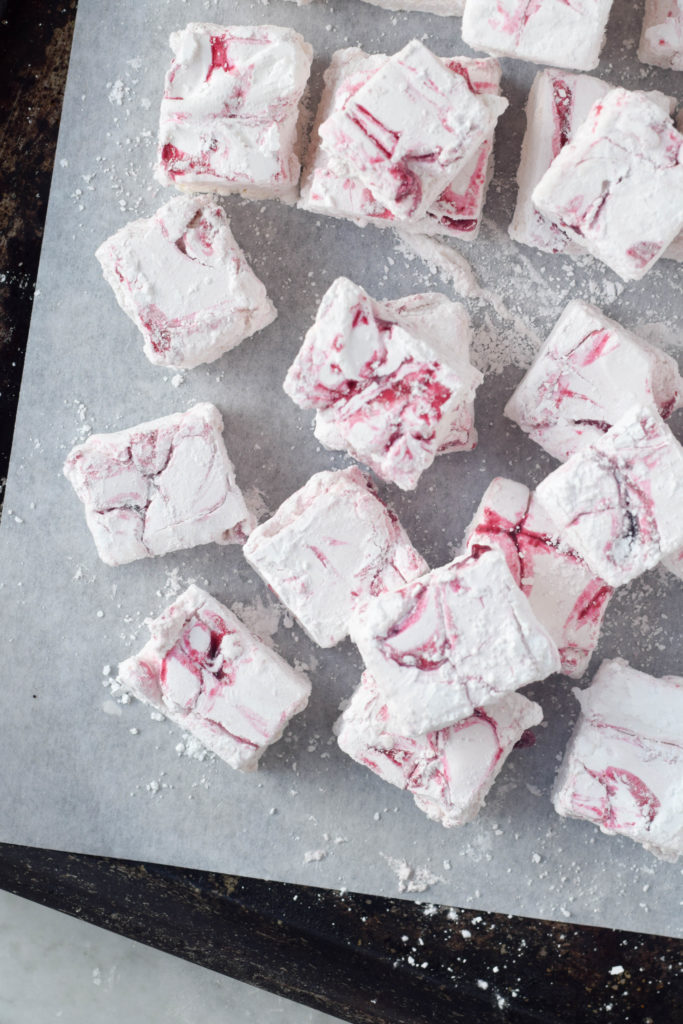 This recipe is a bit of a production. Marshmallows require a special trip to the store — unless you are the the kind of person who keeps unflavored gelatin on hand — and they leave behind a sticky mess. But one batch makes a lot of marshmallows — at least four dozen. That's four homemade, edible gifts perfect for teachers, neighbors, or co-workers.
With hot chocolate season upon us, everyone could use a homemade marshmallow or two.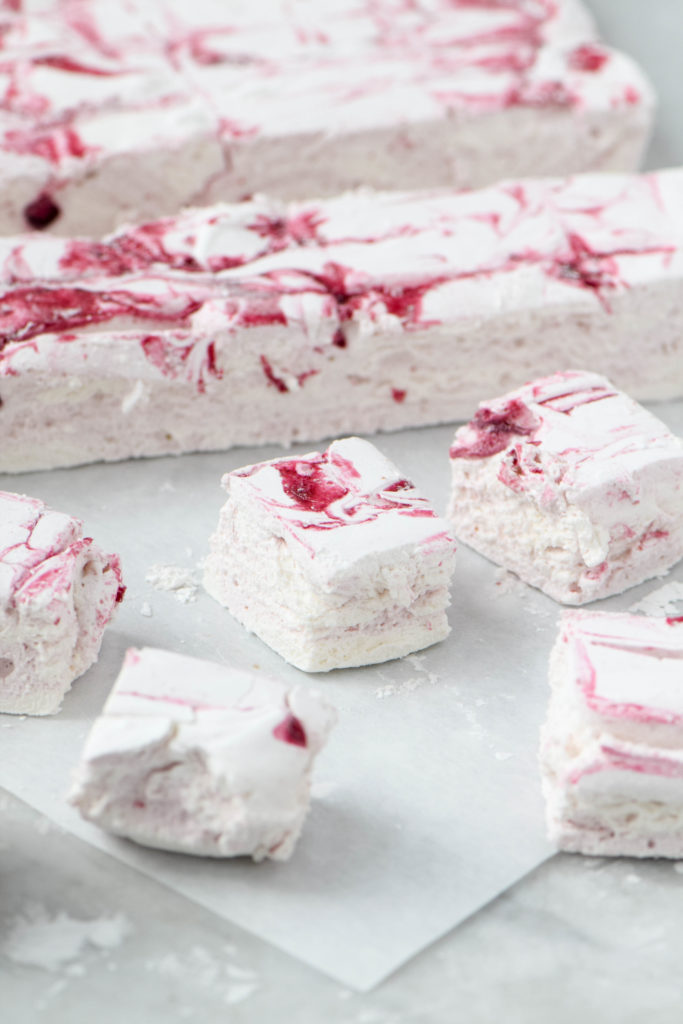 Ingredients
4 envelopes unflavored gelatin
3 cups sugar
1 1/4 cups corn syrup, brown rice syrup, Lyle's golden syrup or other invert
Pinch salt
1 TB vanilla extract
6 TB smooth fruit jam
Powdered sugar for dusting
Instructions
Line a 9x13 baking pan with parchment paper and spray the parchment with nonstick cooking spray.
Place the gelatin and 3/4 cup cold water in the bowl of a stand mixer. Let stand while you make the syrup.
Place the sugar, corn syrup, and salt in a small saucepan and bring to a boil over high heat. Stir at first to dissolve sugar, but then stop and do not stir again. (Stirring can cause the sugar to crystalize.)
Cook until mixture registers 240 degrees on a candy thermometer. Remove from heat.
Begin whisking gelatin on low speed and slowly pour hot sugar syrup into the bowl with the gelatin. Once all the syrup has been added, increase speed to high and whisk mixture until very stiff, approximately 12 minutes. You will notice the mixture go from clear to opaque and glossy.
Add vanilla and beat just to combine.
Add 3 TB jam to the marshmallow mixture and stir once or twice to combine but leave streaky.
Pour the marshmallow mixture into the prepared pan. The mixture will be extremely sticky. Do not try to scrape every last bit out of the bowl! Smooth top.
Drizzle remaining 3 TB jam on top of the marshmallows and swirl with a skewer.
Allow the marshmallows to set for at least 6-8 hours or overnight.
To cut the marshmallows, remove from baking pan and place on a cutting board. Peel off parchment paper. Spray a sharp knife with nonstick cooking spray.
Cut marshmallows into rectangles approximately 1 1/2 to 2 inches long.
Place 1 cup sifted powdered sugar on a plate. Toss marshmallows in powdered sugar to coat. Add more powdered sugar as needed.
Store in an airtight container or package for gifting.
http://www.westoftheloop.com/2017/12/20/edible-gift-jam-swirled-marshmallows/
SaveSave