One of my family's all-time favorite recipes, hot cocoa cookies taste like a mug of hot chocolate in cookie form. Leave some for Santa this Christmas Eve!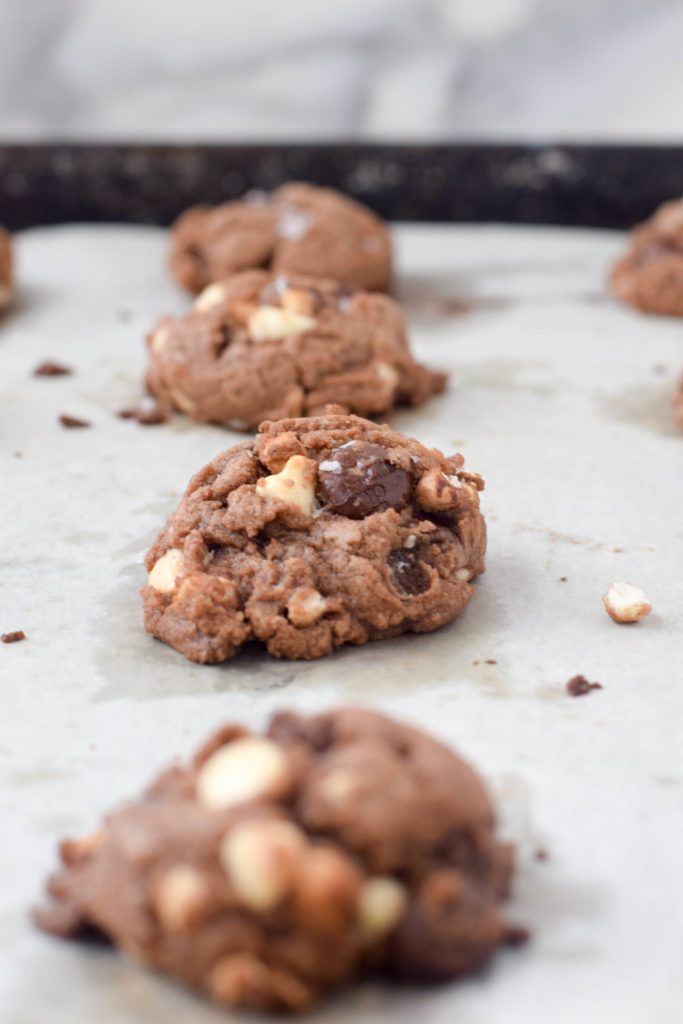 I have probably made this recipe three times just in the past week. At this time of year, when my children want me to make cookies for a party, to give to teachers, or just to snack on, they want me to make these cookies. Hot cocoa cookies are chocolatey and chunky — studded with mini marshmallows, semi-sweet and white chocolate chips — and the cookie we all want to eat during the holiday season.
I first tasted a hot cocoa cookie when my friend Anna of the blog Cookie Madness brought them to the Chicago Food Swap. I was lucky enough to swap with Anna on that occasion. Bringing home cookies made by Anna is a food swap triumph because Anna is a dedicated baker and past winner of the Pillsbury Bake-Off. My kids fell so hard for Anna's hot cocoa cookies that as soon as we finished them, they begged me to make more. Luckily, Anna had posted the recipe on her blog.
Here's what's funny about this recipe. A very similar version of it appears on the side of a canister of Jet-Puffed Mallow Bits, which are these completely artificial, processed, crunchy mini-marshmallows that, I think, are designed to be shaken onto ice cream or into cups of hot chocolate. They are sort of like Lucky Charms marshmallows in texture and also in their blatant artificiality.
In other words, Jet-Puffed Mallow Bits are not the sort of ingredient I usually buy. No, I am the sort of person who, given her druthers, makes marshmallows from scratch. Yet, the Jet-Puffed Mallow Bits are the perfect size and texture for these cookies and nothing else would be right. Sometimes you just have to give in to the processed junk food because nothing else will do. (I'm looking at you, Cool Ranch Doritos!)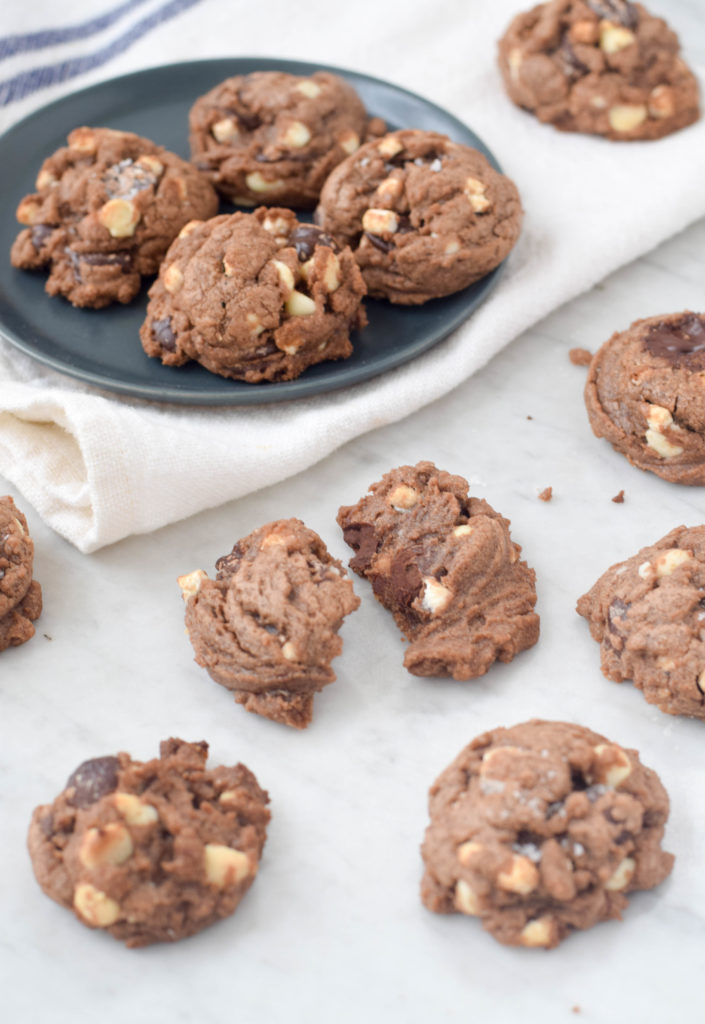 The other key ingredient to making Hot Cocoa Cookies is hot cocoa mix. This can also be a highly processed ingredient full of artificial flavors, but it doesn't have to be. The better the hot cocoa mix, the better the cookies in my opinion. Recently, I used Chocolate Magic Dust from Portland-based artisanal candy-maker Quin Candy and wow! Was that batch of cookies delicious!
Do you have time to make one more type of cookies before Christmas? I think you do. Santa would definitely like to see a plate of these Hot Cocoa Cookies waiting for him on Christmas Eve. He might even leave you an extra present.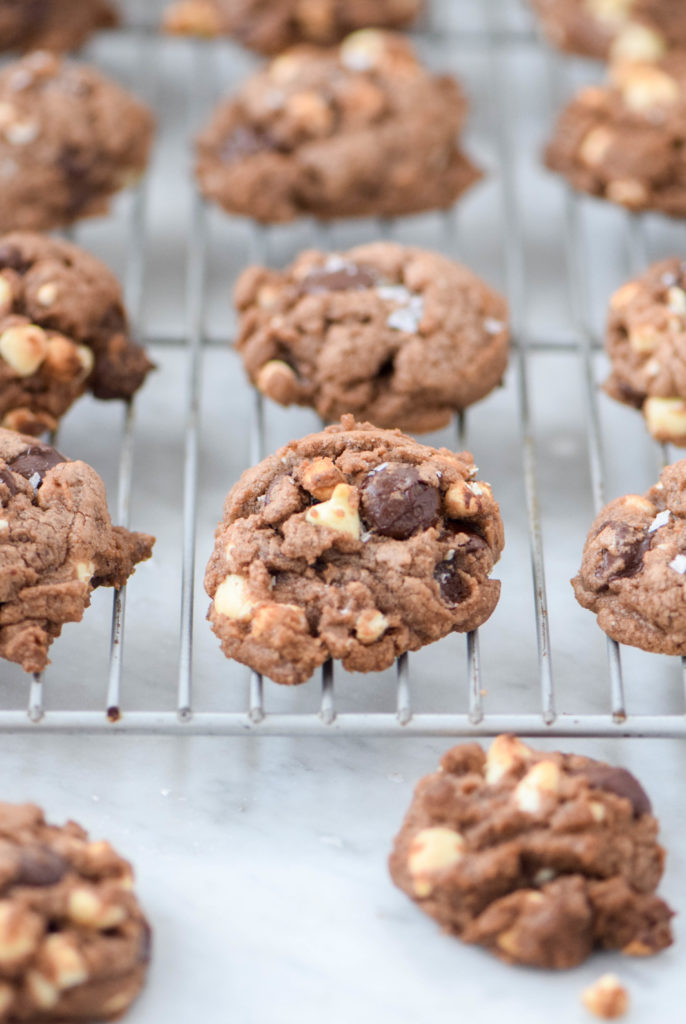 Ingredients
2 1/2 sticks (10 oz) unsalted butter at room temperature
1 cup granulated sugar
2/3 cup packed light brown sugar
2 large eggs
1 tsp vanilla extract
3 1/4 cups all-purpose flour
3/4 cup hot cocoa mix
1 tsp salt
1 tsp baking soda
1 tsp baking powder
1 cup white chocolate chips
1 1/4 cup semi-sweet chocolate chips
2/3 cup mini marshmallow bits
Instructions
Preheat the oven to 350 and line two baking sheets with parchment paper.
In the bowl of a standing mixer, cream the butter and sugars until light and fluffy, about three minutes.
Add eggs and vanilla and beat until combined.
In a separate bowl, whisk together the flour, hot cocoa mix, salt, baking soda and baking powder. Add dry ingredients to the mixer and beat just until combined.
Add the white and semi-sweet chocolate chips and marshmallow bits and beat just until combined.
Scoop a dozen cookies onto each baking sheet.
Bake one sheet at a time for 10-12 minutes or until cookies appear set and cracked. (Allow trays to cool slightly before scooping the rest of the dough onto them.)
Let cookies cool on baking sheet for a few minutes until set, then transfer to a wire rack.
http://www.westoftheloop.com/2017/12/22/hot-cocoa-cookies/
SaveSave