Skip the lines and brunch at home this New Year's with a restaurant-style Bloody Mary made with homemade pickle-infused vodka.
My husband is not much of a drinker. In fact, when we go out to dinner with friends, he is inevitably the designated driver. Wine, beer, cocktails — they just doesn't do much for him. (I myself enjoy wine and never say no to a good cocktail.) But the one cocktail my husband does really enjoy is a good Bloody Mary.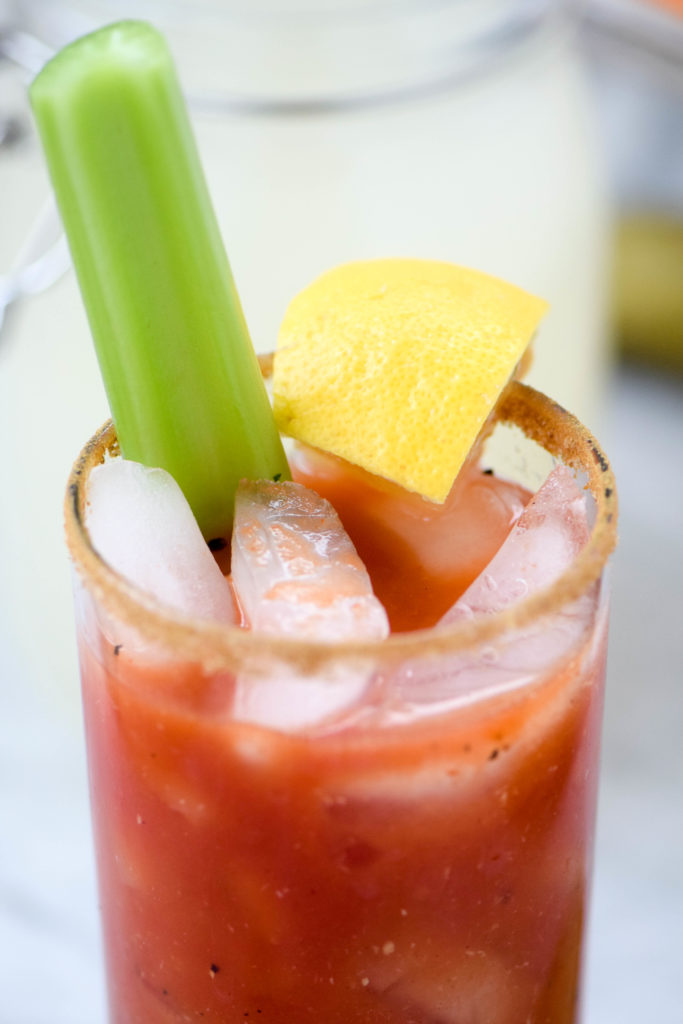 A staple of brunches everywhere, the Bloody Mary is easy to make at home with ingredients that you likely have in your pantry — Worcestershire sauce, horseradish, celery salt, lemon etc. The only liquor required is vodka, so you don't have to buy some pricey bottle that will end up sitting in your liquor cabinet for years. (I'm looking at you, Chartreuse.) You might have to buy tomato juice if you don't usually keep it around, but that's about it.
Speaking of vodka, why not create an infused vodka for your at-home Bloody Mary? Infusing vodka is a fun and easy DIY project that only takes a few days. For an especially briny and flavorful Bloody Mary, I like to infuse vodka with pickle brine — yes, pickle brine.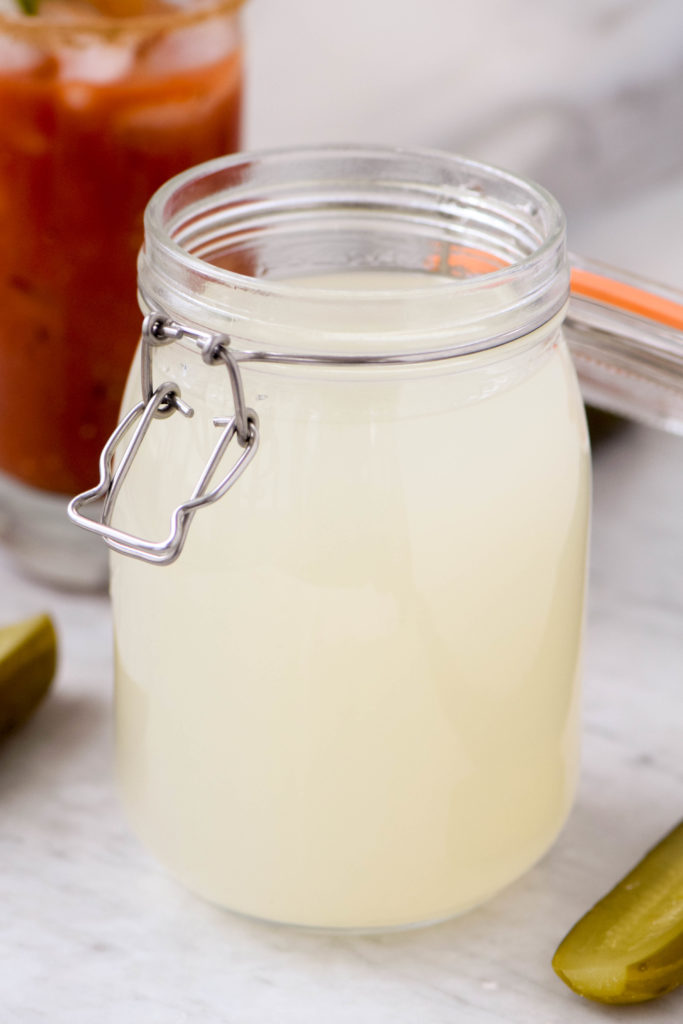 If you make your own pickles, either vinegar pickles or the lacto-fermented kind, you can use some of the leftover brine to infuse your vodka. It's so nice to come to the end of a jar of pickles and not pour that delicious brine down the drain. Indeed, there are many uses for leftover pickle brine — whether store-bought or homemade –from tenderizing meat to jazzing up a boring potato salad.
Here, we combine one part pickle brine — again, from a jar of homemade or store-bought pickles, whichever you happen to have — with three parts vodka to create the infused vodka. I like to add a pickle spear or two to the liquid for extra flavor. Allow the mixture to sit, refrigerated, for a minimum of 48 hours. Voila! Pickle-infused vodka. Ready for mixing up the best batch of Bloody Marys you have ever had.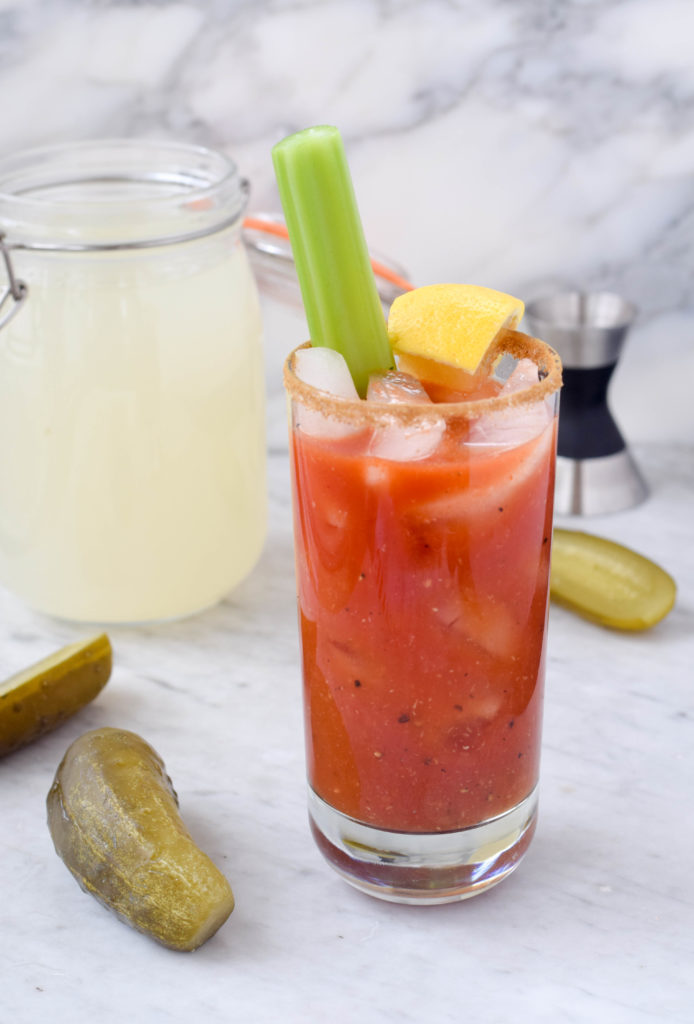 (Save the pickle spear that has been soaking in the vodka, by the way. It makes a great garnish for your Bloody Mary!)
This recipe makes enough for two cocktails, but it is easy to scale up for a brunch party of four, six or more. For a festive touch, rim the glasses with regular or celery salt. To do this, rub a cut lemon wedge around the rim of the tumbler. Pour salt or celery salt into a saucer wider than the glass and dip the rim of glass into the saucer. Allow to dry before proceeding.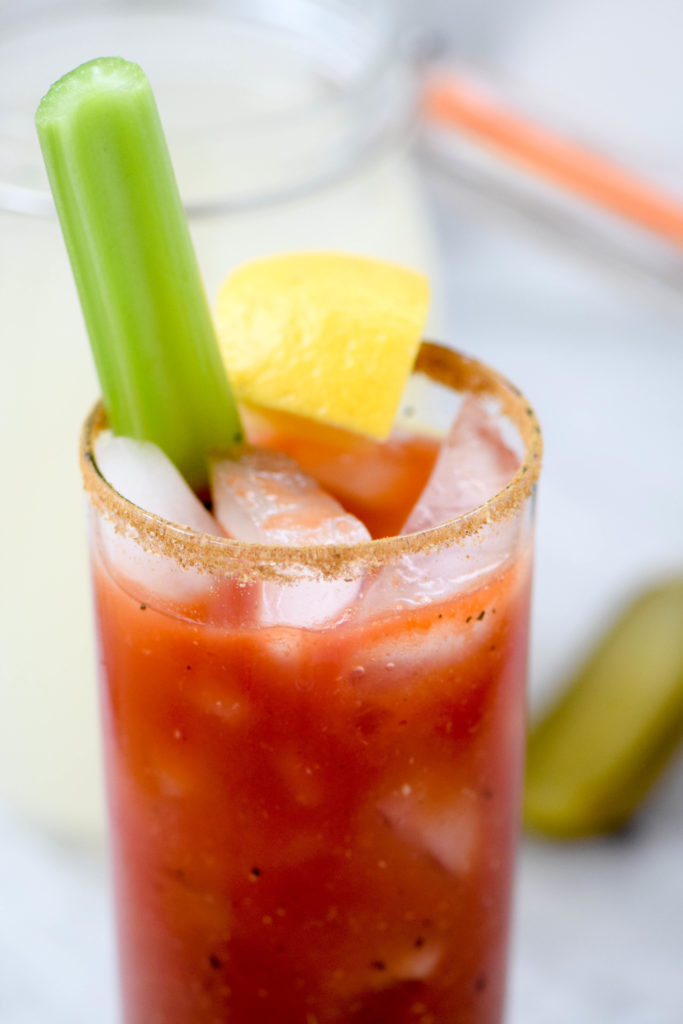 With a homemade Bloody Mary this good, you may never want to go out for an overpriced restaurant brunches again. Well, at least not until the weather improves.
Happy, happy new year everyone!
Bloody Mary with Dill Pickle Vodka
Ingredients
Pickle-infused Vodka

1 cup pickle brine
3 cups vodka
1-2 pickle spears

Bloody Mary

4 oz. pickle-infused vodka
8 oz tomato juice
2 TB freshly squeezed lemon juice
2 tsp prepared horseradish
1 tsp Worcestershire sauce
6 dashes Tabasco
1 tsp freshly ground black pepper
1 tsp celery salt (plus more for rimming the glass if desired)
Pinch cayenne pepper
Pinch salt
2 stalks celery for garnish
Lemon wedges for garnish
Instructions
To make the pickle-infused vodka, combine the pickle brine and vodka in a quart jar. Add the pickle spears and cover. Refrigerate for a minimum of two days.
To make the Bloody Mary, combine the pickle-infused vodka, tomato juice, lemon juice, horseradish, Worcestershire, Tabasco and spices in a pitcher and stir to combine.
If not serving right away, refrigerate the mixture.
To serve, fill two tumblers with ice and divide Bloody Mary mixture evenly among them. Garnish with a celery stalk and lemon wedge.
Serve immediately.
http://www.westoftheloop.com/2017/12/27/bloody-mary-dill-pickle-vodka/
SaveSave
SaveSave