Sweet and spicy papaya salsa goes with everything from grilled chicken to fish tacos to your favorite tortilla chips. Keep your healthy eating resolutions with this easy vegan and gluten-free recipe.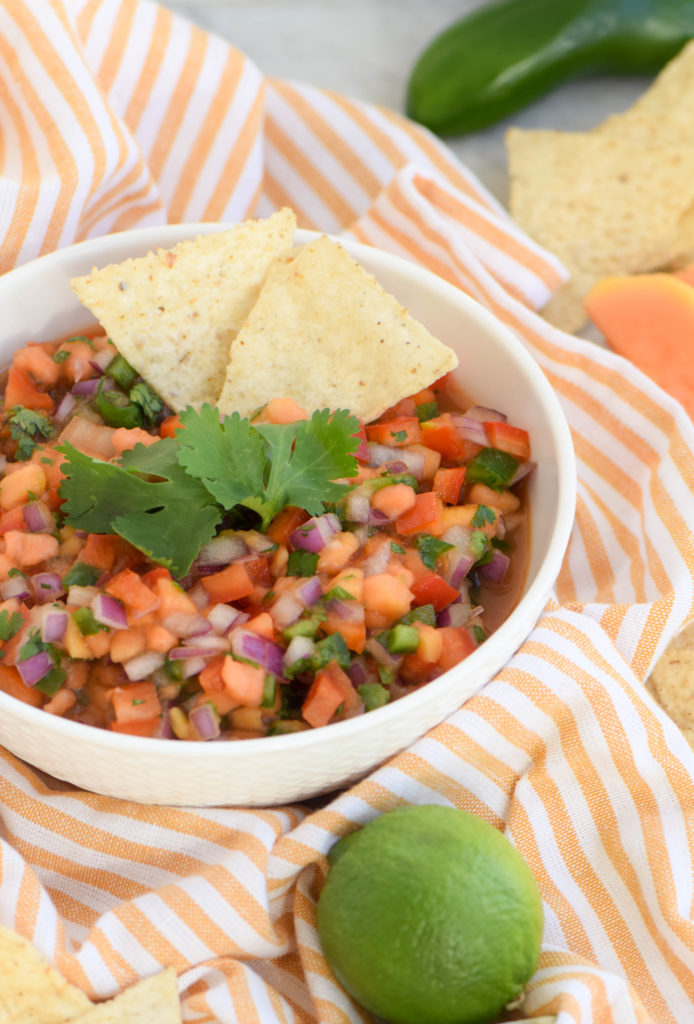 My family just returned from a fabulous trip to Belize. If you are not familiar with this small Central American nation, where English is the official language and the dollar is accepted just about everywhere, you should research it right away. This tiny country has everything: Mayan ruins, colorful birds, abundant wildlife, untamed jungle, turquoise seas, world-class snorkeling and more.
We took advantage of everything Belize had to offer and spent a wonderful week visiting ancient Mayan sites, horseback riding, zip-lining, hiking, snorkeling, jet-skiing and occasionally relaxing. To really experience Belize, you have to spend time in different parts of the country, so we began our trip in the Cayo District, the southwest part of the country, staying at a jungle lodge. We ended up on Ambergris Caye, an island in the Caribbean Sea close to Mexico, which is known for outstanding snorkeling and diving.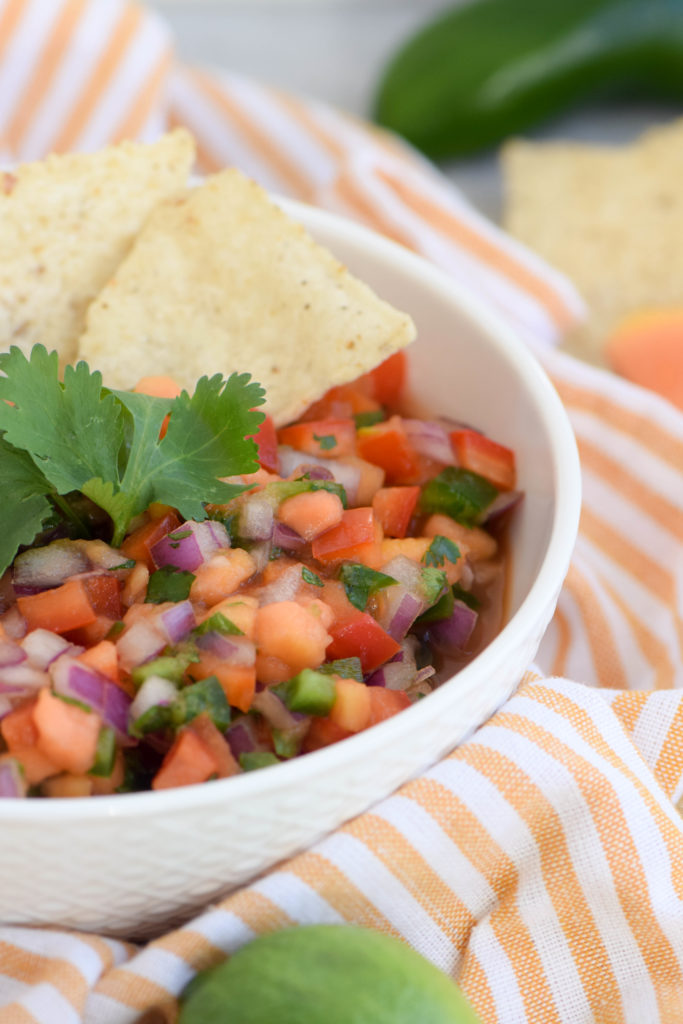 I expected to have lots of adventures in Belize, but I did not expect to eat so well. During our time in Belize, we sampled lots of local cuisine, including rice and beans — which is different from beans and rice, by the way — fry jacks, a kind of fried dough; the ubiquitous local hot sauce Marie Sharp's; cold Belikin beer; tropical fruits; and lots of local conch, snapper and grouper.
On our last night, I had some local grouper topped with a papaya salsa. While that was not my favorite dish of the trip — a distinction reserved for the ceviche from our favorite restaurant on Ambergris Caye, Wild Mango's — I did love the papaya salsa.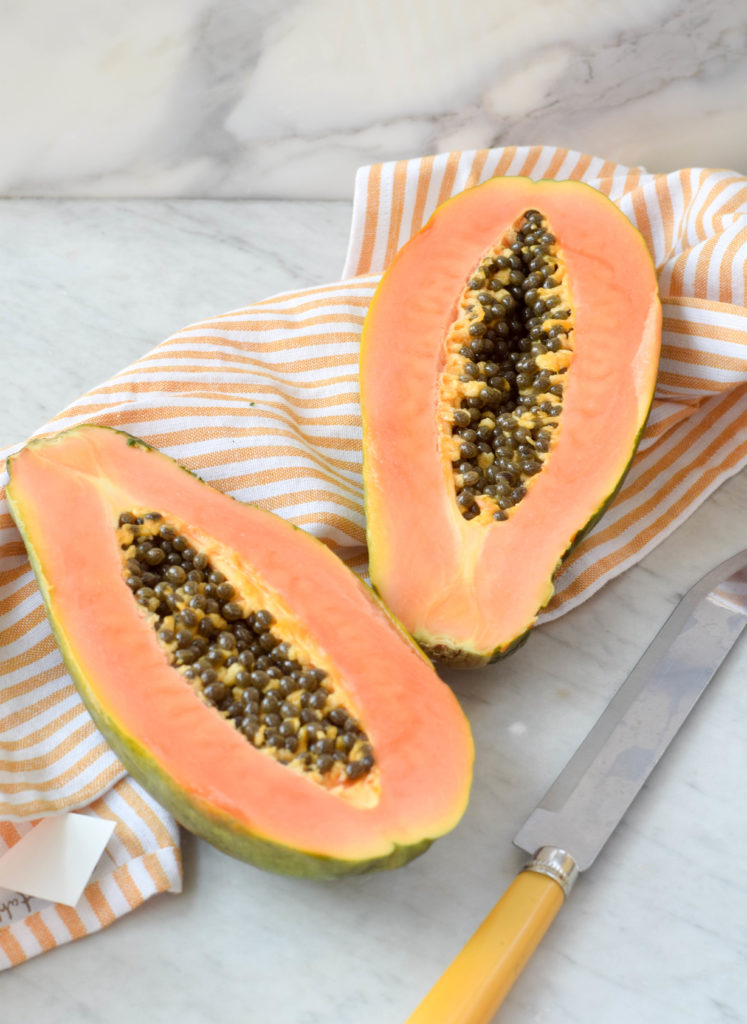 So when we returned to cold, grey Chicago, and I happened to spy Belizean-grown papaya at the grocery store, I decided to try to recapture some of the magic of our trip and make papaya salsa at home.
Do you all know how to prepare papaya? First, select a nice ripe papaya. It should be be starting to turn from green to yellow and give a little when pressed, like an avocado. If the papaya you bought is not yet ripe, let it sit on the counter for a day or so.
To prepare the papaya, cut it in half lengthwise to expose the seeds. Scoop out the seeds with a spoon. You can then either scoop out the flesh of the papaya or peel the halves and cut the flesh into wedges.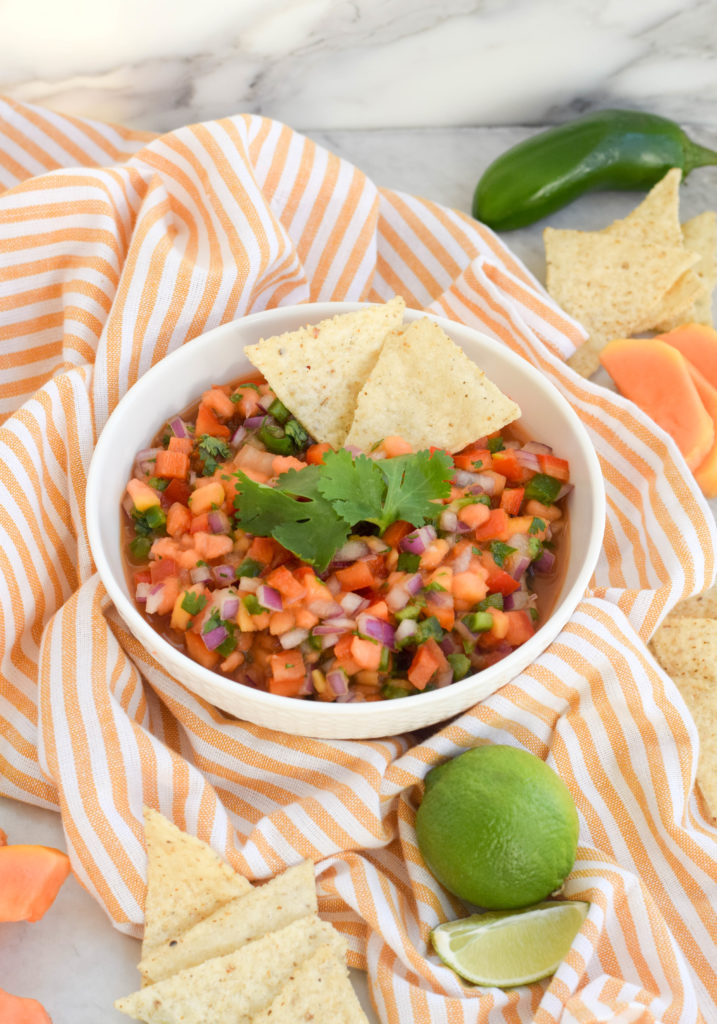 For this recipe, you want to finely dice the papaya, so I recommend peeling the halves with a paring knife or vegetable peeler. (Those Y-shaped peelers work especially well.) Then cut the papaya into wedges and dice for the salsa.
Caribbean papayas, like the ones from Mexico and Belize, are quite large. You will only need half for this salsa. So, I suggest that you reserve the other half for smoothies or just snacking. (The day I made this salsa, I used the extra papaya to make mango-papaya-strawberries smoothies that were a huge hit with my kids. Would JR actually eat straight papaya? Not in a million years, but that kid will eat almost anything in smoothie form.)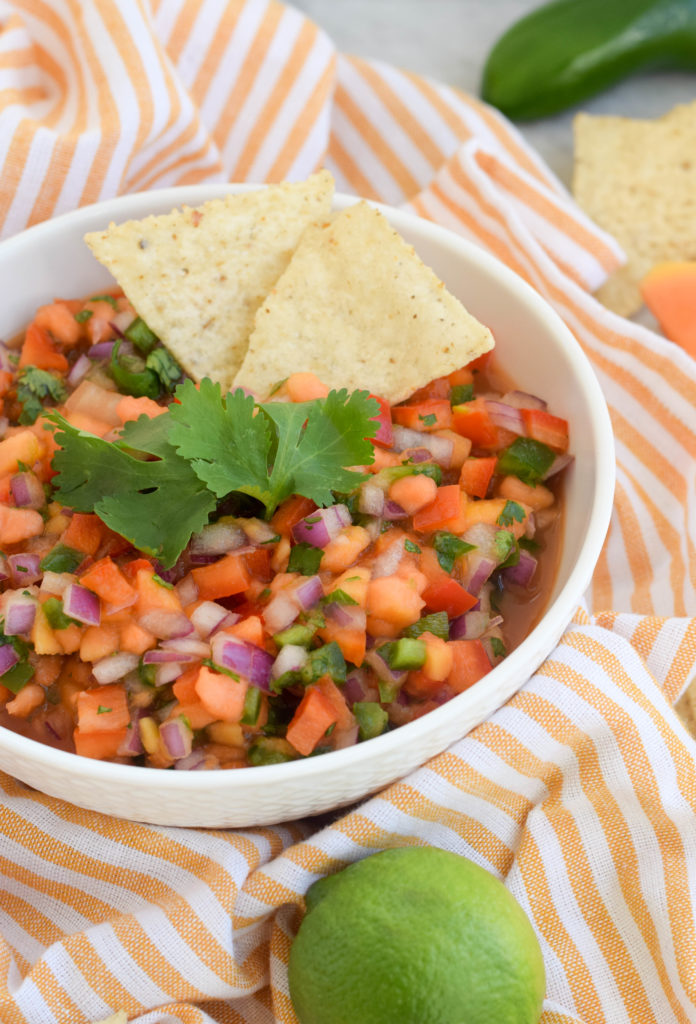 Even if it is cold and grey where you are — as it is where I am now — you can capture a little bit of the Caribbean with this sweet and spicy papaya salsa. Use it to add tons of flavor, with very little extra calories, to all your healthy January dishes.
Ingredients
1/2 ripe papaya, peeled and diced
1 red onion, finely diced
1 red pepper, diced
2 jalapeno peppers, seeded and minced
Juice and zest of two limes
1/2 to 1 tsp hot sauce, preferably Marie Sharp's
1/4 cup cilantro, minced
Pinch salt
Instructions
In a large bowl, combine the papaya, red onion, red pepper and jalapeño and stir to combine.
Add the lime zest and juice, hot sauce, cilantro and salt and toss to combine.
Taste and adjust seasoning, adding more hot sauce if necessary. (If your papaya is not sweet enough, you can add a bit of sugar or honey, if you are not concerned about keeping this recipe vegan.)
Cover and chill for at least and hour prior to serving to allow flavors to develop.
http://www.westoftheloop.com/2018/01/08/papaya-salsa/