My kids and my kids' friends love my fluffy buttermilk pancakes. They are a staple of weekend mornings and sleepovers at my house. Who needs pancake mix when they are so easy to make from scratch! 
At my daughter's high school, every few weeks, they have what they call a Late Arrival Wednesday. The teachers have professional development in the morning and the kids do not have to arrive until 9:45 am. I cannot tell you what a blessing these occasional late arrivals are!
The evidence that teens perform better when school starts later is overwhelming, but our town's high school still starts promptly at 8 am. Thus, Zuzu leaves the house at 7:10 am on a typical morning to meet her friends and catch the bus that takes them to school. Needless to say, mornings are a mad rush around here and I consider myself very lucky if I manage to convince Zuzu to down some OJ and a piece of toast before flying out the door.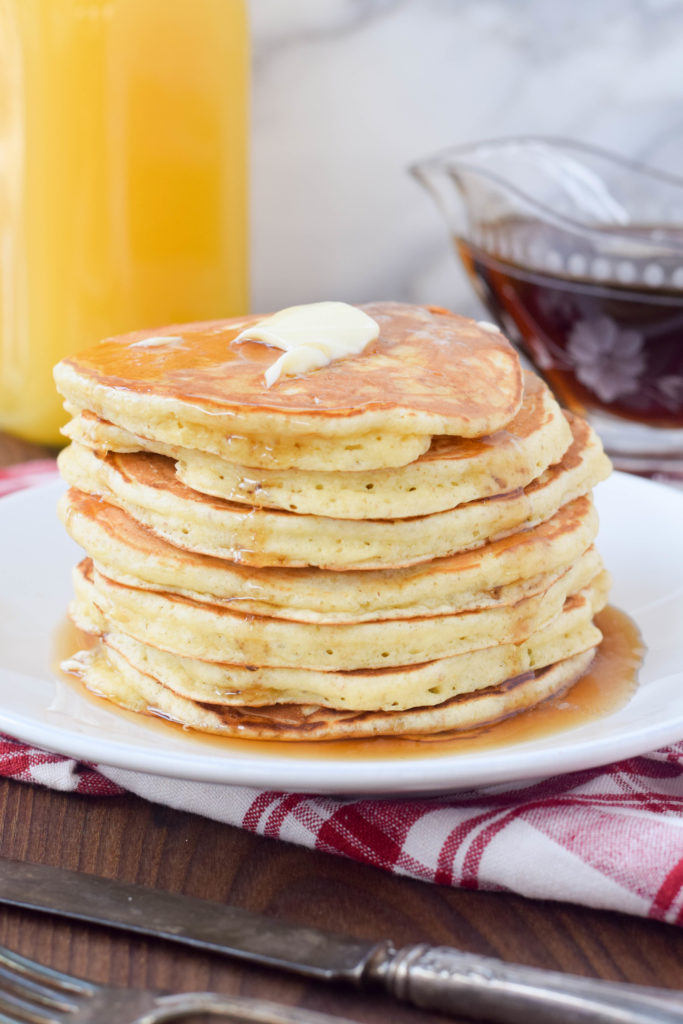 But Late Arrival Wednesdays are like a mini weekend morning in the middle of the week. Both Zuzu and I get to sleep in a little and even with the extra sleep, she is still able to eat a real breakfast. Not having to be somewhere until 9:45 am is downright luxurious!
(One time, I scheduled a dentist appointment for Zuzu at 8 am on a Late Arrival Wednesday. Wasn't that cruel? Only a mother could take something so wonderful and turn it into something so horrible.)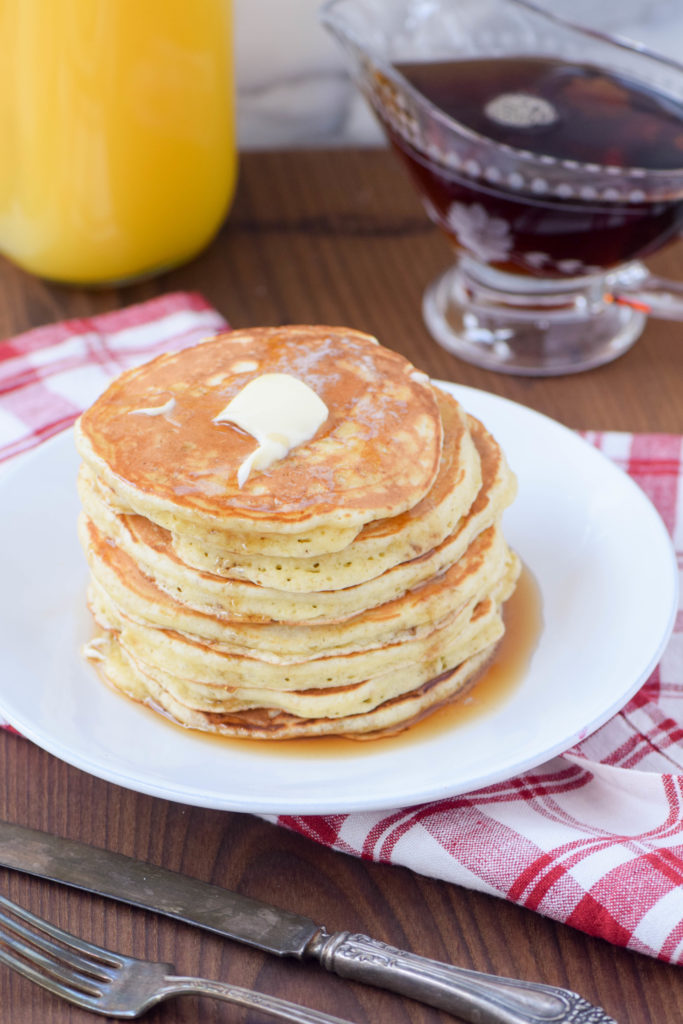 On Late Arrival Wednesday, every diner and coffee shop in our town is full of groups of high school students having breakfast with their friends before school. Zuzu often likes to meet her friends for breakfast too, but the other week, she had a special request for the next Late Arrival Wednesday: she asked if her friends could come to our house so I could make them pancakes.
I think Zuzu's motivation was that she, and all her friends, are broke and didn't have money to go out to breakfast. But I also like to think that part of her motivation is that my pancakes are just that good. Fluffy buttermilk pancakes are one of my home-cooking specialties and my kids — and my kids' friends — have come to expect a stack of pancakes on weekend mornings.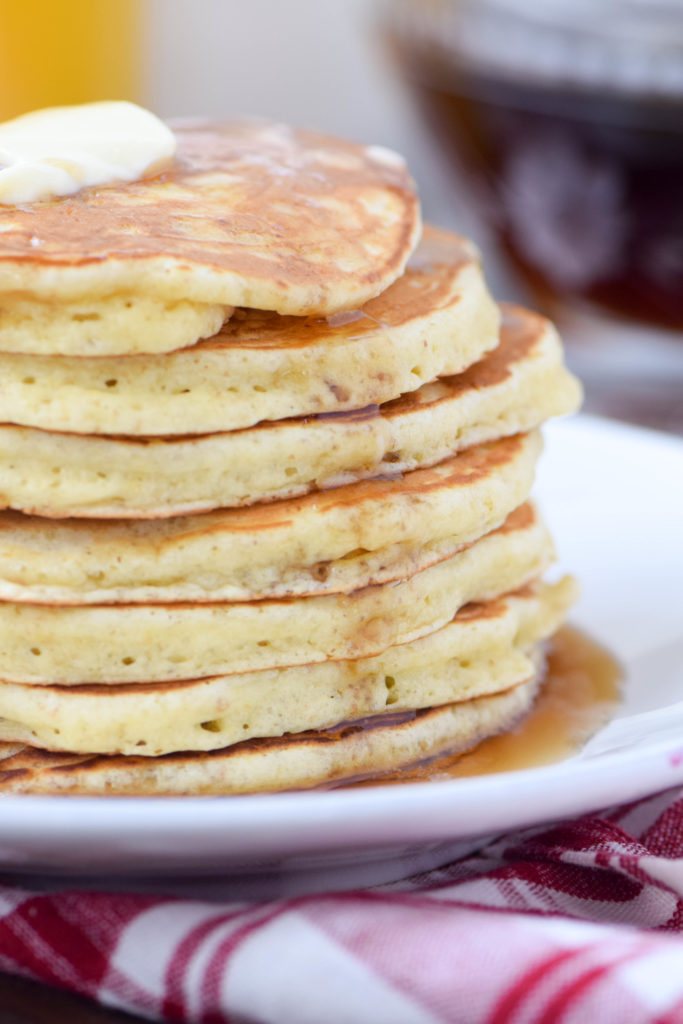 Now, if you are going to make these fluffy buttermilk pancakes on the reg, you are going to have to keep buttermilk around. I think most people don't have buttermilk in their fridges, but everyone should. Buttermilk is tangy, low in fat and will actually stay good for a long time. Plus, sometimes you need an acidic ingredient in and buttermilk fits the bill. It's the combination of the buttermilk and baking soda that gives these pancakes their texture.
I have a nonstick griddle that I use for cooking pancakes and I never need to add oil or cooking spray. The pancakes just release perfectly. I can also make many pancakes at a time, which is helpful when, say, you have six teenagers in your kitchen needing to eat before school starts at 9:45 am. Depending on what surface you cook pancakes on, you may need to add a little oil.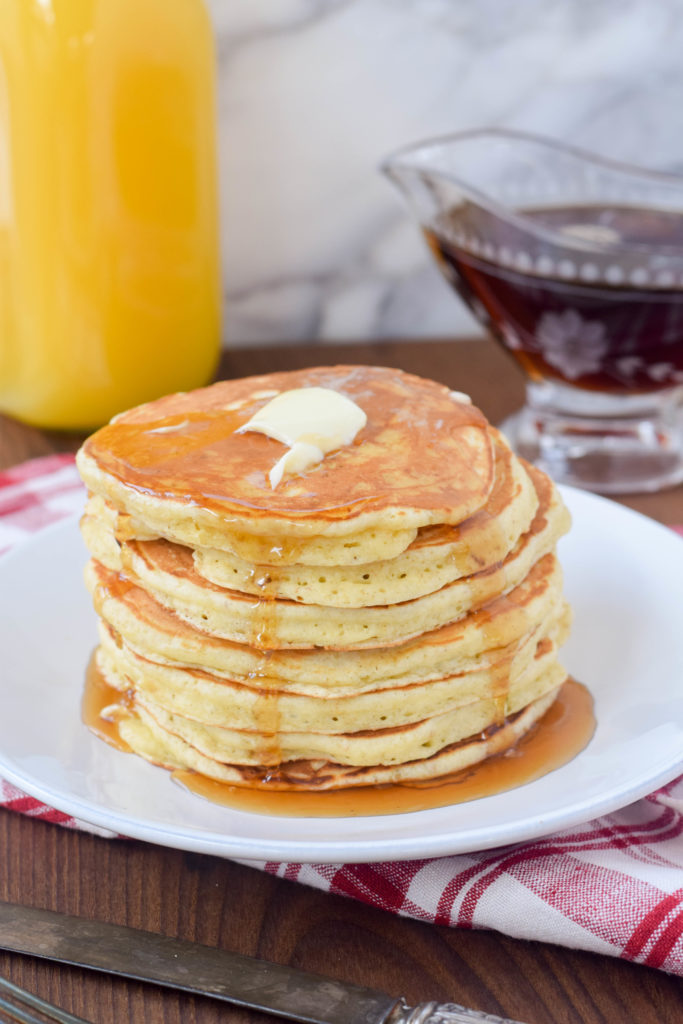 You can also add ingredients like fruit — such as berries or sliced banana — nuts or, Zuzu's favorite, chocolate chips, to these pancakes for more variety. The most important thing to keep in mind is, if your teenager asks you if she can have five friends over for breakfast on a Wednesday, always say yes. And then, make pancakes.
(By the way, shout-out to my own mom. See the glass gravy boat that the syrup is in? True story: my mom served gravy in this dish at Thanksgiving and I mercilessly ribbed her about the absurdity of having a clear gravy boat. Like everyone wants to see the gravy? Turns out she had already bought me one just like it for a present. So, now I am the proud owner of a clear gravy boat. To my surprise, it is great for serving maple syrup.)
Ingredients
1 2/3 cups all-purpose flour
2 TB sugar
2 TB wheat germ (optional)
1 tsp salt
1 tsp baking powder
1/4 tsp baking soda
3/4 cup milk
1/2 cup buttermilk
2 eggs
1 TB vanilla extract
2 oz butter melted and cooled
Instructions
In a medium bowl, whisk together the flour, sugar, wheat germ (if using), salt, baking powder and soda.
In a smaller bowl, whisk together the milk, buttermilk, eggs and vanilla. Add the melted butter and whisk to combine.
Add the wet ingredients to the dry ingredients and stir with a fork until they come together.
Preheat a nonstick griddle or large frying pan over medium-high heat until a drop of water will sizzle on it. Turn the heat down to medium.
Use a ladle to pour a scoop of batter onto the hot pan. You can make up to three pancakes at a time depending on the size of your pan or griddle. Use a spatula to spread the batter out if it is too thick or give the pan a shake to spread out the batter.
Cook the pancakes until bubbles appear in the batter and do not immediately close up approximately 3-4 minutes. (You can also check the underside to make sure it is brown but not burnt.)
Flip the pancakes and cook until the second side is golden brown and the pancake is cooked all the way through.
Repeat with the remaining batter.
Serve warm with butter and maple syrup.
http://www.westoftheloop.com/2018/01/26/best-buttermilk-pancakes/
SaveSaveSaveSave
SaveSave