Don't just serve beer at your Super Bowl party; put beer in the food! Like these cheddar-and-beer soup shooters from the new book Food on Tap: Cooking with Craft Beer by Lori Rice.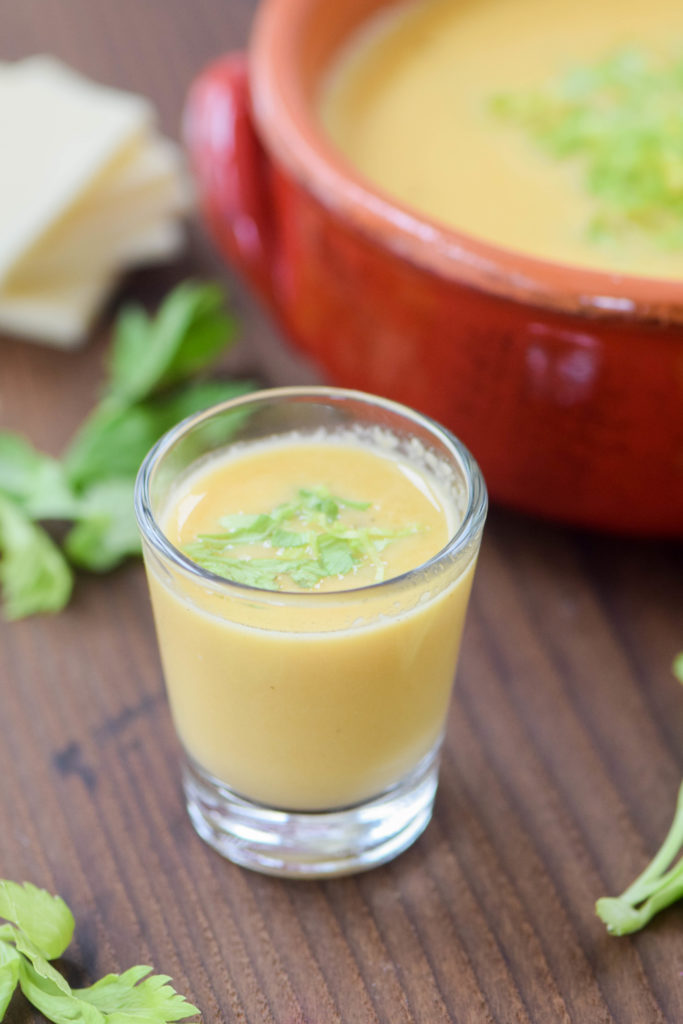 Cheese and beer are two necessary components of a good Super Bowl party. That much goes without saying. You could just make a really nice cheese plate and serve some cold beer. I doubt anyone would complain exactly.
But if you really want to wow your guests for the big game, try combining cheese and beer into a creamy, rich soup. While soup is not always the easiest thing to serve a crowd, in this case, there are no spoons needed. Serve this Three Cheese IPA Soup in shot glasses for an easy-to-serve, crowd-pleasing starter that satisifies both cheeseheads and beer geeks alike.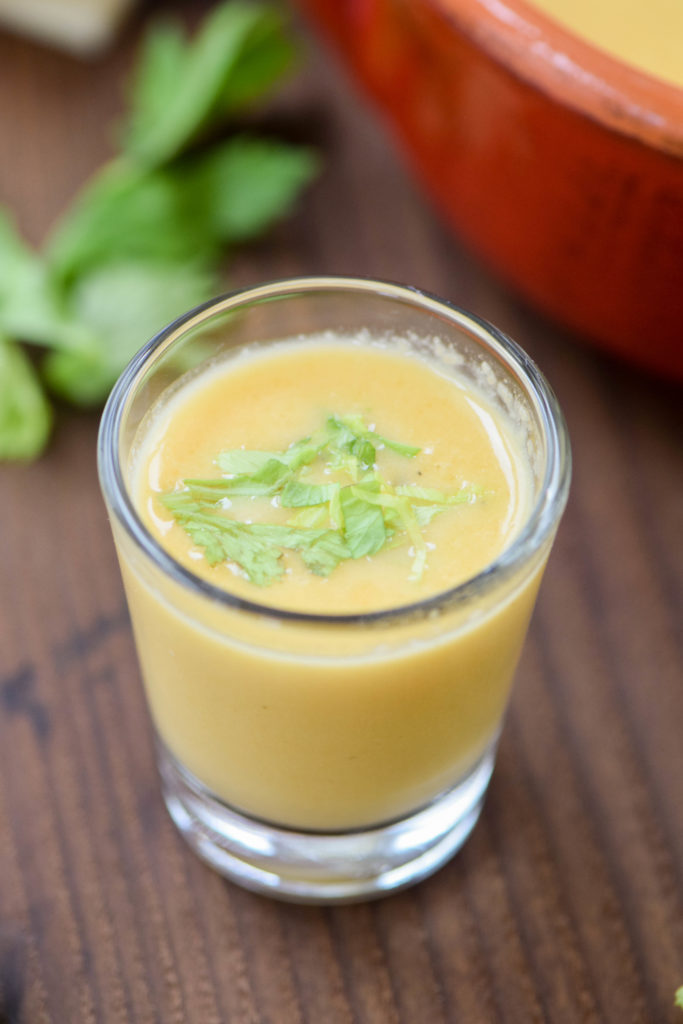 The recipe for this Three Cheese IPA Soup comes from my friend Lori's new cookbook Food on Tap: Cooking with Craft Beer. Lori is the talented writer and photographer behind the website Fake Food Free, and in this book she takes the craft beer revolution to its next logical step: by teaching us how to use different craft beers in our cooking.
In Food on Tap, you will find recipes for appetizers, soups, main dishes, brunch and even dessert. Recipes like Summer Saison Tomato Bisque, Cheesy Shrimp and Bacon Pale Ale Pasta, Lambic Barbeque Ground Bison Subs and Cream Ale Vanilla Bean Bundt Cake.
As Lori points out, craft beer is really a cool ingredient to work with because it can add so many varied flavors to your cooking. One of my family's favorite recipe, Cocoa Chicken Chili, uses beer, so I know how easy and fun it is to cook with beer. But I had never thought about how using different types of beers, especially craft beers, would deliver different flavors to my recipes until I read Lori's book.
Highlighting each kind of craft beer's unique flavor profile is exactly what Lori explores in this book from the hoppy bite of an IPA in this recipe to the toffee notes of Maibock in the brunch chapter's recipe for a Dutch baby pancake. Lori recommends several different specific beers for each recipe and gives a helpful overview of the different craft beer styles for the uninitiated.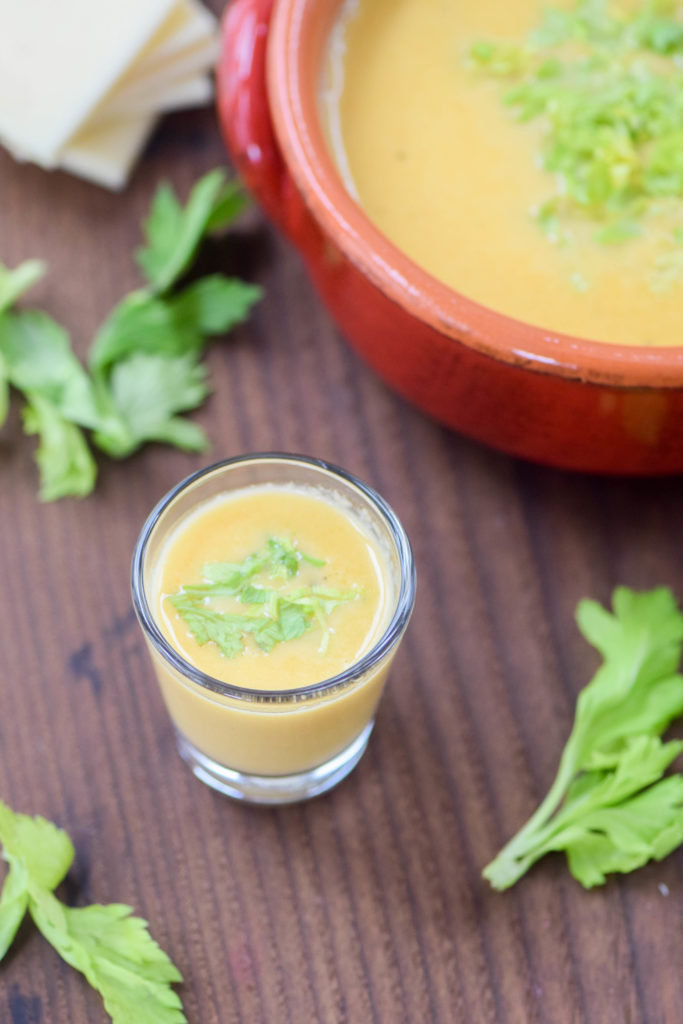 The Three Cheese IPA Soup from Lori's book is quick and easy to make and, as a shooter, serves 16, so this is ideal party food. Super Bowl party, that is. Using a typical IPA gives you a strong hoppy bitterness that plays well off the rich cheeses. But if you want a milder taste, Lori recommends using a Session IPA.
The issue when making a cheese soup is to ensure that your soup ends up smooth, and not grainy. To that end, I have a few suggestions.
First, buy a block of cheese and grate it; don't rely on pre-grated cheese, which is sometimes covered in cellulose and won't melt properly.
Second, once you have grated the cheese, toss it with a pinch of flour or cornstarch to prevent the cheese threads from sticking together.
Third, add the cheese to a hot but not boiling or simmering soup. These super-hot temperature will cause clumping.
Lastly, and this is the most important, add a small handful of cheese to the pot at a time and allow the cheese to melt completely before adding more.
Have you ever served soup shooters at a party? What's on your Super Bowl party menu?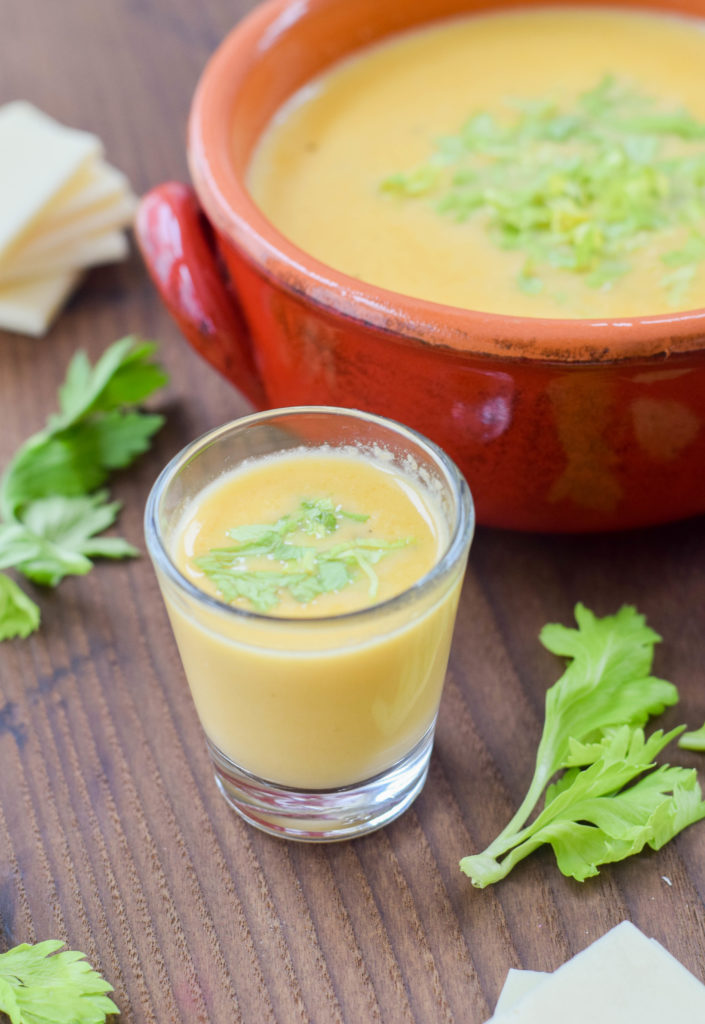 Three Cheese IPA Soup Shooters
Ingredients
2 tablespoons unsalted butter
2 garlic cloves, grated
12 ounces IPA
1 tablespoon cornstarch
1 tablespoon water
8 ounces sharp Cheddar, shredded
2 ounces Monterey Jack, shredded
2 ounces soft goat cheese, crumbled
½ teaspoon Worcestershire sauce
¼ teaspoon ground black pepper
Finely chopped celery with leaves, for garnish
Instructions
Melt the butter in a medium soup pot over medium-high heat.
Add the garlic and cook until you begin to smell it, about 1 minute.
Reduce the heat to medium and carefully add the beer.
Stir together the cornstarch and water in a small bowl. Whisk the slurry into the beer. Continue to whisk for 30 seconds to 1 minute. It will thicken slightly.
Whisk in the Cheddar and Jack cheeses until melted. Whisk in the goat cheese until smooth.
Remove the soup from the heat and stir in the Worcestershire sauce and pepper.
Ladle the soup into shot glasses and garnish with chopped celery before serving.
Notes
Beers to consider: Bell's Brewery Two Hearted Ale, Bear Republic Brewing Company Racer 5 India Pale Ale, Stone Brewing Stone IPA
http://www.westoftheloop.com/2018/01/28/three-cheese-ipa-soup-shooters-food-tap/
SaveSave
SaveSave
SaveSave
SaveSave
SaveSave