A healthy tropical fruit smoothie with sweet, nutritious papaya. Perfect for breakfast, a post-workout energy booster or an anytime healthy snack!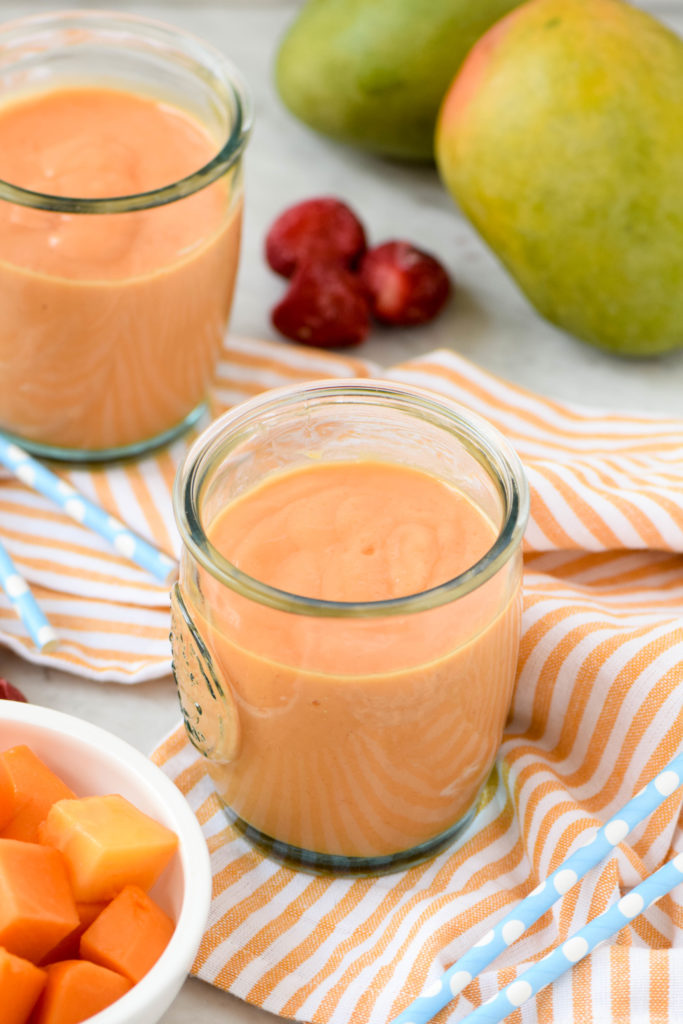 January is typically a time to focus on healthy eating. Whether it is one of your new year's resolutions or you are simply trying to reset after a holiday season filled with indulgence, the start of the year is a good time to adopt some new, healthy habits. Like eating breakfast or increasing your intake of fruits and vegetables. Today's recipe, for a Strawberry Papaya Smoothie, can help you achieve your healthy eating goal.
As I have told you many times before, one of my children (ahem J.R.) is a picky eater. He is very reluctant to try new foods and sticks to a few familiar favorites. The fruits and vegetables he will deign to eat are limited to apples, bananas, grapes, melon, peas, and corn. At least, those are the only fruits and vegetables he will eat when they are recognizable as such.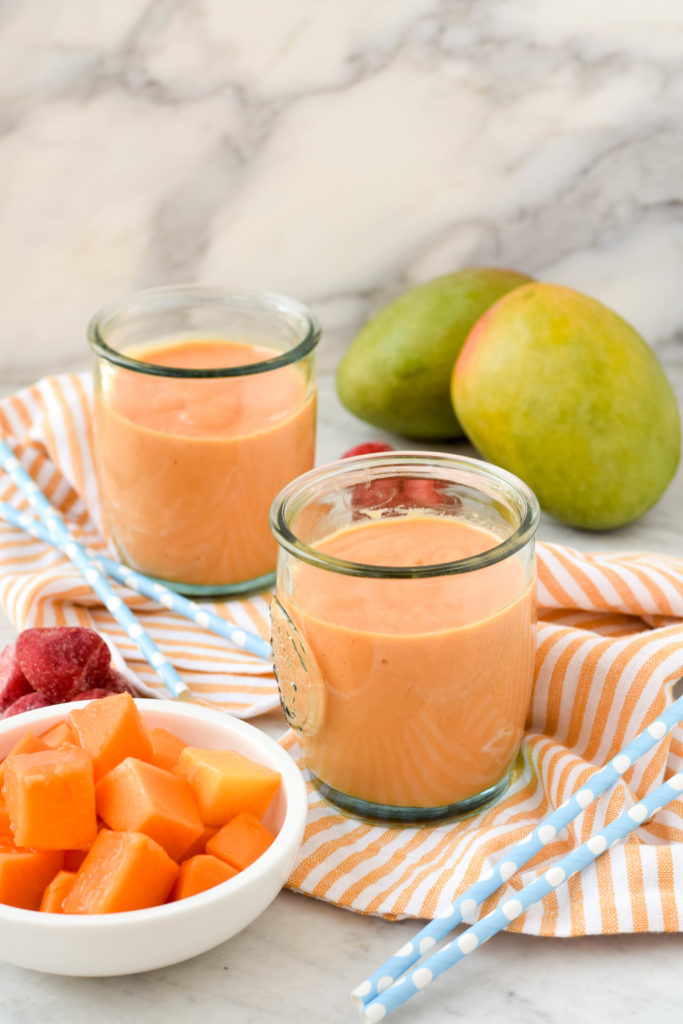 But in smoothie form, this kid will eat all kinds of fruits including berries, mango, pineapple, peaches and more. Fruit and yogurt smoothies are one of my son's favorite after-school snacks and I take full advantage of this by filling them with all kind of nutritious ingredients. I think those after-school smoothies are the only thing keeping him from developing scurvy.
After I bought some papaya to make a tropical fruit salsa inspired by our recent trip to Belize, I used the extra papaya that I didn't need for my recipe to make J.R. a smoothie and we both loved the result. Now it is in our regular smoothie rotation.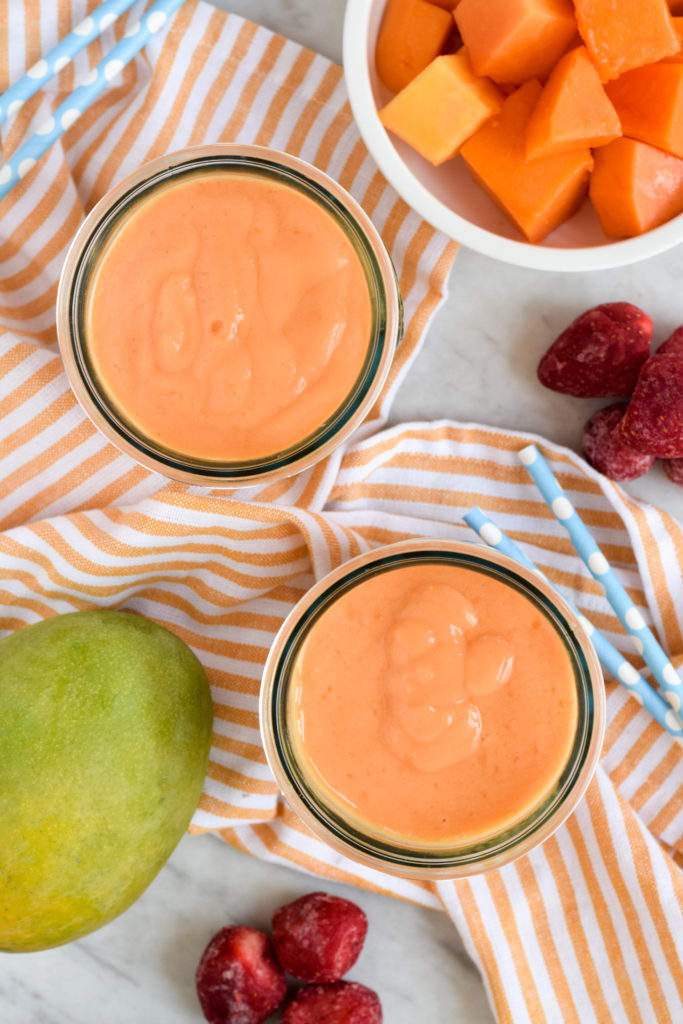 I think most people don't think to buy papaya, but they should. Not only is papaya delicious, with a sweet, musky flavor and buttery texture, but it is also very nutritious — one of the most nutritious fruits, in fact, according to the Center for Science in the Public Interest. Papaya has a surprisingly high content of many different vitamins and minerals, including vitamin C, potassium, folate, beta-carotene, and lycopene.
Papaya's natural sweetness and buttery texture make it an especially appealing ingredient for smoothies. This recipe does not even contain banana, unlike most smoothie recipes which need banana for creaminess and a good mouth feel. Personally, I am always looking for alternatives to banana because in every smoothie I drink that contains banana, I find the banana to overwhelm all of the other ingredients.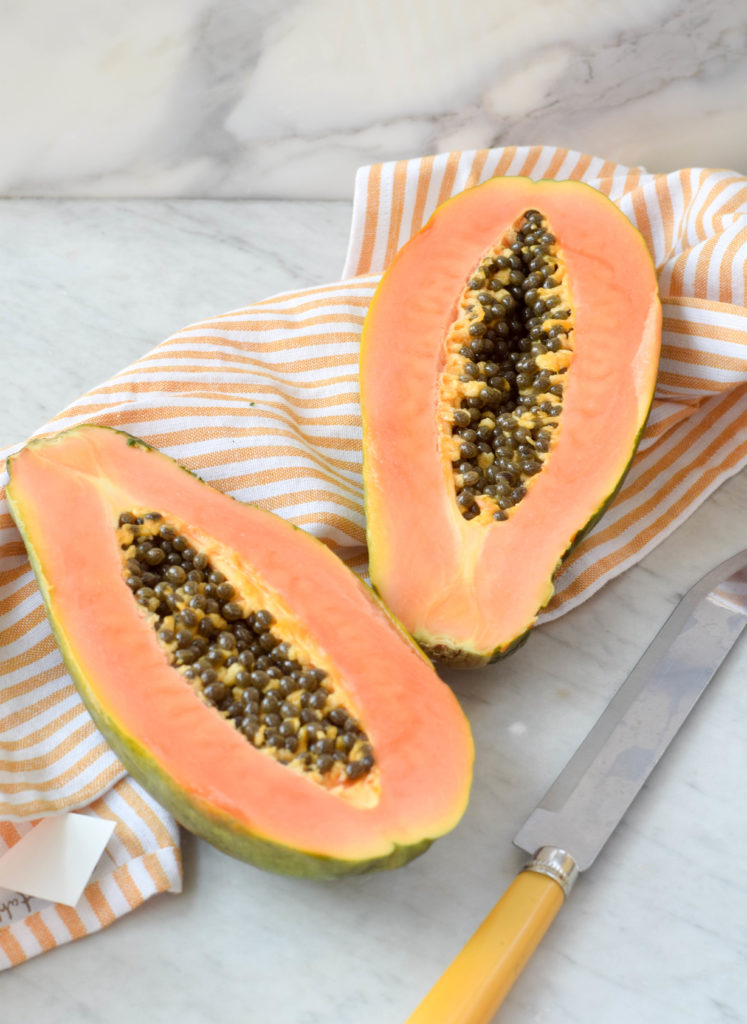 Do you all know how to prepare papaya? First, select a nice ripe papaya. It should be be starting to turn from green to yellow and give a little when pressed, like an avocado. If the papaya you bought is not yet ripe, let it sit on the counter for a day or so. To prepare the papaya, cut it in half lengthwise to expose the seeds. Scoop out the seeds with a spoon. You can then either scoop out the flesh of the papaya or peel the halves and cut the flesh into wedges or chunks.
I almost always add vanilla yogurt to smoothies for creaminess and also added protein. I think the boost of protein is especially important when serving a smoothie for breakfast. If you avoid dairy for any reason, I suggest adding some vanilla protein powder.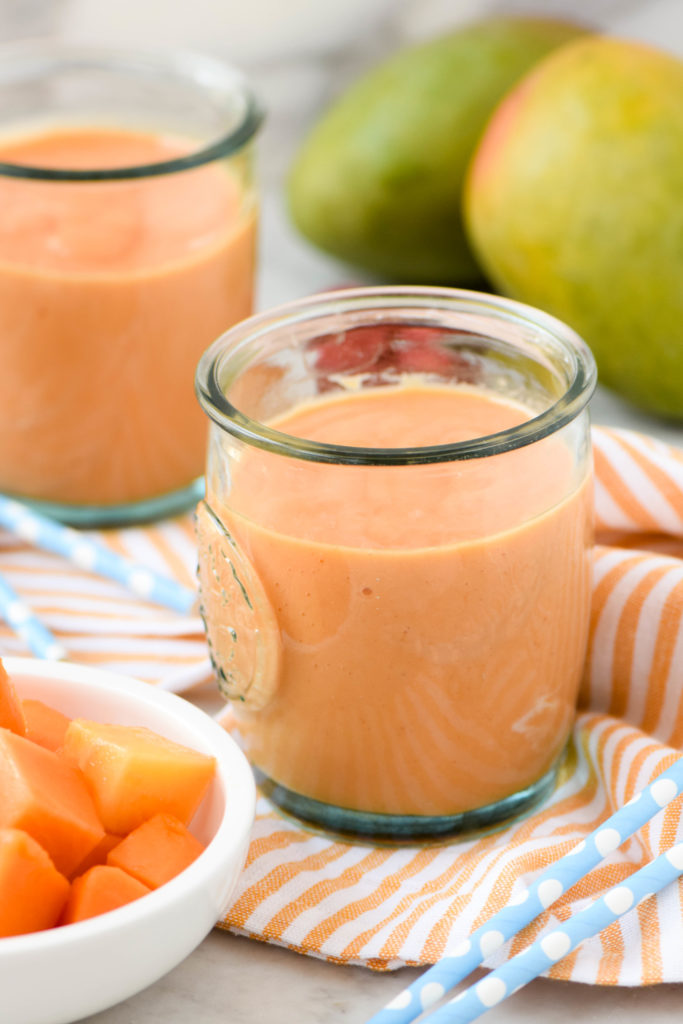 My other secret smoothie ingredient — do NOT tell my kids — is a tablespoon of flax seeds. I started adding flax seeds to smoothies because — to be totally transparent — I bought a bag of flax seeds for a bread recipe and then had most of the bag leftover after making the bread.
Rather than let these tiny expensive seeds, go to waste, I figured I'd sneak them into my kids' food. I'm glad I did because flax seeds have been linked to improved digestive function and a reduced risk of heart disease, type 2 diabetes and cancer.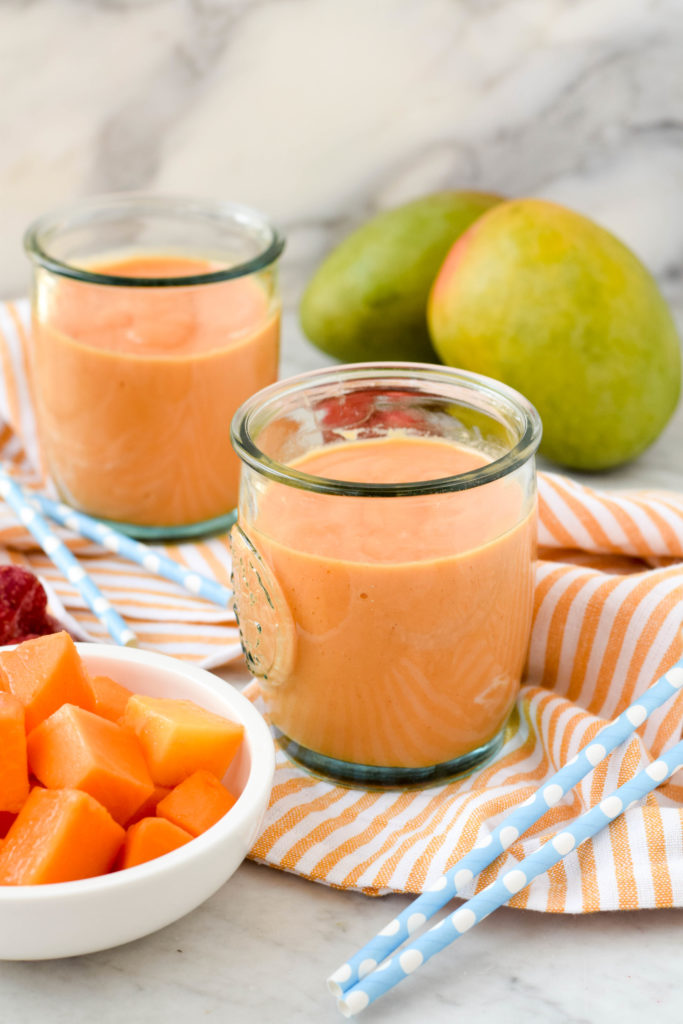 So, you can see this Strawberry Papaya Smoothie is pretty darn healthy. But most importantly, it tastes sweet, creamy and delicious. You will have no trouble getting even the pickiest eaters to finish the whole glass.
Strawberry Papaya Smoothie
Ingredients
2 cups papaya chunks, fresh or frozen
1 cup mango chunks, fresh or frozen
6 whole strawberries, fresh or frozen
1/2 cup vanilla yogurt
1 TB flax seeds
Instructions
Place any fresh fruit and yogurt at the bottom of a high-speed blender.
Add the frozen fruit and flax seeds.
Blend on high speed until all the ingredients are liquified and are smooth and creamy.
Serve right away.
http://www.westoftheloop.com/2018/01/30/strawberry-papaya-smoothie/
SaveSaveSaveSave
SaveSave
SaveSave