Move over, carrot cake. This parsnip cake is moist and spicy and topped with an irresistible maple ginger cream cheese frosting. Oh yes, parsnip cake is most definitely a thing!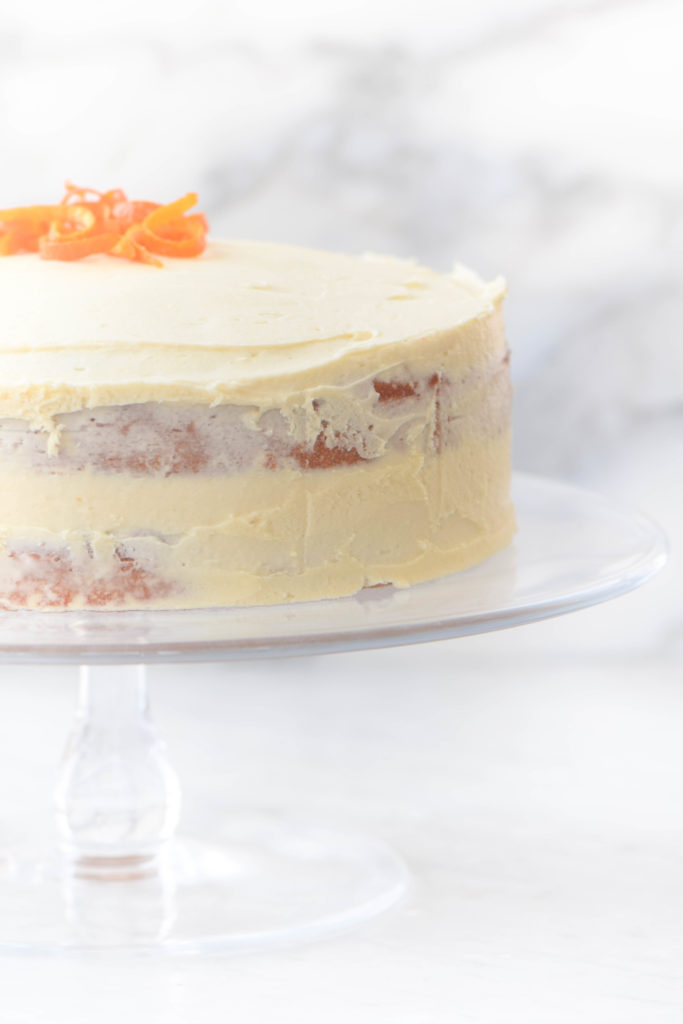 I love the idea of using fruit in savory dishes and vegetables in sweet dishes. You know, just to confound expectations. It's way more interesting to put cherries and peaches in your dinner and carrots and parsnips in your dessert then the other way around.
A select handful of vegetables will not turn any heads when they turn up on a dessert menu. The place of carrot cake, sweet potato pie, and pumpkin anything in the dessert canon is beyond any doubt. But how far can you push it? My chocolate zucchini cake raises a few eyebrows when I serve it. And what about my latest vegetable-as-dessert creation? How would your family react to a parsnip cake? I think that anyone would find this moist, spicy cake very hard to resist whatever his or her feelings about parsnips.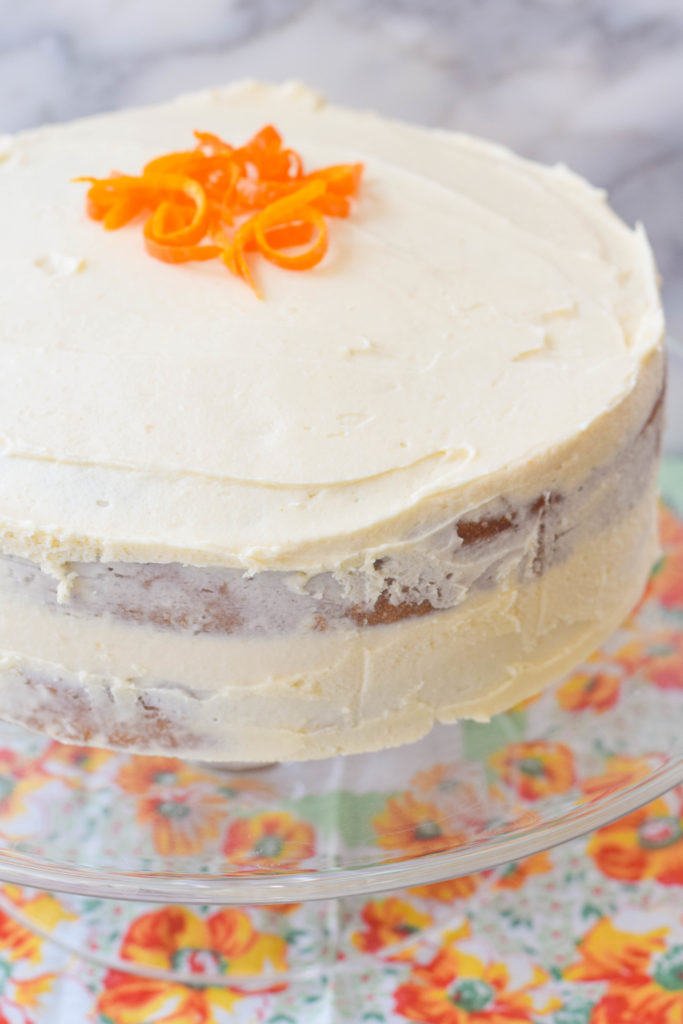 Parsnip cake may sound stranger than a carrot cake, but it is the same idea. Parsnips, like their more colorful cousins, have a natural sweetness that allows them to cross the line into dessert territory in a way that would not work with other, more bitter vegetables. (I'm looking at you, brassicas.) Indeed, I always add a parnsip to the pot when making chicken stock for sweetness – a trick I learned from my grandmother.
The thing about a parsnip cake is that it is just more subtle than a carrot cake. First, parsnips have a milder flavor than carrots. And because the grated parsnip is white, not orange, it disappears into the cake. The overall effect is a moist, spicy cake with a slight nutty, vegetal undertone but there is nothing identifiably parsnip about it.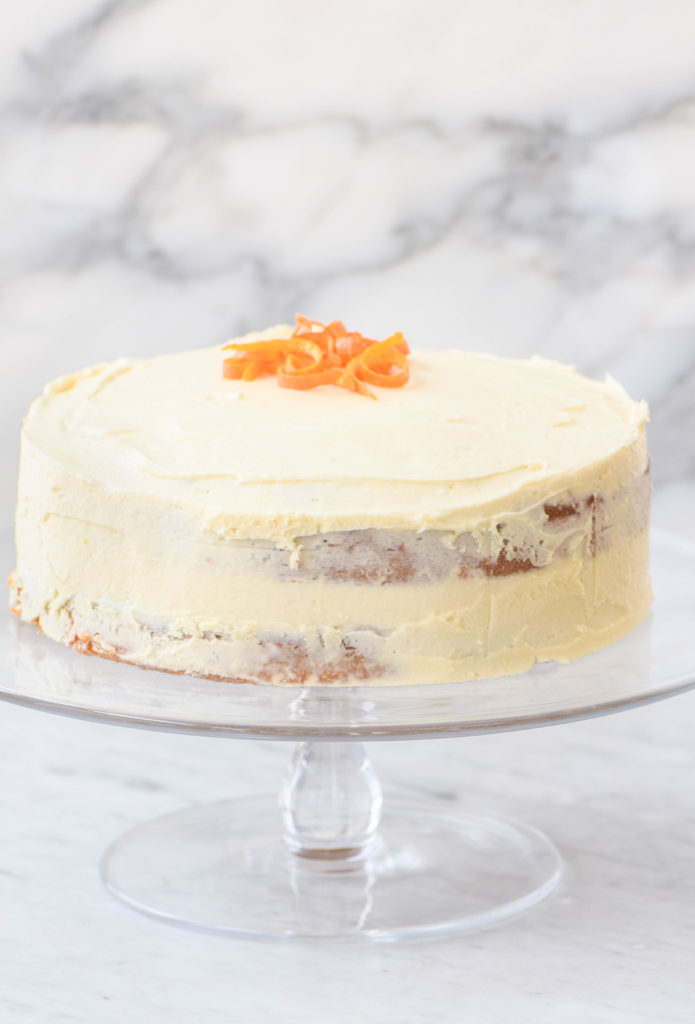 So do not telegraph that there are vegetables in this cake by adding lots of chunky elements like nuts and raisins, the way people do with carrot cake. No, instead, keep the cake very plain and let the warm spices shine through.
Speaking of warm spices, this recipe calls for "mixed spice," which is also known as "pudding spice." It's a British spice blend that is sort the equivalent of pumpkin spice here. Mixed spice usually contains allspice, mace, cinnamon, ginger, cloves, and nutmeg with possibly cardamom and coriander as well. It's a lovely mix of warm, sweet and earthy tones. I give you a subrecipe to make your own mixed spice here, but feel free to experiment with your own blend.
(By the way, did you know that mace is just the outer coating of the nutmeg seed? I find that fascinating. They don't have the same flavor though. Mace keeps better than many ground spices, so it is worth keeping a small jar in your spice cabinet, even if you don't have much call for it.)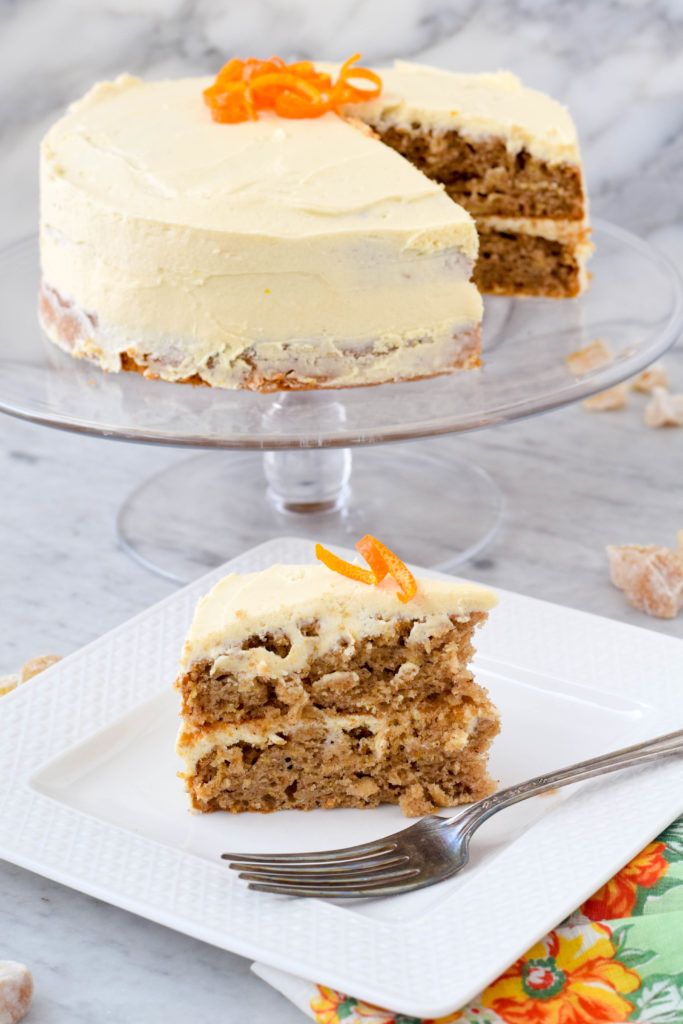 To top such a well-spiced cake, I opted for the tanginess of cream cheese frosting, just as one might for a carrot cake.  I added some maple syrup and ground ginger to the frosting to complement the sweet earthiness of the parsnips and the cake's warm spices. The result is a perfect winter treat that takes advantage of one the season's finest root vegetables and brings warmth and comfort to chilly nights.
Would you dare to serve a parsnip cake to your friends and family? Why or why not?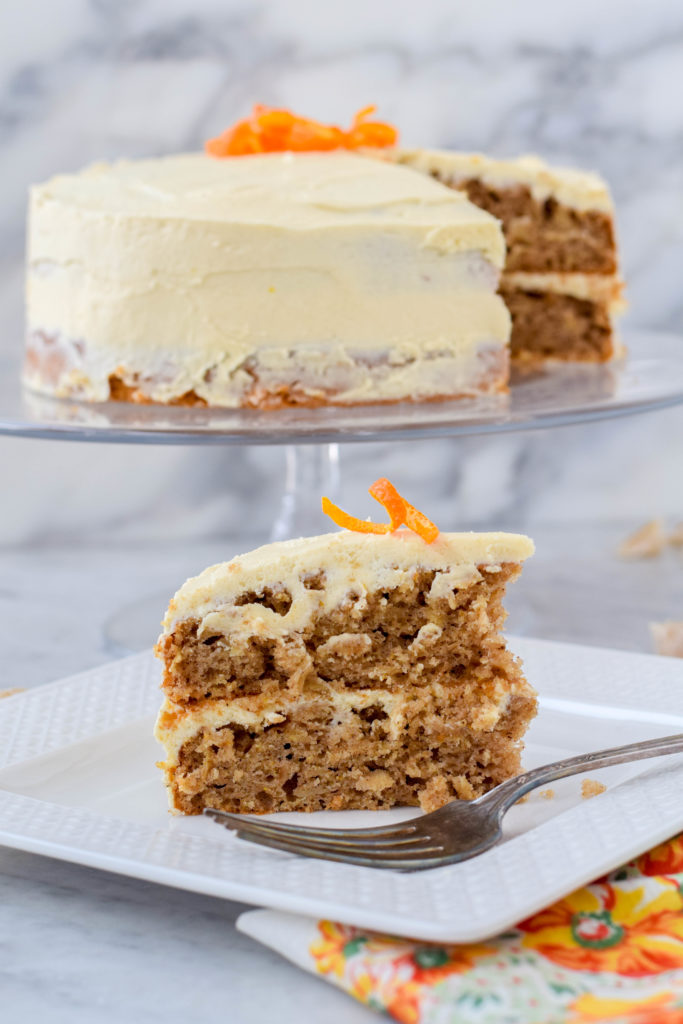 Spiced Parsnip Cake with Maple Ginger Cream Cheese Frosting
Ingredients
Mixed spice

1 TB each cinnamon and allspice
2 tsp mace
1 tsp each cloves, ginger, and nutmeg

Cake

1 1/2 cups all-purpose flour
2 tsp baking powder
2 tsp ground mixed spice
1 tsp cinnamon
1 tsp ginger
1 tsp salt
3 eggs
3/4 cup sugar
2/3 cup vegetable oil
1/2 cup milk
1 tsp vanilla extact
2 cups shredded parsnip
Zest of one orange

Frosting

8 oz cream cheese, softened
4 oz butter, softened
1 cup powdered sugar, sifted
2 TB maple syrup
2 tsp ginger
Instructions
To make mixed spice, whisk together all of the ingredients in a small bowl. Set aside.
Preheat the oven to 350 degrees and grease and flour two 8-inch round cake tins.
To make the cake, whisk together the flour, baking powder, spices and salt in a small bowl. Set aside.
In the bowl of a standing mixer, beat together the eggs and sugar until light and fluffy. Slowly pour in the oil in a steady stream.
Mix the milk and vanilla in a small bowl.
Alternate adding the dry ingredients and the milk, beginning and ending with the dry ingredients and mixing just unti combined.
Add the parsnips and the orange zest and mix just until combined.
Divide the batter evenly between the two cake tins and bake until the edges begin to pull away from the sides and a skewer inserted in the middle comes out clean, 25-30 minutes.
Cool the cakes completely on a wire rack before removing from the tins.
To make the frosting, combine the cream cheese, butter, powdered sugar, maple syrup and ginger in the bowl of a standing mixer outfitted with the paddle attachment.
Beat on medium speed for several minutes, until the frosting is noticeably lighter in color and fluffy.
To frost the cake, place a quarter of the frosting on top of the bottom cake layer and spread to the edges. Top with the second cake layer.
Spread the remaining frosting on the top and sides of the cake and smooth.
http://www.westoftheloop.com/2018/02/06/spiced-parsnip-cake-maple-ginger-cream-cheese-frosting/
SaveSave
SaveSaveSaveSave
SaveSave
SaveSave