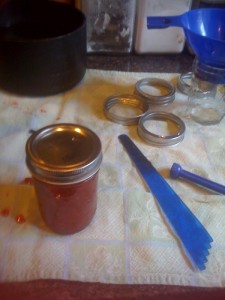 Intrigued by the descriptions of the fruit spreads and pickled vegetables that I make in my kitchen? Would you like to learn how to preserve the best of summer's bounty? Perhaps you have a garden overflowing with zucchini or tomatoes or love to go to pick-your-own farms, but are stumped with what to do with all those berries when you get home.
If so, I am available for private and semi-private canning lessons in the comfort of your own kitchen. I will bring my equipment with me, so that you do not need to invest in any expensive gadgets before you are certain that canning is for you.  Lessons typically take two hours and at the end you will have a detailed recipe and several delicious jars to eat or share. Canning is a wonderful activity to do with your elementary-school aged child. I am happy to do family lessons as well.
My rates begin at $100 for a private lesson and an additional $10 for each extra person, up to four people total, plus the cost of supplies. (You can provide your own supplies, which include jars, and ingredients, or I can purchase them for you.)  For a parent-and-child lesson, I do not charge for the child.  I will charge a slightly higher rate if you are far from the Oak Park-River Forest area and I have to drive more than 30 minutes to reach you.
If you are interested in offering a group lesson (more than four people) at your business, and have a large demonstration kitchen, I would be happy to work with you. For a group lesson, I charge $40 per person, which includes a copy of the recipe and a jar to take home. I am also available for canning demonstrations, which are less hands-on than a lesson but still informative, for larger groups. A canning demonstration costs $125.
If you love the idea of homemade jams and pickles, but don't have time to learn how to do it yourself, I would be happy to make something just for you. Perhaps you have a hankering for an old-fashioned strawberry rhubarb jam, or a watermelon rind pickle. I will be happy to whip up a batch of your favorite. Prices start at $8 a jar, but generally will depend on the nature of the project.
West of the Loop Canning has been featured on Wee Windy City and Examiner.com. I have also done canning demonstrations at Oak Park's Mid-Week Market and the River Forest Whole Foods.
If you are interested in scheduling a lesson or have any questions, please contact me at westoftheloop@gmail.com. I look forward to hearing from you!