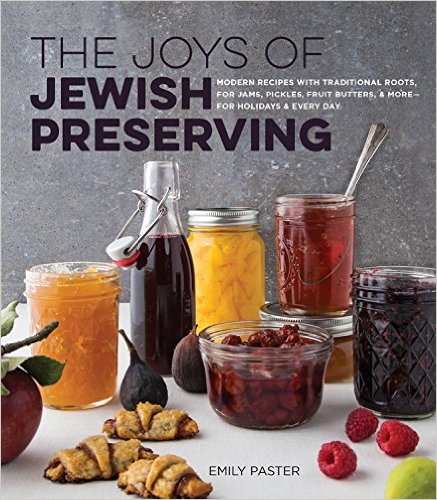 The Joys of Jewish Preserving is the most exciting resource in my pantry! As pickles and jams were such an important part of my early food memories, I cannot wait to update them in my professional kitchen and my home cupboard with the help of Emily Paster's incredible book.
– Michael Solomonov, James Beard Award-winning chef and author of Zahav: A World of Israeli Cooking, James Beard Book of the Year and Best International Cookbook (2016)
Emily Paster's The Joys of Jewish Preserving is a jewel of a book.  Clearly and appetizingly she tells the tales of pickles and preserves, both sweet and savory, from pomegranate paste to prune lekvah.
– Joan Nathan, author of Jewish Cooking in America and King Solomon's Table
To survive for thousands of years, often on the move and often living in inhospitable places, the Jews had their religion, their rituals, and their foods—and all three required adaptation and preservation. Thank you, Emily Paster, for reminding us that to preserve a food is to preserve a tradition, a culture, and a people. Your book has been a joy to read and your recipes will be a joy to follow.
– Mark Russ Federman, Russ & Daughters, New York City
This is the book I have dreamed of for years! Emily Paster has flung open the larder of traditional and innovative multicultural Jewish preserves and pickles – and there is waaaaaay more to be reckoned with than a kosher dill. Only a well-seasoned, well-traveled balabusta like Paster could have delivered this title, and it will engage, enrich, and nourish anyone with an interest in home preservation and Middle Eastern, North African, or Eastern European cooking.
– Karen Solomon, author of Jam It, Pickle it, Cure It and Asian Pickles
The Joys of Jewish Preserving is a buoyant and useful exploration of the Jewish preserving tradition that manages to be both modern and rooted in age-old culture. It should be a mandatory addition to preservation libraries everywhere.
– Marisa McClellan, author of Food in Jars and Preserving by the Pint
Emily Paster serves up a delicious collection of recipes whose flavors and stories are rich in heritage and culture. Her recipes preserve an important tradition and show how that tradition is alive and evolving today.
– Jenn Louis, executive chef and owner Ray, Food & Wine's 2012 Best New Chef Northwest and author of Pasta by Hand and Book of Greens.
Paster's book taps into the bright, briny, and full-flavored potential of old-world food preservation, while expanding our understanding of what it means to "eat Jewish."
– Leah Koenig, author of Modern Jewish Cooking
Cookbook author and food blogger Emily Paster has married her two culinary loves, Jewish cuisine and home food preservation, in this first-of-its kind book exploring the rich tradition of Jewish preserving. Coming July 1! Available for pre-order now.

Jewish cooks, even casual ones, are proud of the history of preserved foods in Jewish life, from the time of living in a desert two millennia ago to the era in which Jews lived in European ghettoes with no refrigeration during the last century. In a significant sense, the Jewish tradition of preserved foods is a symbol of the Jewish will to survive.

About half of the 75 recipes in this book are for fruit jams and preserves, from Queen Esther's Apricot-Poppyseed Jam or Slow Cooker Peach Levkar to Quince Paste, Pear Butter, and Dried Fig, Apple, and Raisin Jam. Another 30 of the recipes are for pickles, marinated vegetables and other savory preserves, including Preserved Lemons, Pickled Carrots Two Ways, and Lacto-Fermented Kosher Dills. The remaining 10 recipes bear the tag "Use Your Preserves," and cover some of the ways that preserves are used in iconic Jewish foods and holiday preparations, like Shakshuka, Rugelach, or Hamantaschen.

Nearly all of the recipes are my own creations reflecting how we cook and eat today and have never appeared before in print or online. With terrific color photos by my friend, Seattle photographer Leigh Olson, rich and detailed background info about Jewish food traditions, and, above all, tasty recipes both sweet and savory, this book is a celebration of some of the best foods Jewish cooks have ever created. I am so excited to share it with you!