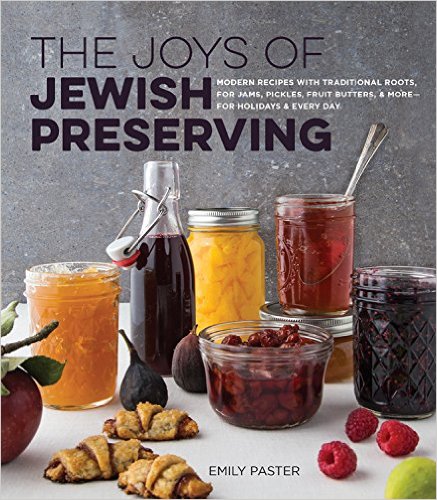 Cookbook author and food blogger Emily Paster has married her two culinary loves, Jewish cuisine and home food preservation, in this first-of-its kind book exploring the rich tradition of Jewish preserving. Coming June 1! Available for pre-order now.
Jewish cooks, even casual ones, are proud of the history of preserved foods in Jewish life, from the time of living in a desert two millennia ago to the era in which Jews lived in European ghettoes with no refrigeration during the last century. In a significant sense, the Jewish tradition of preserved foods is a symbol of the Jewish will to survive.
About half of the 75 recipes in this book are for fruit jams and preserves, from Queen Esther's Apricot-Poppyseed Jam or Slow Cooker Peach Levkar to Quince Paste, Pear Butter, and Dried Fig, Apple, and Raisin Jam. Another 30 of the recipes are for pickles, marinated vegetables and other savory preserves, including Preserved Lemons, Pickled Carrots Two Ways, and Lacto-Fermented Kosher Dills. The remaining 10 recipes bear the tag "Use Your Preserves," and cover some of the ways that preserves are used in iconic Jewish foods and holiday preparations, like Shakshuka, Rugelach, or Hamantaschen.
Nearly all of the recipes are the author's own creations reflecting how we cook and eat today and have never appeared before in print or online. With terrific color photos by the Seattle photographer Leigh Olson, rich and detailed background info about Jewish food traditions, and, above all, tasty recipes both sweet and savory, this book is a celebration of some of the best foods Jewish cooks have ever created.